Former members of the Australian Defence Force (ADF) are battling rates of suicide higher than the general population according to a new report released on Friday.
The Australian Institute of Health and Welfare (AIHW) report made in collaboration with the Department of Veterans' Affairs has provided the first in-depth snapshot of the rates of suicide in the ADF and identified certain aspects of the military experience that leads to some defence members taking their own lives.
Between 2001 and 2015, the AIHW found 325 certified cases where people who had served at least one day in the ADF had taken their own life and found that more than half of those incidents included individuals who were no longer serving in the defence force.
Federal Minister for Veterans' Affairs and Defence Personnel Dan Tehan said in a statement the report marks an important move in "improving mental health and preventing suicide among current and former ADF".
"These figures are the first accurate, robust data ever produced on suicide among the serving, reserve and ex-serving populations and the Government will continue to update this data to further improve our understanding of the issue," he said.
"The Government has engaged AIHW to provide regular, comprehensive reports on the health and welfare of Australia's current and former ADF personnel."
The report focuses mainly on male members, who make up 85 percent of the ADF, and found that while individuals who are currently serving in the military are less likely to take their own lives than the Australian public, the main problem comes after people have left the defence force.
Men who are no longer serving were found to be 14 percent more likely than the general population to take their own lives, and that figure rose for young males between the ages of 18 and 24 who are twice as likely to die by suicide than people not in the ADF.
The findings also identified "military-related characteristics" that impacted on the rates of suicide experienced by males in the ADF. You can see the full list of statistics below according to the AIHW statement.
"Men who were discharged involuntarily from the ADF were 2.4 times more likely to die by suicide than those who discharged voluntarily.
If their involuntary discharge was for medical reasons, they were 3.6 times more likely than those discharged for voluntary reasons.
Men who had left the ADF after less than one year of service were also at higher risk -- 2.4 times more likely to die by suicide, compared with men who had served for 10 years or more.
Men who did not hold a commissioned officer rank at discharge were 2.8 times more likely to die by suicide when compared to commissioned officers."
Executive Director of the Lifeline Research Foundation, Alan Woodward told HuffPost Australia the report's findings represent the struggle some ADF members may go through when leaving the defence force and the need to offer them greater support when they make that "critical life transition" away from the military.
"It's the point of transitions and change where people need particular support," he said.
"One might expect that those who have worked in defence, which is a role that people often choose of their own making as a career move because they have a passion and a desire to serve our country, may find the point of departure from the defence career very difficult indeed.
"Critical life transitions such as that of leaving a job, at times, is where additional support is warranted and those times can be especially difficult for men."
While Woodward said Australian defence services are doing "very good work" for the mental health of their members, he also acknowledged that the report shows where more work needs to be done to assist ADF personnel shift into the wider community after the completion of their service.
"It's important for us to be doing more and doing better on suicide prevention in Australia so this report provides us with one more insight into what can be done," he said.
"It does raise the issue of better linkages being drawn between the specialist services that are provided for defence personnel and veterans and broader community services and more active promotion of those services [which] may be relevant for those veterans who are perhaps unwilling to take the first steps in seeking help.
"The issue at hand is more about equipping people to identify when they could seek help and to do that earlier rather than later."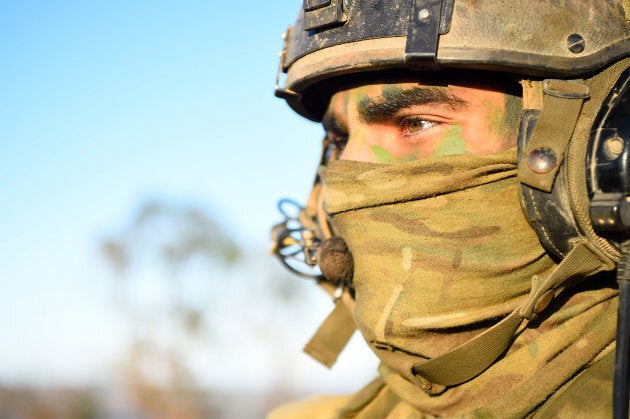 The report's findings come in addition to the Federal Government's response on Friday to the National Mental Health Commission's (NMHC) review into suicide and self-harm prevention services available to ADF members and their families.
In the general Australian public, suicide rates have reached a crisis point; more people are taking their lives now than they have for at least 10 years. In 2015, 3,027 Australians died by suicide Australia.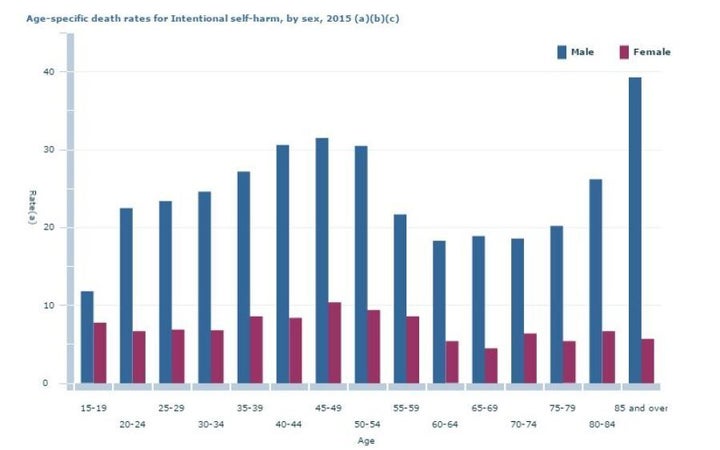 The AIHW's findings follow the $115 million commitment by the Government to mental health funding made in the 2017 Budget to combat these figures, which includes more than $18 million dedicated to mental health services for veterans and the payment of all mental health conditions affecting ADF members and their families by the Government itself.
"The Government will now pay for the treatment of all mental health conditions affecting anyone who has served one day in the full-time ADF," Tehan said.
"This program is fully funded and uncapped. If an eligible veteran needs treatment the Government will pay for it.
"The Budget provided a further $8.5 million to expand eligibility for the Veterans and Veterans Families Counselling Service (VVCS) to cover partners and children of contemporary veterans, who have had one day of full-time service. Funding of $9.8 million will also be provided to pilot innovative approaches to suicide prevent and enhanced support."
If you need help in a crisis, call Lifeline on 13 11 14. For further information about depression contact beyondblue on 1300224636 or talk to your GP, local health professional or someone you trust.
ALSO ON HUFFPOST AUSTRALIA