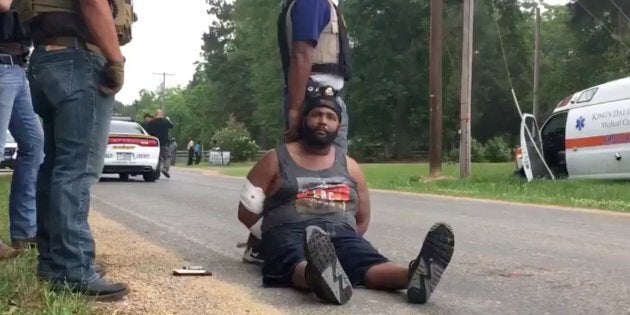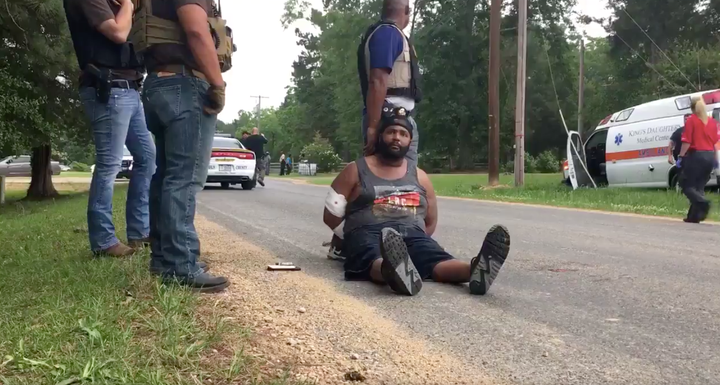 Police in southwestern Mississippi have a suspect in custody who allegedly killed eight people, including a Lincoln County sheriff's deputy, in three separate homes late Saturday night, the Associated Press reports.
The suspect, identified by local newspaper The Clarion-Ledger as 35-year-old Cory Godbolt, was filmed sitting along a road in handcuffs by a reporter Sunday morning. Godbolt, who appeared to have an injured arm, suggested that the late-night violence followed a dispute between him and his estranged wife over custody of his children.
"I was having a conversation with her stepdaddy and her mama, and her ― my wife ― about me taking my children home and somebody called the officers, people that didn't even live at the house. But that's what people do. They intervene," Godbolt said before saying he was "sorry."
Asked what's next for him, he appeared to say "death."
"Suicide by cop was my intention," the Clarion-Ledger reported him as saying. "I ain't fit to live. Not after what I've done.
Authorities plan to charge Godbolt with capital murder for the deputy's death and seven counts of first-degree murder for the slaying's of the other victims, Warren Strain, a spokesman for the state Department of Public Safety, told HuffPost. Aside from the deputy, Godbolt was related to or acquainted with the seven people he killed, Strain said.
The slain deputy has been identified as 36-year-old William Durr, a two-year veteran of the Lincoln County Sheriff's Office and a four-year veteran of the Brookhaven Police Department, The Daily Leader reported, citing Strain. Durr was married and had an 11-year-old son, CBS News reported.
Strain, speaking to Reuters, said Durr was responding to a call about a domestic dispute at the house of Godbolt's in-laws in Bogue Chitto, about 69 miles south of Jackson, when he was fatally shot.
Vincent Mitchell, Godbolt's stepfather-in-law, told the Associated Press that Godbolt's wife had left him several weeks ago because of domestic violence and had been staying with them since.
Mitchell said that Godbolt opened fire after the deputy arrived, killing the officer, Mitchell's wife, Barbara Mitchell, 55, one of her daughters, Tocarra May, 35, and the wife's sister, Brenda May, 53, according to multiple reports. Mitchell and Godbolt's wife escaped.
Law enforcement officials said they believe as many as 10-12 people were in the house that night, Strain said. He declined to identify the victims or how they were related.
After the initial shootings, Godbolt went to a second home in the nearby city of Brookhaven where he fatally shot Jordan Blackwell, 18, and Austin Edwards, 11. Blackwell died protecting his 15-year-old cousin, according to the Clarion-Ledger. The newspaper didn't say whether the cousin was injured.
He then went to a third property where he killed his wife's sister, Shelia Burage, 46, and her husband, Ferral Burage, 45, according to TV-station WAPT.
Authorities apprehended Godbolt outside of the third home. He's been hospitalized with a gunshot wound, and Strain said it was possible he exchanged gunfire with a civilian.
Godbolt had also reportedly taken a 16-year-old boy as a hostage. The boy has been safely released, according to the Lincoln County sheriff. The other victims have yet to be publicly identified.
Strain said that it would be "premature" to discuss a motive.
Sunday morning, Gov. Phil Bryant (R) issued a statement asking all Mississippians to join him and his wife "in praying for those lost in Lincoln County. Every day, the men and women who wear the badge make some measure of sacrifice to protect and serve their communities. Too often, we lose one of our finest. I thank the law enforcement agencies involved for their hard work. May the peace of the Almighty wash over those hurting after this senseless tragedy."
This article has been updated with more information about the victims.