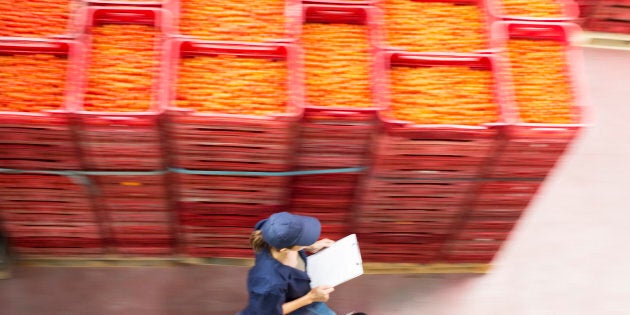 When most Australians think of slavery they envision William Wilberforce and people being shipped to the Americas in chains. Like me, they would be shocked to discover that this inhumane practice continues today, even in Australia -- just no longer in physical chains, but psychological ones.
Media reports simply identified them as illegal workers, but NGOs dedicated to ending modern slavery are keeping a close eye on both cases, as they contain red flags indicating modern slavery.
Walk Free estimate that there are at least 4,300 slaves in Australia, when we start looking we are likely to find many more, as they have in the UK.
This lack of public recognition of modern slavery doesn't surprise me. It wasn't until recently that I learned in the UK how to identify slavery and that, much like domestic violence, it can be hidden in plain sight. Most Australians are unaware that slavery exists, not only internationally, but in our own backyards.
My first exposure to modern slavery, albeit unknowingly, was during a site visit with Save the Children to Australian Aid-funded programs in Cambodia in January last year. While there I learned about an insidious form of "voluntourism" called orphanage tourism.
For-profit or enterprise orphanages play on voluntourist's desire to do good, but are often vehicles for child trafficking, abuse and slavery. It can be hard for these volunteers to spot the difference between a genuine orphanage and a scam.
Many children are not registered with the State, don't receive education or adequate care and are vulnerable to further exploitation, trafficking and abuse.
After returning to Perth I was shocked to discover it is commonplace for Western Australian community and school groups to volunteer overseas at these 'orphanages.' It's appalling to think how many Western Australian students and their parents are inadvertently funding the exploitation of the very children they are seeking to help.
After becoming aware of the existence of modern slavery, I realised child orphanages are an, as yet, internationally unrecognised form of modern slavery. The most common form is bonded labour -- when a person is forced to work off a debt that may take years or even a lifetime to pay off.
Australians also unwittingly play a role in slavery overseas. Many major Australian companies will have slavery in their supply chains. This was highlighted after several large Australian fashion brands were discovered using factories employing exploitative work practices following the Rana Plaza collapse, which killed more than 1,000 workers in Bangladesh in 2013.
It has become clear to me that something must be done to end this inhumane practice and Australia's role in it. Earlier this year I visited the UK to learn about their Modern Slavery Act, which Prime Minister May is passionately pursuing. Her leadership has created greater transparency within businesses, helping companies address slavery in their supply chains. The legislation has also led to greater public awareness and better education for authorities and law enforcement, to ensure domestic victims are identified and are protected, rather than prosecuted. Kevin Hyland, who is in Australia this week, was appointed as the first Independent Anti-Slavery Commissioner in the UK.
Australia is now in the process of examining the potential for a similar Act. Thankfully, sham orphanages will also be examined by this Inquiry, and my hope is that 'orphanage tourism' as a result will be formally recognised internationally as a form of modern Slavery.
Here are four simple steps all Australians can take to ensure they aren't contributing to this shocking exploitation.
Buy ethically -- Find a brand's ethicality grade by visiting baptistworldaid.org.au/resources/2017-ethical-fashion-guide or www.ethical.org.au/theguide.

Invest ethically -- Investing responsibly encourages companies to examine their supply chains and ensure they source materials ethically.

Do your research -- This applies to what you buy as well as where you donate and volunteer. Before handing over your time and money make sure you've thoroughly researched the organisation involved.

Learn to ask the right questions -- We must learn to ask the right questions to bring modern slavery to light. Where is the person's passport? Can they move freely? Who is benefiting from the arrangement? Even something as simple as "are you okay?" can make a difference.
ALSO ON HUFFPOST AUSTRALIA