She's known for her iconic one-liner "Guess who's black in the house, bitch", now RuPaul's Drag Race star Monét X Change is calling for "strong Aussie queens of colour" to be cast in the Down Under version of the ratings runaway.
ITV Australia announced in August the production company has secured the rights to Drag Race although it's yet to nail down a host, TV network or streaming rights.
When asked what she wants to see in the local offering of the programme, she said "I would love to see some strong Aussie queens of colour."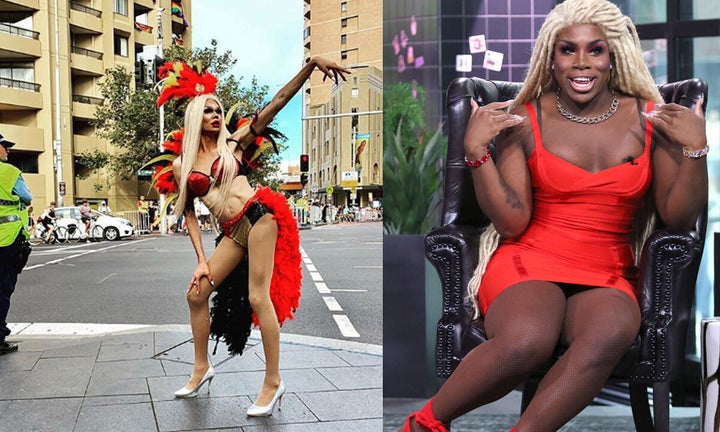 The urge for diversity on the localised show was backed by Indigenous drag artist Felicia Foxx, who says the Australian drag scene is dominantly white.
"There is still a long way to go in terms of diversity, (and) racism on the gay scene here in Sydney," Felicia told HuffPost Australia.
"I am very political and bring facts of our history as an Indigenous Aboriginal Queen growing up in a country where our history is denied and our identity is constantly examined. My culture is the oldest living culture alive but you do not often hear of Aboriginal Drag Queens do you?
"I'm so glad I've been able to look up to Monét X Change and see she has never changed her style of drag because of society or what people think is right and wrong."
Monét X Change is currently in the country touring her one-woman show 'Call Me By Monét' and has a special piece of advice for Australian drag stars thinking of auditioning for the Down Under version of Drag Race: "Just be yourself, don't try and perform for the audience or try and be what you think the producers want," Monét told HuffPost Australia.
"They chose you because they wanted to see you."
Some of RuPaul's Drag Race stars have struggled with their newfound fame, including Silky Nutmeg Ganache who recently called for show bosses to improve the aftercare, asking: "Is it going to take a queen to kill herself?"
Silky told the Gay Times that contestants are "not offered a lot of support" from producers, and spoke about how she fell into depression after receiving online abuse.
"I think being thrusted into the limelight after Drag Race is a very complicated situation," Monét said.
"You have the sisterhood of the other girls for support which is better than doing it alone. I had to take the time and find what works best me."
The Brooklyn-born performer from the "House of Davenport" soaked up the judges' praise on season 10 in 2018 (ahem, who remembers the iconic sponge dress?) where she came in at sixth place and snatched up the Miss Congeniality crown.
With a ton more Instagram followers and an epic pair of lungs under her belt Monét hit the drag circuit in NYC with celebrity status - she was already working gigs six nights a week prior to the show.
"Performance is the core of what Monét is," she told Drag Race host Michelle Visage on VH1′s Whatcha Packin'.
From here, Monét made a comeback on season four of RuPaul's Drag Race All Stars and became the first black queen to win the show in February this year.
"It's beautiful to me," she told Billboard at the time.
"The fact that I'm the first chocolate All Star is beautiful to me and hopefully as we see more All Stars, we will start to represent more of what the drag community looks like at large."
Monét has since starred in Pepsi ads with Cardi B and scored a role in a Nickelodeon cartoon show before landing her dream job hosting her own talk show The X Change Rate, part of Build Series.
Now she's on a global tour, dipping into what she describes as an "irreverent" Aussie audience.
"They really love drag. That makes it very fun for me," she said.
"The show is centred around the creation of Monét X Change and an ode to my career in New York City before Drag Race," she explained.
"You'll hear candid accounts of working in New York nightlife and you may even get a peek into my audition process for Season 10."
Catch Call Me By Monét from this week in Sydney, Adelaide, Melbourne and Brisbane and Perth.