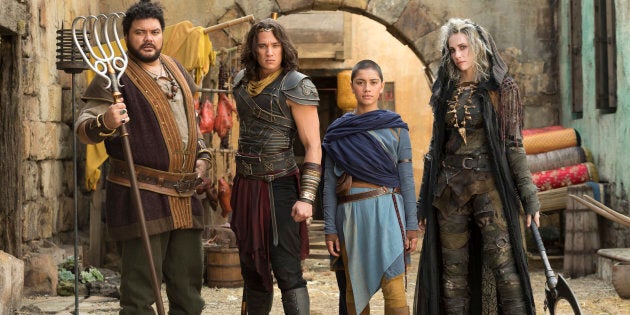 Remember "Journey to the West"? Maybe you called it "Monkey Magic"? Well, whatever you thought it was called, the show was an iconic, often trippy, epic adventure following a monk and his godly companions.
And now the series, which was a Japanese adaptation of a Chinese novel, is getting another makeover as ABC, TVNZ and Netflix announced filming began on their updated version, "The Legend of Monkey".
Inspired by the folktales of 16th Century China, "Legend of Monkey" will be a 10-part half hour series following a teenage girl named Tripitaka (Luciane Buchanan) who is joined by three fallen gods Monkey (Chai Hansen), Pigsy (Josh Thomson) and Sandy (Emilie Cocquerel). The four set out on a dangerous journey (to the west!!!) to fight a demonic reign of chaos and terror and bring back balance to the world.
The original series was well loved by anyone who watched it. The bad dubbing of the 16th Century classics, camp costumes, incredible fight scenes, and a pig deity consumed with gluttony and lust. What more could you ask for?
But reaction to the announcement of the remake has been mixed, with some questioning potential white-washing of the Chinese stories or the risks of watering down some of the more tongue-in-cheek elements of the show, while others are excited to see a new take on the tales.
Like "Journey to the West" is not a reference to all the characters turning white,.

— Snarky Platypus (@SnarkyPlatypus) April 20, 2017
@matwhi Maori cast? I approve. As Maori Chinese, pretty sure I am subject matter expert

— 楊宏明 (@damien_yang) April 19, 2017
We just won't know what we're in for until the series flies in on a magical cloud and onto screens.
The series is being produced by Jump Film & TV along with See-Saw Films, the company behind films like "The King's Speech", "Tracks" and "Lion" as well as the Jane Campion series "Top of the Lake".
The Australian/New Zealand co-production is set to be released in 2018, on ABC, NZTV and Netflix globally.
ALSO ON HUFFPOST AUSTRALIA