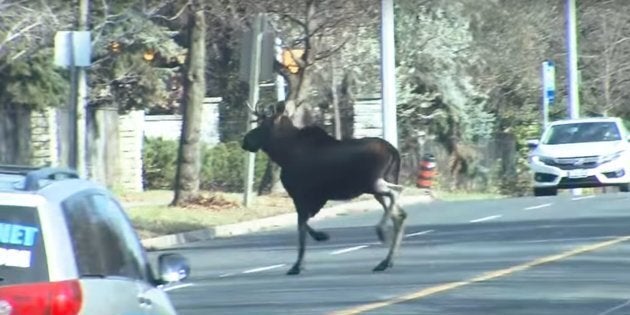 It was a wild moose chase like no other.
The lost and frightened moose ran through the highly populated and residential areas of the city trying to find its way back home. The moose took itself on quite an adventure, running through backyards, across main roads and through car parks.
The moose was first sighted at 7am on Friday and as news spread about their unusual visitor, Markham residents were shocked by its tour of the city.
"It's very strange. We have had deer around here and foxes, but not a moose. It's pretty amazing," one resident told CTV.
Wildlife experts and police had a big job on their hands trying to detain the moose to keep both the animal and the city's people safe. Initially, police attempted to find the 360-kilogram moose, tranquilise it and move it to a more northern location in the state, but eventually the creature found its own way into a wooded area just outside of the city.
The moose is now believed to have managed to relocate itself to the safety of its wild habitat.