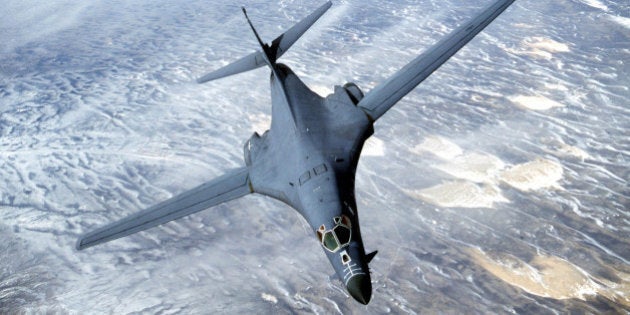 Recent reports from Canberra indicate that the United States proposes to rotate long-range strategic bombers through Darwin. This should come as no surprise to security watchers. Australia has a history of working with foreign air forces in joint training operations on home soil.
For example, the UK deployed strategic bombers to Darwin for air defence exercises from 1966 to 1972. More recently, the US deployed strategic bombers including B-52s to Australia for joint training operations with the RAAF, utilising the NT's Delamere air weapons range.
During these exercises, B-1 strategic bombers and B-2 stealth bombers were also purportedly used. Hence there is nothing particularly new or surprising in this announcement or in its proposal.
Australia has a legal framework that underpins these operations. The Joint Force Posture Agreement between the United States and Australia, first signed in 2011, provides a legal basis for both rotational deployments of US Marine Corps and United States Air Force enhanced aircraft cooperation activities.
Under its aegis, Australian and United States air forces train jointly in combined air operations. Importantly, such activities have a strategic rationale, being perceived by Canberra as deepening the US alliance and furthering Australian support for the United States as the anchor of regional stability and security in the Asia-Pacific.
For Australian and US aircrews, such joint training operations are their vocational bread and butter. Foreign deployments enable aviators to gain valuable time familiarising themselves with theatres in which they may, in future, be tasked. Working jointly with allied forces enables operational and support staff to gain experience in systems and aircraft, develop training and operational doctrine and develop capabilities to improve interoperability. In such ways, both countries emerge better trained and better prepared to meet future regional security challenges.
Nevertheless, the timing of this announcement is no coincidence. It never is. It is no surprise that the proposal comes hot on the heels of recent urging from United States naval leaders for Australia to launch freedom of navigation and overflight operations (FONOPS) in the South China Sea.
Whilst framed diplomatically as reinforcing international rules and norms, there is no question that current South China Sea FONOPS are targeting China. Beijing's recent land-reclamation activities and subsequent developments, including staging advanced surface-to-air missile systems on disputed islands, have led to accusations of regional militarisation.
In this context and at this time, the rotation of nuclear capable B-52 and potentially B-1 bombers through Darwin, within range of disputed South China Sea islands, is a clear signal to Beijing that Washington is prepared to back up its rhetoric with military muscle. Or such is the intention.
And this is not without precedent. Washington has form with such shows of force, including flying B-52s over South Korea in 2013 and earlier this year, both times following North Korean nuclear tests. And just as those flights antagonised Pyongyang, the rotation of United States strategic bombers through northern Australia will undoubtedly vex China. For the diplomatic signalling symbolised by the use, or threatened use, of strategic bombers is unambiguous, and is intended to give even the strongest powers pause for thought.
The provision of Australian airfields and training grounds for joint-training activities with the United States is arguably a necessary alliance cost. Through Australia's alliance with Washington, Australia derives substantial benefits, including military aid and access to advanced American military hardware and weapons systems. Significantly, in 2007 Australia's access to United States' military technology was raised to the highest level, equivalent to that of Britain's.
The advanced weapons systems to be installed in Australia's future submarines are an example of this access. In return for such benefits come costs, and included in these is the provision of geographic advantage, such as that provided by Pine Gap, the Port of Darwin and Garden Island (WA) and it is also in this context that the current US proposal should be viewed.
Strategically, this announcement is important, for both Australia and for the region. As China's rise continues to be characterised by prickly displays of assertiveness with countries such as Vietnam and the Philippines, escalating militarisation, and a disdain for international rules and norms, local states are looking to Washington to continue to underwrite regional security as they have done since the end of World War II. In the Asia-Pacific, states are seeking a greater US presence, not less, and this development is an example of the type of initiative that will deliver this.
Will China be pleased? No. Will China have been expecting it or something similar? Probably, but they will learn to live with it though we should expect more robust rhetoric from Beijing as this development unfolds.