When you think of high-end restaurant food you probably picture 24 hour slow-cooked steak, ornate plate art and perfectly symmetrical food elements.
While we all wish we could recreate dishes like this at home, not everyone has the time or skill to master the art of the spoon push or an ice cream quenelle.
Good news, food aficionados. You will be delighted to hear that you don't need to be a Michelin starred chef to make this delectable restaurant recipe for Moroccan Lamb Cutlets.
In part one of the recipe series with Australian chef and restaurateur Luke Mangan, he shows how to make one of the signature dishes served at MOJO by Luke Mangan restaurant in Sydney.
This lamb dish is easy to make while being full of flavour thanks to the aromatic Moroccan spices, salty-but-sweet caper and raisin puree, and crunchy broccolini and hazelnuts.
Moroccan Lamb Cutlets, Caper and Raisin Puree, Broccolini and Hazelnuts
12 lamb cutlets
3 tablespoons Moroccan spice
2 bunches broccolini
3 tablespoons toasted and peeled hazelnuts
Olive oil
Sea salt and freshly ground black pepper
150g raisins
35g capers
75ml water
Place all of the ingredients in a pot and bring to a boil, then simmer for five minutes.
Take off the heat and place in a bar blender, and blend until you have a fine puree.
Pass through a fine sieve.
Pre-heat a barbecue to a medium-hot heat.
Season and oil the lamb and the broccolini, place on the barbecue and cook for about two minutes on each side. Remove from the barbecue and let the lamb rest. (If the broccolini needs more cooking, leave on the barbecue for a bit longer.)
Place some of the puree on a serving plate, arrange the lamb and broccolini over the top and sprinkle the hazelnuts to serve.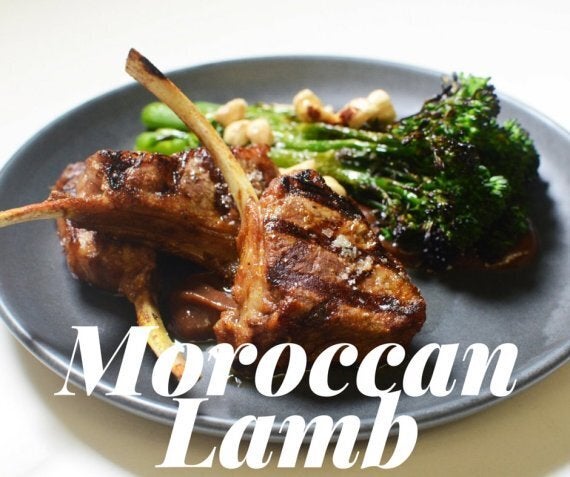 Luke's looking for Australia's biggest foodie -- head to the Luke Mangan website to apply.