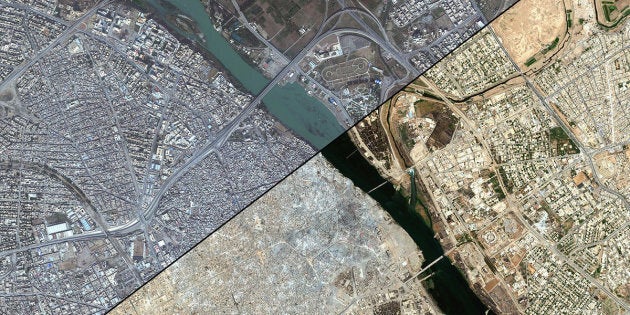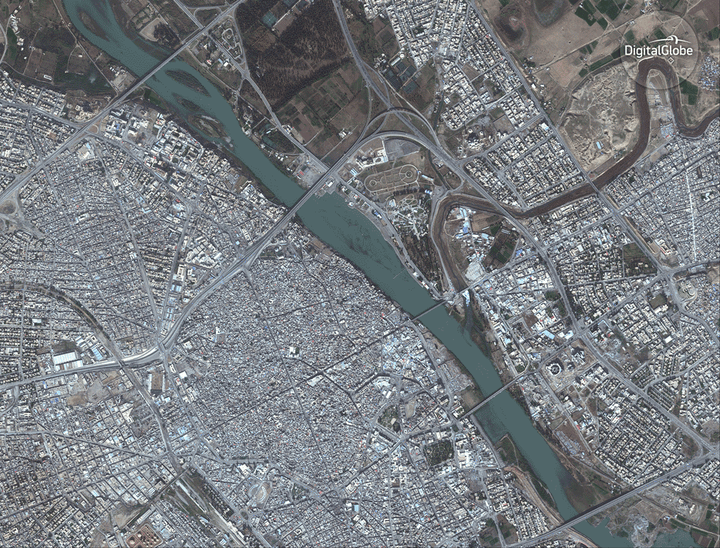 Newly released satellite images reveal the near-absolute destruction of several neighborhoods in Mosul, Iraq, after a months-long battle between Iraqi forces and Islamic State militants for control of the city.
The aerial shots, published by satellite imagery company DigitalGlobe, show stark differences in the appearance of Iraq's second-largest city from November 2015 to July 8, days before Iraqi Prime Minster Abadi claimed victory in the battle.
ISIS captured Mosul in the summer of 2014 and made it the group's base in the country. Iraqi forces launched an offensive to drive the militants out of the city in October 2016, at first focusing on eastern neighborhoods. By July 10, Iraqi fighters also had driven ISIS out of the city's west.
But the victory came at a large cost. In some of Mosul's western neighborhoods, not a single building is left standing. Crucial infrastructure, including sewage pipes, electricity lines, hospitals and schools, have been destroyed.
Stanley Brown, director of the U.S. State Department's Office of Weapons Removal and Abatement, told The Washington Post on Monday it may take decades to clear explosives left behind by the militants. "When I look around the world in some ways there's nothing like Mosul that we've encountered," Brown said. "The level of contamination though is not one of those where we're talking weeks and months, we're talking years and maybe decades."