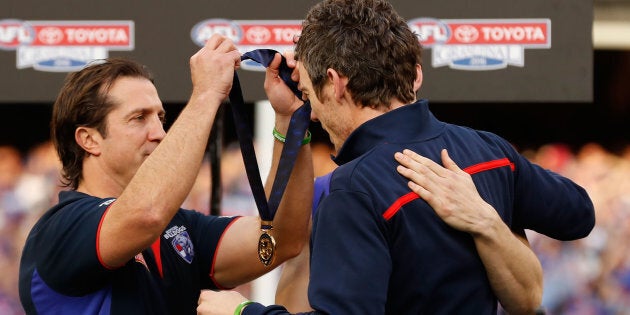 Western Bulldogs' captain Bob Murphy has handed back the premiership medal coach Luke Beveridge draped around his neck on grand final day in one of the AFL's most touching moments.
Beveridge revealed at the Charles Sutton Medal presentation night on Wednesday that Murphy "said he couldn't keep it" and returned the medal to the Bulldogs coach.
But the medal won't end up in Beveridge's trophy cabinet either -- he has decided to donate the medal to the club's museum.
Murphy was devastated to miss out on the grand final clash with the Sydney Swans after he ruptured his anterior cruciate ligament.
"This is yours, mate," Beveridge said as he handed Murphy the medal at the post-grand final presentation. "You deserve it more than anyone."
"He said he couldn't keep it but he thanked me for the gesture. The medal will go on display in the Western Bulldogs museum as a symbol of camaraderie and respect that Bob has fostered over his career at the Western Bulldogs."
Easton Wood was named as replacement captain for Murphy and led the team to a grand final victory over the Swans on the weekend. But Murphy is still considered the heart and soul of the team.
"We'll just have to do it again for him next year, I reckon."