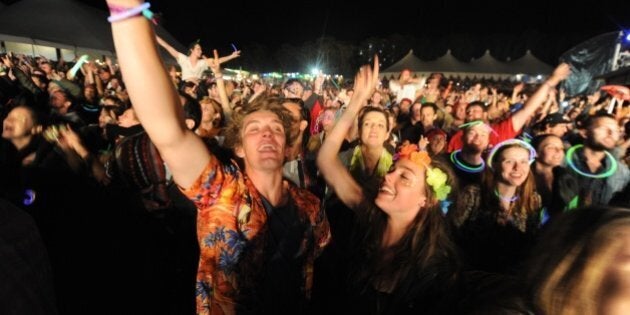 As New Year's Eve rolls around, music festivals are the hottest tickets in town to help partygoers usher in 2016.
From the Falls Festivals' three locations down the east coast, to Field Day and Lost Paradise in NSW, Beyond The Valley in Victoria and Southbound in WA, tens of thousands of revellers will celebrate the new year with friends, music, late nights and alcohol -- and, for many, illicit drugs.
Sadly in recent times, the combination of music festivals, alcohol and drugs has had devastating and tragic consequences. The deaths of Georgina Bartter, Sylvia Choi and Stefan Woodward in the last year have become the tragic shorthand for the consequences of illicit drug use, among several other music festival deaths believed to be related to drugs.
A study of drug reports by American drug addiction information service Project Know found ecstasy available in Australia is among the most dangerous in the world. The study -- comparing ecstasy pills from the United States, the Netherlands, the United Kingdom, Canada and Australia, from data by drug testing and review sites EcstasyData.org and PillReports.net -- found Australian ecstasy ranked second-lowest in MDMA (methylenedioxy-methamphetamine), the drug's active ingredient.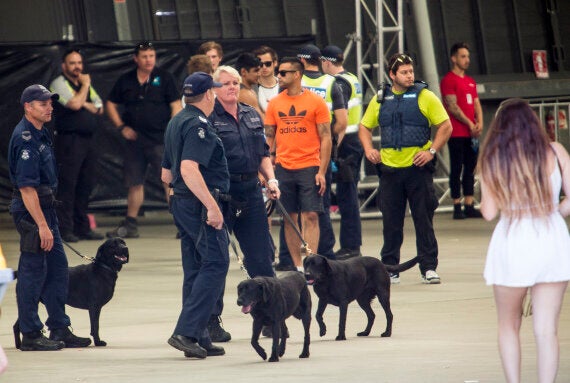 Police with sniffer dogs at Melbourne's Stereosonic Festival
Australian ecstasy was found to be arguably the most dangerous of the countries surveyed. It was highest in 'unknown' ingredients, with almost a quarter of the ingredients found in Australian ecstasy found to be totally unidentifiable. Australian pills were also highest of the five in paramethoxymethamphetamine (PMMA), a toxic substance which causes extreme body temperature, seizures, and has been linked to a string of deaths both in Australia and overseas.
The established nature of Australian drug-taking, and the obvious health risks associated with such, is why a growing stable of drug experts, academics and advocates are pushing for Australia to legalise pill testing and drug checking facilities at music festivals -- to give drug users more information about the substance they are about to consume.
"Using drugs is never without risk. Using unknown drugs is much riskier. If this continues, more young people will die. It's as simple as that," Will Tregonning, from harm reduction group Unharm, told The Huffington Post Australia.
"People are going to use drugs anyway, not knowing what they're taking. We want to provide that at-risk group of people, already about to use drugs, info about the drugs they're intending to consume, and give them info around the risks of consuming that substance."
Tregoning is one of the signatories on an open letter to NSW Premier Mike Baird and NSW Police Commissioner Andrew Scipione, pleading for pill testing to be introduced at music festivals. The 'Safer Summer' letter is also signed by NSW Greens members David Shoebridge, Jenny Leong and Mehreen Faruqi, and Dr Alex Wodak, President of the Australian Drug Law Reform Foundation.
In part, the letter reads:
Giving additional information to young people who choose to consume drugs allows them to discard drugs that pose an unacceptable risk. This can be done this summer if the NSW Police work with music festival organizers to allow for pill testing at music festivals.

Pill testing does not prove that a drug is safe. However it can identify known unsafe drugs as well as dangerous adulterants. If a drug fails the test it can then be safely discarded in an amnesty bin. Every drug discarded in this manner is a win for the health and safety of young people at music festivals.
Pill testing, in place in various forms in certain parts of Europe, can be as simple as a litmus test indicating the presence of certain substances -- for instance, ecstasy, MDMA, methamphetamine, heroin or poisonous cutting agents -- up to sophisticated, laboratory-grade equipment that gives precise rundowns of the chemical ingredients in a certain substance. Pill testing regimes put forward by Australian advocates would not tell a potential drug user that a substance is "safe" or "unsafe" -- they would give the user more information on that substance, for the user to then make an informed decision.
Emergency physician and drug expert Dr David Caldicott is one of those speaking out loudest for pill testing to be introduced. He wants to run a trial at a music festival this season, with laboratory-grade equipment.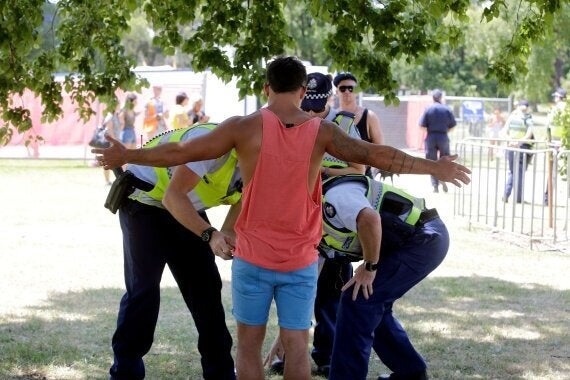 Police conduct a frisk search of a festival-goer
"I don't give a shit about the morality or philosophy of drug use. All I care about it is people staying alive," he told HuffPost Australia.
"Instead of just cataloguing the deaths, we should do something to stop them dying. Some people say "they shouldn't take drugs to start with," but that's like saying you shouldn't have sex before marriage. This is about acknowledging what everybody already knows, that young people will take drugs."
Victorian festival Rainbow Serpent has said it would be interested in investigating how a pill testing program would work at its event. The festival has had a drug-related tragedy of its own, with Melbourne man Daniel Buccianti dying in 2012. His mother, Adriana, started an online petition calling for NSW and Victoria to introduce pill testing, which has since attracted 36,000 signatures.
"Rainbow Serpent has stated it would be willing to look seriously at any harm minimisation strategies including pill testing in collaboration with emergency service and health providers," the festival said in a statement on its website earlier this year.
"Director of Rainbow Serpent Festival Tim Harvey said it is time to acknowledge the current strategy employed by governments and police isn't working."
In the wake of Choi's death at Sydney's Stereosonic festival in November, NSW Police have consistently rejected calls for the institution of a pill testing regime, saying their hardline stance on drugs would not waver.
"There are many that continue to this day to call for less police interaction, fewer drug dogs, in fact, no drug dogs, fewer police at these events," Scipione told the ABC in November.
"That will never happen."
Matt Noffs, CEO of the Noffs Foundation, is among those pushing for pill testing as a harm reduction device. Using the hashtag #TimeToTest on social media, Noffs has been vocal in putting the service forward to combat hospitalisations and deaths from drugs at music festivals.
"With this recent spate of deaths, we need to acknowledge that our laws are failing our children. As my children are growing up, I'm desperate to see laws and safety nets that will potentially save a child's life instead of letting it go to waste," he told HuffPost Australia.
"Pill testing is one tactic in a plethora of tactics to reduce drug-related deaths at festivals. It is not a panacea or silver bullet, but that doesn't mean we should be apathetic about it... we have lost too may lives in a short period of time. We're not doing enough."
Professor Alison Ritter, Director of the Drug Policy Modelling Program at the University of NSW's National Drug and Alcohol Research Centre, has also joined the call.
"[Drug] checking does not mean drug use will become legal. It means providing people who have chosen to use drugs with the opportunity to be better informed about the drugs they may consume and to be provided with information that could prevent harm," she wrote in a recent article for The Ethics Centre.
"Harm reduction services -- including drug checking -- can sit hand-in-hand with the view that drugs should be illegal. Drug checking alone does not lead inevitably to legalisation."