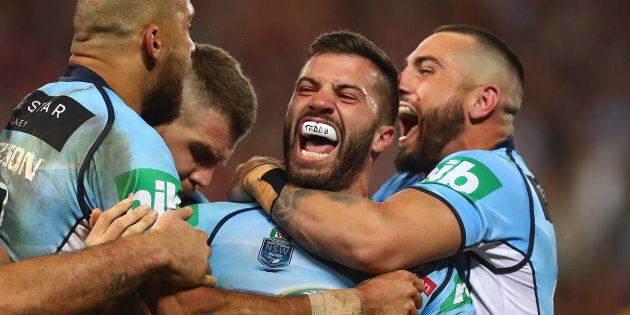 It's over. Not just the first State of Origin match between New South Wales and Queensland at Suncorp Stadium in Brisbane, which NSW won 28-4, but Queensland's era of Origin dominance.
That's the conclusion it's almost impossible not to reach, after an incredibly dominant performance by the Blues.
Leading 6-4 the end of tight first half, NSW scored right on the bell.
"That hurt," Queensland's Cooper Cronk admitted as he trudged off the field, but you still sensed Queensland could come back. That they would come back. Because Queensland.
But NSW scored first in the second half and just kept piling on the tries. James Tedesco was incredible in the second half, making scything runs and chopping Queensland down in defence on at least two occasions when they seemed certain to score.
Earlier, what looked like an eye gouge attempt soured the first half, as Queensland's Nate Myles raked his fingers across the face of NSW star Jarryd Hayne in an ugly incident.
Mitchell Pearce starred for NSW in the first half. To non-league fans, he will always be that guy who did that simulated act with that dog on that couch on that ill-fated night.
To rugby league fans he's the man who has won a premiership with the Roosters but never converted his consistently terrific club form to success in the representative arena. Indeed he had never won an Origin match in six attempts at Suncorp.
Now that this match is over, despite missing much of the second half due to concussion, Pearce will now be known as the player whose game finally matured enough to win an Origin in Brisbane.
Pearce did a couple of good things and a couple of bad things in the first half. But the good things were very good and led to both NSW tries.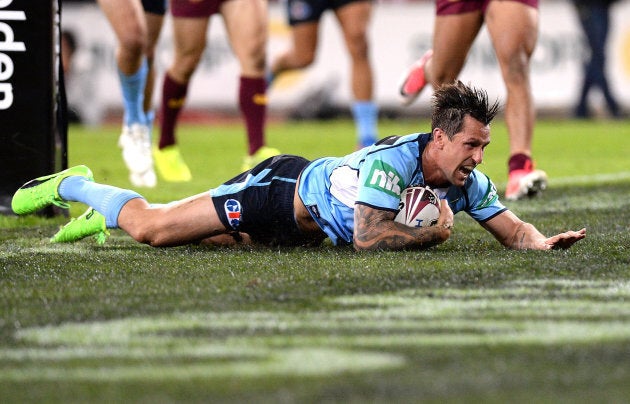 The first half was old school Origin. Few mistakes or penalties. Huge hits. Forwards dominating. Andrew Fifita was enormous, both literally and metaphorically for NSW. One of his barging runs led to the first try.
The second half was a more open affair and was all New South Wales. Simple as that. Even players who won't be mentioned in dispatches played their part -- like Josh Dugan, who somehow stripped the ball from Aidan Guerra when the Qld forward looked certain to score.
A few minutes later, Blues captain Boyd Cordner somehow held up Darius Boyd when the Queenslander had crossed the line. It was that kind of night. Nothing worked for Queensland. Everything did for NSW.
Jarryd Hayne was also great for the Blues -- especially in attack, less so defensively -- in his return to the fray after two missed series while he chased his lifelong NFL dream (and other dreams which may or may not have lurked inside him quite as long).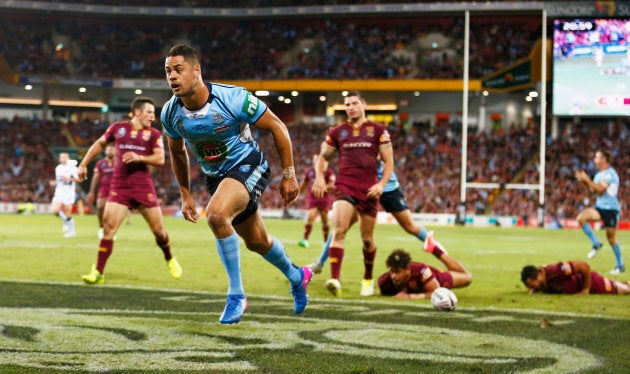 For Queensland, Smith and Cronk played well while Darius Boyd schemed away all over the ground in a display which emphasised why selectors picked him over stalwart Billy Slater.
But the rest of the team couldn't lift to their level. Queensland has won 10 of the last 11 series in one of the most remarkable periods of dominance in Australian sport. They achieved this with a fantastic team ethic, and with superstars across the field.
To revert to an old cliché, they were both a champion team and a team of champions. They will always be the former. But they're no longer the latter -- although the return of the injured Johnathan Thurston in match two in Sydney will undoubtedly help.
"I can't wait for three weeks time," man-of-the-match Andrew Fifita said. You'd imagine that the blokes who have to tackle him can.
"First time at Suncorp was an amazing feeling," star NSW fullback James Tedesco said. "We had a big emphasis on defense during the week."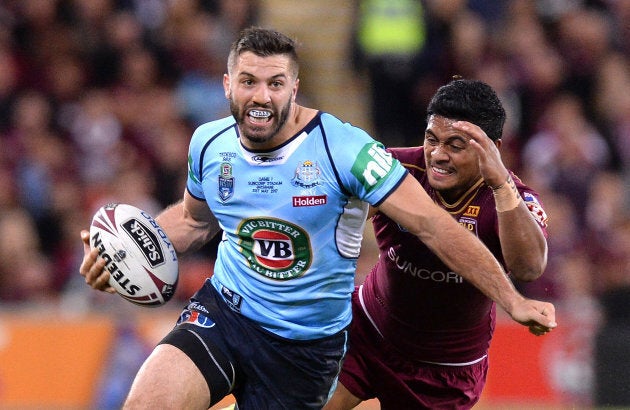 Qld halfback Cooper Cronk was generous towards the Blues. "Sometimes you've just got to tip your hat to the opposition," he said.
The 109th Origin match, and Cam Smith's record 40th, was not a happy affair for the Queensland captain. Whether NSW can play as well again is a fair question. Whether they need to is another one.
ALSO ON HUFFPOST AUSTRALIA