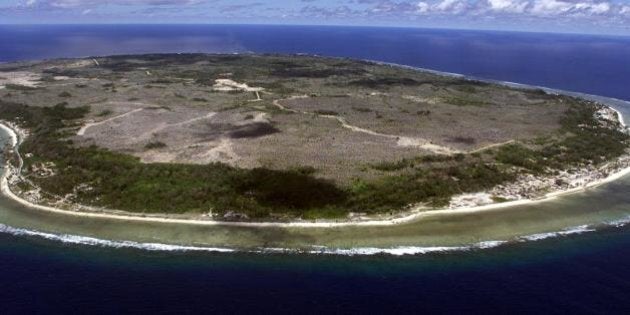 At least two Iranian women detained on Nauru claim they were strip-searched by male security guards from an Australian firm who laughed as they ordered the women to remove their clothes, with allegations male guards are telling female detainees they have the power to conduct strip searches.
A young Iranian woman claimed male guards from Australian firm Wilson Security were "laughing and leering" as they told her "you have to open your legs and hands so we can scan you with the wand" in an alleged incident on December 11.
The Refugee Action Coalition also report another married Iranian woman has alleged another similar incident on December 6, claiming guards are searching for phones and other contraband.
A spokeswoman for Wilson Security denied the allegations.
"Wilson Security staff have not at any time conducted strip searches of asylum seekers on Nauru. At no stage on December 6th or 11th was an asylum seeker strip searched or requested to remove clothing by any Wilson Security guard," the spokeswoman told The Huffington Post Australia in a statement.
"The claims as you refer to them are incorrect."
The Department of Immigration and Border Protection also denied the claims, saying strip-searches would be "inexcusable behaviour."
"Claims that transferees at the Nauru Regional Processing Centre (RPC) were subjected to strip searches on December 11 2015 are untrue. These claims have been investigated by the service provider and have been found to be baseless and unsubstantiated," a department spokesperson said in a statement on December 16.
"Security personnel do not undertake strip searches and have no authority or reason to perform such searches. Any service provider personnel found to engage in this kind of inexcusable behaviour will be subject to disciplinary action and referral to the Nauruan Police."
In a second statement on December 22, the Department also refuted allegations about the December 6 incident.
"Both of these alleged incidents have been referred to the Nauruan authorities," a spokesperson said.
"All persons entering Regional Processing Centres are subject to a screening process to ensure the safety and security of all people living and working on site. The Department can confirm that no change to this process has occurred as indicated in recent media coverage. Strip searching individuals is not part of the screening process and has not occurred."
Transfield Services, which provides welfare support to the Nauru centre, said "neither Wilson nor Broadspectrum have conducted strip searches of transferees on Nauru."
The young Iranian woman, under the pseudonym Arezo, claimed she was told to strip off inside Offshore Processing Centre 3 (OPC3) around 11pm on December 11. The allegations were made to Australian refugee advocate Shane Bazzi, who said he is in regular contact with the young woman. Arezo alleged up to six guards -- including both men and women -- directed her inside a small barracks building and ordered her to strip.
"They were laughing and leering at me and I felt I was being treated like a criminal. I kept telling that I have nothing but they told me I must take off my clothes in front of everyone, in front of all the security men. I felt like a piece of meat," Arezo wrote in a message, which Bazzi published on his blog.
"These men continued to laugh. They made me feel very uncomfortable and scared... I was crying and shouting at them to please not make me take my clothes off. They kept insisting that I have to do what they tell me, it's the new rule."
"Every day security are telling the women they need to take off their clothes in front of men. They are forcing young teenager girls to do the same things."
Commonwealth legislation, as well as laws in many Australian states, say that strip searches should be conducted by someone of the same gender as the subject of the search, and that strip-searches should not be conducted in the view of someone of the opposite sex or anybody who is unnecessary to the search.
Nauru does not operate under Australian law.
After enquiries by HuffPost Australia, Arezo gave further details of the alleged incident in a second message to Bazzi.
"Man guard did search. So lady guard when I didn't accept for open my legs and my hand she told me, you have to open your legs and your hand. When she saw I didn't accept she told me you have to take up your t shirt and bra maybe you have something your bra [sic]," Arezo claimed.
"When I take up my T-shirt and bra so all men saw me she told me okay you have to go [another] place for take up all your clothes i didn't accept for going to there... I push myself and pushed open the door I left there. They didn't touch me just when i take up my T-shirt and bra they look at me."
In a phone conversation with HuffPost Australia, Arezo said a female guard asked her to strip off.
"The lady said I have to open my arms and my legs, she said 'you have to take off your shirt and show us'," Arezo said.
"I told them I don't have anything, but she said that was not enough, that I had to go in another room [to strip off]."
Bazzi said the guards did not forcibly open Arezo's legs and she was then permitted to leave.
Arezo claimed she later heard guards talking and laughing about her. She said an investigator came to visit her on December 18 to ask about the incident and take a statement. Arezo claimed she asked for a copy of the statement, but was not given one.
"I've been in touch with her for a while. It was quite horrific what she told me, considering what she's been through," Bazzi said.
Ian Rintoul, of the Refugee Action Coalition, said his group was aware of another alleged incident on December 6.
"Around 4pm... a married Iranian female asylum seeker was returning to RPC3 having attended church. She was searched by four Wilson guards, two women (believed to be Australian) and two men. The two female guards eventually forced her to remove her shirt in view of the male guards standing a short distance away," the RAC claimed.
"Three days later, after lodging a formal complaint, she was visited in her tent by Wilson's Security officials who told her that there were new rules regarding searches and that the guards could "touch their bodies"."
Rintoul said asylum seekers on Nauru believe at least another five incidents have occurred.
"You have got officially sanctioned sexual harassment here. There has been a complete lack of response, there have been two formal complaints but no indication so far the search procedures have been altered," he told HuffPost Australia.
"They have allowed for far more intrusive search which the women are finding distressing."
Another refugee advocate, South Australian-based Jeanie Marie Walker, is in touch with many detainees on Nauru and told HuffPost Australia she had heard similar claims of male guards strip-searching female detainees.
"This stuff is happening all the time. The amount of stuff we hear, nothing is surprising," she said.
"There was a lot of that in the investigation into Nauru. You do hear of that stuff going on. It's disgusting, but it is going on all the time."