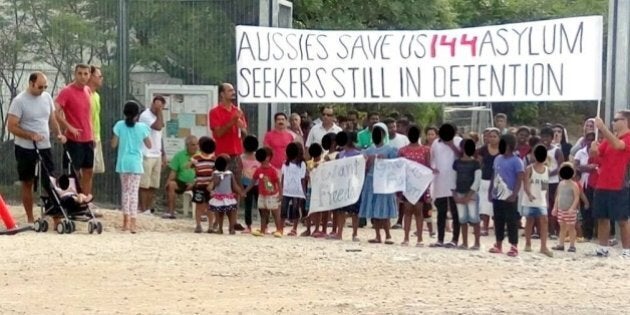 Asylum seekers on Nauru have been protesting for four days, as some of them prepare to mark 1000 days detained in Australian immigration detention on the island nation.
Good Friday will be the 1000th day in detention for some asylum seekers. That's more than two years and nine months.
While a number of asylum seekers have been determined to be genuine refugees and been officially resettled on Nauru -- with freedom of movement around the island, an ability to get jobs and start a proper life -- many are in limbo, awaiting processing and the determination of their refugee status, and mostly confined to the detention centre on the island. That's what Ian Rintoul, of advocacy group Refugee Action Coalition, told The Huffington Post Australia.
He said "hundreds" of asylum seekers -- men, women and children -- who haven't had their refugee status determined have been protesting at the gates of the facility for four days, since March 20. Chanting, brandishing hand-painted signs and partially blocking the main gate into their camp, the asylum seekers are calling for faster processing of their refugee applications.
"They're protesting the long term detention without the processing, as well as the general situation on Nauru. So far the protests have been peaceful, occupying the gate. They're chanting about freedom and justice. They usually go for a few hours a day," Rintoul said.
He claims asylum seekers, refugees and others on the island who have photographed or filmed the protests have been threatened with arrest by local authorities and staff at the centre.
Nauru has recently been reclassified as an "open centre," meaning asylum seekers are not technically imprisoned in the detention centre and are allowed some freedoms not necessarily associated with a detention facility. Signs at the protest claim 144 asylum seekers remain in detention, but the Department of Immigration and Border Protection would not confirm exact numbers when contacted by HuffPost Australia.
While those who have been deemed to be "genuine" refugees are permitted to travel, live and work among the wider Nauruan community, Rintoul said asylum seekers who are still awaiting a determination have significantly fewer freedoms.
"They aren't allowed to bring things in, they don't have money. Even under the open centre, they're effectively confined to [the camp]. They can't work, they can't move freely. A lot of restrictions remain," he said.
"The ones housed outside the camp do get a small allowance, do work, are allowed to move around the island outside the area... the people protesting are only the asylum seekers, not the ones deemed to be refugees."
A young man on Nauru claimed conditions among asylum seekers in the centre were deteriorating.
"There is some people who have got ear infection, eyes, nose, throat, because of the air. Some of the people, their legs and backs hurt because of the rocks on the ground," he told HuffPost Australia.
Rintoul criticised the prolonged period taken to process asylum seekers.
"Despite promises made at the end of last year, that everybody would be processed soon, that just hasn't been fulfilled. The fact people can be 1000 days on Nauru and not have a refugee determination, it exposes the very stark realities of the lack of processing and lack of any resettlement arrangements."
HuffPost Australia sent a list of questions to the Department of Immigration and Border Protection about the protests, the claims made by asylum seekers that they had been waiting 1000 days for a refugee determination, how many asylum seekers had been processed and how many were still awaiting a determination.
Here is their reply, in full: