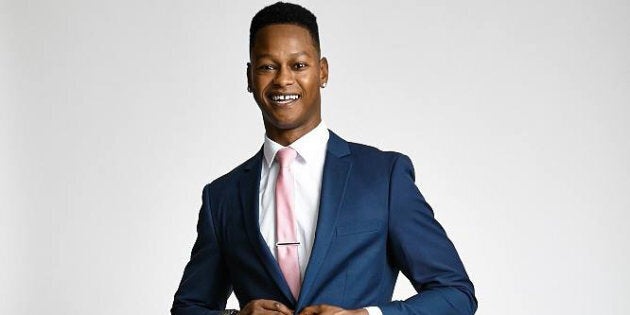 Melbourne man and self-professed professional footballer Nelly Yoa has stood by his story that he is -- among other things -- a brand ambassador for American Express, a Nike-sponsored athlete, a leading mentoring figure for Sudanese youth in Melbourne and a former hopeful for English soccer giants Chelsea, despite days of denials from the organisations he claims strong links to.
In an interview with HuffPost, he said that any stories to the contrary of his claims were "lazy journalism", despite mounting evidence to the contrary from multiple newspapers and news websites who have been in contact with the brands and clubs in question.
Yoa was thrust into the national spotlight last week after writing a front-page opinion piece for Melbourne newspaper The Age, calling for Victorian authorities to crack down on crime perpetrated by African youths. He claimed to do volunteer work with troubled youths, and has previously claimed to mentor African youths including members of the Apex gang.
"As a South Sudanese man who personally knows and mentors members of youth gangs in and out of prison, I firmly believe we have a major issue among young South Sudanese people in Melbourne," Yoa wrote in The Age.
Yoa has been featured in media around youth crime in Melbourne before. He claimed his promising soccer career was derailed after he was attacked with a machete by a group of African youths in 2011, suffering serious injuries to his arm and leg. He claimed he was back to full-strength in astonishing time -- saying he recovered from anterior cruciate ligament surgery, the recovery for which can take up to a year even for professional athletes, in a matter of months. He has also claimed promising trials with English soccer giant Chelsea, as well as Queen's Park Rangers.
He claims to have been on the verge of a "multi-million dollar" deal with Australian A-League side Melbourne Victory, but says the contract negotiations broke down. His social media profiles claim he is a brand ambassador for American Express, and sponsored by Nike, as well as a friend of Olympic sprint champion Usain Bolt. In May last year, he said he was "playing for Collingwood" in the AFL.
In addition, Yoa's article in The Age appears to have borrowed substantial sections from a blog post written in 2015, with several paragraphs from Yoa's January 1 piece appearing word-for-word in the earlier blog. Fairfax added an editor's note to the top of Yoa's article on Monday, noting "some of his 'ideas' for solutions to the issue of youth crime appear to have been plagiarised from an article written in 2015 by Manola De Vos on the website devex.com." In addition, Sudanese community leaders in Melbourne have publicly voiced their doubt that he mentors African youth as he claims.
Despite all this, Yoa is standing by virtually every part of his story. In an interview with HuffPost on Monday night, Yoa said the details about his sporting career and alleged endorsements were "irrelevant" but that any stories to the contrary of his claims were "lazy journalism".
"I can confirm I am contracted with them. Never contracted with Mercedes Benz... but AmEx and Nike, I have contracts with them," he said.
Yoa also said "nobody [from the brands] has been in contact" with him to ask him to stop claiming those links, as evidence that he indeed does have those endorsements.
When the first stories began circulating of Yoa's apparent exaggerations, he posted a message to his Twitter threatening "defamation" proceedings against Fox Sports and News Corp.
Yoa claimed that the criticisms from Sudanese community leaders were driven by personal grudges, as Yoa had himself criticised them in earlier TV interviews.
"Those two leaders who claim to be Sudanese leaders, well Melbourne is a big community. They are in the western suburbs, I'm in the south-east... They've never been to the south-east," he said.
"After embarrassing him on live TV, of course he has a reason to say he doesn't know me. I absolutely stand by it. They've never been to Dandenong. For him to disown me, I find it funny. He did it out of anger."
Yoa claimed the other leaders were "upset because we're from different tribes." However, he conceded that his position within Melbourne's Sudanese community may have been overstated in media reports -- he said he would be more accurately described as a "community member" not a "community leader".
In 2014, Yoa posted photos on his Twitter profile seeming to claim that he was about to sign a deal with Chelsea FC. However, sceptics have claimed the photos he posted could have easily come from a tour of the club's home stadium, which is available to the public. In addition, his LinkedIn page said he was with Chelsea from February 2013 to August 2013, a year after the photo was posted to Twitter, while his Facebook page says he played with Chelsea in 2012.
HuffPost asked Yoa if he had any photos or other evidence to support his claims that he played or trialled with the English football clubs. He said he did not.
"Both QPR and Chelsea haven't released any statement. They haven't confirmed or denied," he said.
"With Melbourne Victory, the contract never eventuated. It was solely a verbal contract."
"These events occurred over five years ago. I don't have any records. It's all a trial. If you aren't successful, what's the point of photos or records if you don't sign with them?"
For now, Yoa said he was training with an Australian Rules football club, and while he would not say which one, he claimed he was "most likely" going to play for that team in the Victorian Football League reserves competition this year.
Fairfax added an editor's note to the top of Yoa's article on Monday, outlining that "several of the assertions made by Nelly Yoa in this article about his personal circumstances have been challenged, exaggerated or found not to be true", as well as noting that "some of his "ideas" for solutions to the issue of youth crime appear to have been plagiarised".
"The Age accepts that Mr Yoa's assertions and credentials should have been checked more thoroughly before publication and apologises for not doing so. The Age also apologises to Ms De Vos. Mr Yoa denies plagiarising Ms De Vos' article."
In a statement to HuffPost, The Age's editor Alex Lavelle said the paper would "re-evaluate our checking procedures following the publication of his piece".
Speaking to HuffPost, Yoa still maintained that he did not plagiarise any parts of his article.
"I don't believe I've copied. I wasn't aware. It's a coincidence it's similar to what she's said. I've looked at what I've written," he said.
Yoa also denied claims circulating on social media that he was employed by a Liberal Party politician in Melbourne.