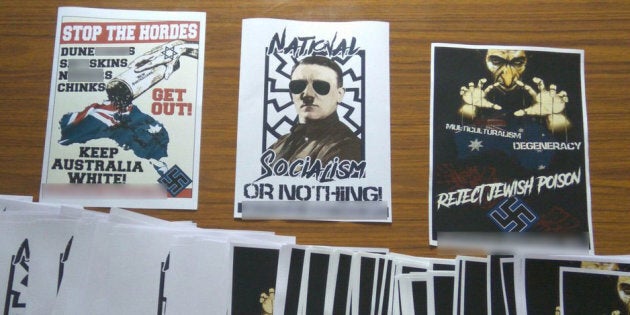 The Melbourne CBD, university and zoo have again been blanketed with vile racist posters and stickers by a Victorian neo-Nazi group who hit the headlines for similar stunts last year.
Around 200 posters were plastered around the city on Monday night. One type of poster featured swastikas, anti-Jewish slogans and images; another showed a picture of Adolf Hitler wearing sunglasses; and the third, and arguably the most offensive, is splashed with slogans 'stop the hordes' and 'keep Australia white', and 'dunec**ns, s**tskins, ni**ers, ch**ks, get out'.
The neo-Nazi group, which The Huffington Post Australia has chosen not to name, conducted another operation on Valentine's Day. Members claimed to have covered the city with a further 1000 small pink stickers, featuring a heart with an image of Hitler inside, and the name of the group.
The group posted several photos of the stickers plastered on bridges, road signs and other city locations, later claiming on a fascist internet forum that the operation was to "add some beacons of light to the sweeping filth of the Central Business District."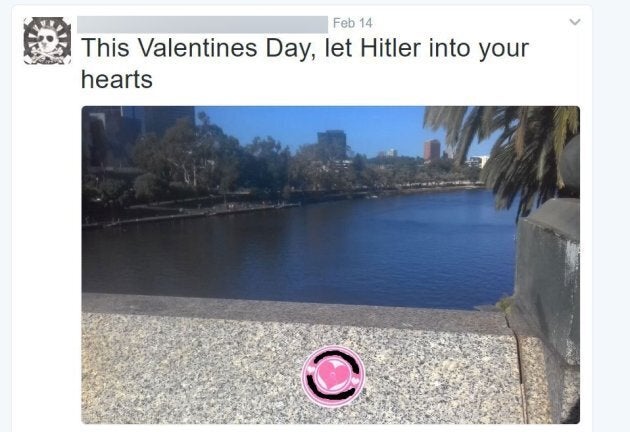 The group describes itself as "Australia's only National Socialist Youth organisation", with the political term 'national socialism' more commonly known as Nazism.
The group seems quite small, with only a few dozen Twitter followers and just a handful of people posting on the fascist internet forum where the group is advertising its website and activities. Several of the members on the forum claiming to be part of the group are aged in their early 20s, the group calls itself a "national socialist youth organisation", and its website states "We're a youth organisation and that means being in your teens or twenties".
Andre Oboler, CEO of the Online Hate Prevention Institute, told The Huffington Post Australia that the group's activities were disturbing.
"The group is small, local to Melbourne and radicalised online. They are not, however, an online focused organisation. They started on a major neo-Nazi forum with an announcement of their formation last October," he said.
"They updated the thread with posts about their ongoing activities and some months later, after the media gave them attention, they created their own website and twitter account. Their online presence has documented their offline activities but is very much an after-thought for this group."
The group's membership page outlines that potential members must be white, that the group has "a strict no-tolerance policy on drugs", and that gay people will not be admitted as members.
The membership page also states that members must take up a pseudonym "to ensure anonymity for your own safety".
"We're the Hitlers you've been waiting for," the group boasted online.