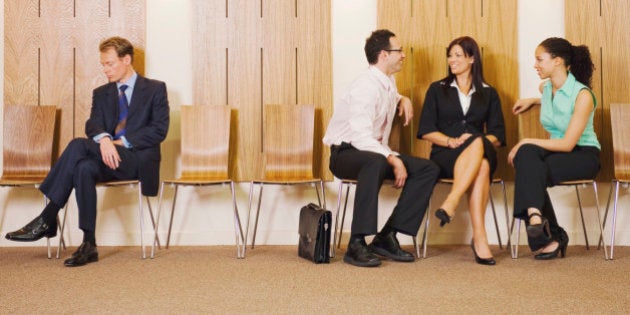 Networking. It's a word that can instil fear into the bravest of hearts.
It involves walking, usually very slowly, into a room full of strangers and starting a conversation with one, or more, of them.
While some people are very good at networking (they're the ones who also try to talk to you on your train ride home or while you're in line at the supermarket) most of us dread it, but can usually get out of it by washing our hair that night.
But spare a thought for the small business owner -- with the number of small businesses at an all-time high, it's never been more important for them to network.
Those who avoid it are missing out on the opportunities that networking provides, but how do you work that room if you'd rather be a wallflower?
Julia Palmer, networking strategist at the Business Networking Academy, told The Huffington Post Australia that introverts shouldn't be afraid to network -- but first need to understand what networking is and how to use it.
"Networking is an important part of marketing -- it always has been," Palmer said.
"When you're networking, you're forming real relationships with people and in this cluttered world with so much noise and advertising, referrals and recommendations are so powerful.
"If someone says to me 'you should use so and so because I use them and they're awesome' then that's your network working for you -- and it's more powerful than any form of marketing."
Learning techniques to help you be effective at a networking event, as well as setting goals before you get there, is a good way to keep you on track, particularly if you're nervous.
"If you have two or three really good goals, then you're more likely to get something out of it," Palmer said.
"Decide if you're there for professional development, or if you're seeking clients, and aim to educate others on how you can help them.
"Never try and sell when you're networking. If you don't need a car, it doesn't matter how much I tell you about it, you're not going to want it -- that's selling.
"People have their own needs and wants and if your product or service aligns with them, that's when you have the start of something."
Palmer said the most difficult parts of networking for business owners are starting and ending conversations.
"We've found that for most business owners, starting and leaving a conversation are the most difficult parts of networking," she said.
"People, particularly if they're introverted, fall back into comfort zones when it comes to networking challenges -- even if they determine the person isn't useful to their business, it's easier to stay.
"But if you have really good goals for being there, you're more likely to excuse yourself.
"Most people are really happy for you to move on after a short conversation, but if they are clinging to you, you can always take the person with you to a larger group."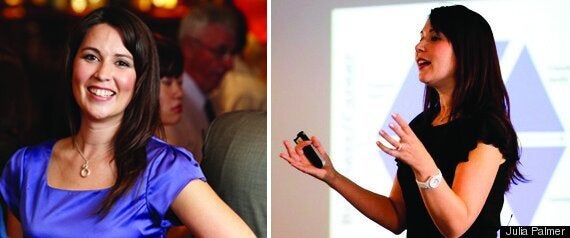 Julia Palmer teaches introverts to become confident networkers.
Doing your research will help you choose the right places and events to network for your business.
"Choose the right groups that have the right audience for you rather than waste time and money going to everything and putting yourself out there without being sure it's right for you," Palmer said.
"Network in your community too; for small business owners, the more people that know about you, the more your business will grow."
Palmer said making a positive impression is much more important than handing out all your business cards.
"Some small business owners misunderstand networking, so they go along and give their card to everyone and think that that's what networking is, but it's not," she said.
"And just because you don't come away with new clients, doesn't mean it's not working; if you've been memorable and explained your business really well, then I might need you in the future, or know someone that could.
"You never know who knows who."
Here are Palmer's tips to get you ready for a networking event:
Prepare conversations starters -- if you're attending a presentation, research the topic and the speakers.
Find out from the organisers who will be there -- this will help you set some realistic expectations for the day.
Have a positive attitude -- you want to feel good while talking about yourself and your business.
Go up to someone on their own -- they're probably struggling just as much as you are and you can help each other.
Go up to someone you already know, but don't stay with them. Networking is good to strengthen existing relationships, but talk to new people too.
If you just aren't comfortable approaching someone, go to the organiser's desk and ask them to help. They want you to get the most out of the experience, so tell them who you'd like to meet and ask them to introduce you.
The most important thing to remember when you're starting to network is that "it's never as bad as you think it's going to be", Palmer said.
"Most people say the #1 feeling they have when they leave a networking event is relief," she said.
"It usually goes much better than expected -- and if you go into it with a positive mindset, you might even enjoy it!"