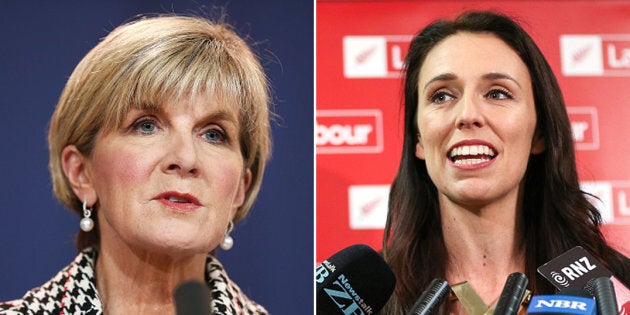 The next Prime Minister of New Zealand will be the leader of the country's Labour Party, Jacinda Ardern, after New Zealand First leader Winston Peters announced he is forming a coalition with her and the Greens, 26 days after Kiwis went to the polls.
Peters, who fronts the country's only nationalist party represented in the New Zealand parliament, became the Kiwi election's kingmaker after results from the polls were too close to call and a coalition government needed to determine the country's next leader.
On Thursday, he told a media conference that his decision ultimately came down to choosing between the New Zealand National and Labour parties based on their potential for change.
"We had a choice to make whether it was either with National or Labour for a modified status quo or for change," he said.
"In our negotiations, both National and Labour were presented with that opportunity -- working together, cooperating together for New Zealand.
"That's why in the end we chose a coalition government of New Zealand First with the New Zealand Labour Party."
Bishop took a major shot at Australian Labor leader Bill Shorten for an alleged involvement with the New Zealand Labour Party in exposing Barnaby Joyce's dual citizenship, describing the act as "highly unethical" and "treacherous behaviour".
At the time, Bishop and Prime Minister Malcolm Turnbull treated the issue as a diplomatic stoush between Australia and New Zealand that put the Trans-Tasman relationship "at risk". And in light of those comments, the Foreign Minister also said she would not trust a New Zealand Labour government should they win the election after she "had been used by the Australian Labor Party to seek to undermine the Australian Government".
Immediately following those remarks, Ardern hit back, diplomatically, via Twitter and then later in a statement directed at Bishop, saying the claims were "highly regrettable".
"I value our relationship with the Australian Govt highly," she first tweeted. "I won't let disappointing & false claims stand in the way of that relationship."
As for her first statement as the country's next leader, Ardern said her party is now focused on "forming a strong and durable government that can deal with the many challenges this country faces".
"We will work hard to ensure New Zealand is once again a world leader, a country we can all be proud of. We said we could do this, we will do this."
She also confirmed she plans to visit Australia as soon as she can after being sworn in as New Zealand's Prime Minister and is yet to have heard from any Australian politicians regarding her new role.
Both Prime Minister Turnbull and Bishop have since commented on Ardern's rise, with a spokesperson for Turnbull telling HuffPost Australia that he sent her a text message on Thursday afternoon congratulating her for the victory.
While Bishop said it would be inappropriate for her to pre-empt that message from Turnbull, in regards to whether she can trust the new New Zealand leader, she did say that she has accepted an explanation from Ardern on a member of her party who played a key part in the Joyce issue.
"The fact is Ms Ardern gave an explanation a couple of months ago about the behaviour of a New Zealand member of the Labour Party and she said at the time that his conduct is wrong, it was unacceptable and it should never have happened and that he shouldn't have become involved. And I accept her explanation and I agreed with her completely," she said on Thursday.
"It would be unprecedented for a Foreign Minister to pre-empt the Prime Minister in terms of giving congratulatory calls.
"I certainly look forward to working with the counterpart when the new Foreign Minister of New Zealand is appointed."
Further to that, Labor leader Shorten was also quick to congratulate Ardern for her "extraordinary energy" and campaigning for "inclusive, progressive policies, founded on universal Labo(u)r values" in a statement.
"It's with great pleasure that I congratulate the Prime Minister-elect of New Zealand, Jacinda Arden and her New Zealand Labour team," he said.
"In electing their third woman to serve as Prime Minister, New Zealanders have again provided an inspiration for women and girls around the world.
"More than a century after the first Anzacs fought and fell together, Australia and New Zealand's friendship is stronger than ever. My team and I look forward to building and strengthening the connection between our two nations – and I trust the Government shares this commitment."