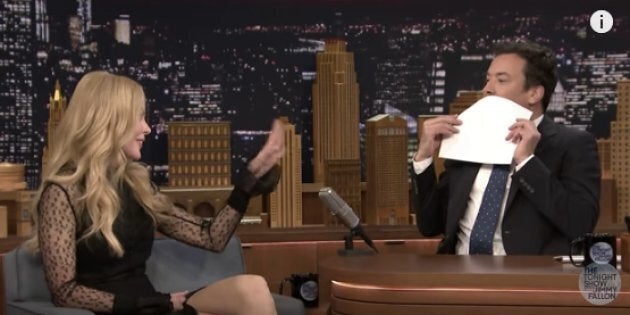 Turns out the second time isn't the charm for Jimmy Fallon.
The late-night host realized he'd missed out on another opportunity to date Nicole Kidman when the actress stopped by his show Thursday night. Kidman's second appearance ― and story ― comes about a year after the actress explained how he'd dropped the ball on their "date" so many years ago.
"I so didn't want to come back," Kidman said, before launching into another mortifying tale detailing Fallon's inability to ask her out. This time, it involved a buffet.
"We were at David Fincher's house and it was when Brad and Jen were still together, so it was a long time ago, and you could have asked for my number then because it was round two, well second chance, and you still didn't ask for it, and you know that's true," the Australian actress said as Fallon collapsed with laughter and Questlove just shook his head. "So do not pretend."
Fallon didn't remember the incident, which Kidman called "offensive." Luckily, she had her husband, country singer Keith Urban, come out to talk some sense into Fallon.
Just watch Fallon try to explain himself above:
"The Tonight Show Starring Jimmy Fallon" airs weeknights at 11:35 p.m. ET on NBC.