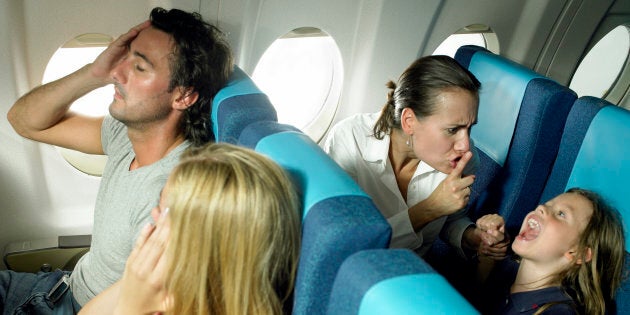 I think her name was Nirvana, or something similar. She would have been about eight years old and she was seated behind me on a chockablock flight from Sydney to Vancouver, a non-stop flight that lasted 14 hours and 20 minutes.
The reason this trip was so memorable was because 'Nirvana' spent a good proportion of that trip alternating between singing loudly, kicking the back of my chair and/or whining like an EH Holden diff about how long the trip was.
When I'd stand up and politely request that she stop pummeling the back of my chair, her mother would admonish the child, smile apologetically but within 20 minutes 'Nirvana' would start all over again and her mother would bury her head in a magazine despite the fact that it must have been obvious that her daughter was annoying the hell out of me, not to mention the surrounding passengers.
IndiGo have now joined Malaysian airlines, Thai airways, Air Asia and the Singapore based Scoot in creating children-free zones. There is no doubt that some children (especially infants and toddlers) have problems with volume control, and many eight-year-olds do not know how to use their 'inside' voices. In these politically correct times, duct tape and sedation are generally frowned upon -- so it is entirely unsurprising to me that airlines have opted for a paediatric prohibition.
In fact, consumers have been demanding it. Way back in 2014 a survey was conducted by bookings website LateDeals.co.uk, with 1,108 UK consumers quizzed as to what they disliked most about air travel. Almost one in four British passengers -– 39 percent -– maintained that child-free-zones should be instated as compulsory sections on long-haul flights where people like me generally just want to catch some zzzs.
And nearly a third went further, demanding such silent spaces be instigated on all flights, long and short-haul, to guarantee noise-free journeys for childless passengers. And more than a third of the passengers said they would happily pay extra to travel on a child-free plane.
Given that parents with babies and young children do need to use planes to get around, it is unlikely that any airline at present will place a total blanket ban on all infant travel. However, 'Nirvana's' mother is not Robinson Crusoe. There are plenty of Australian parents who urgently need to teach their children that yelling at the top of their voice and kicking the seat in front of them is simply not acceptable behaviour, not just in the confines of a plane, but also in trains, buses, trams, not to mention waiting rooms, restaurants and places of worship.
I think a combination of consumer demand and economics will see an increasing number of airlines following IndiGo, with planes or sections of some planes being allocated to 12+ -- just to get away from babies and small children -- and parents will only have themselves to blame.
Dr Michael Carr-Gregg is a Child and Adolescent Psychologist, in private practice in Melbourne, author of 9 books and Parenting Expert on Channel 7's Sunrise .