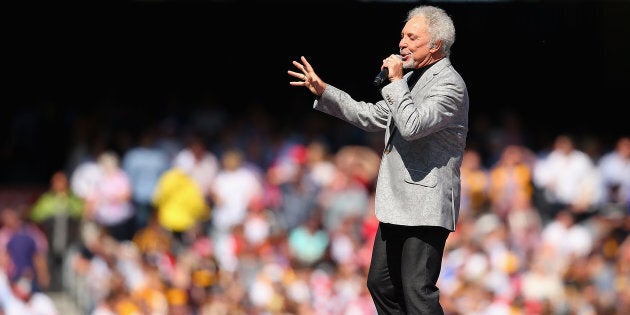 Why, why, why, the hypocrisy?
Back in 2014, Welsh crooner Tom Jones starred at the AFL grand Final. Among the songs he performed was his hit Delilah, which graphically tells the story of a jilted man who knifes his girlfriend to death.
This song was deemed unworthy of complaint by the then Prime Minister of Australia, Tony Abbott.
Cut forward to 2017. U.S. singer Macklemore is set to perform a song at the NRL Grand Final called "Same Love" which advocates the right of consenting adults to love whom they choose, and marry whom they choose.
This, according to Tony Abbott, is not OK, because it is "too political" and politics has no place in sport.
Which begs the question: and domestic violence has a place?
Fact is, if you go back through the entertainment at both the NRL and AFL grand finals in recent years, you'll inevitably bump into songs that were plain offensive, or that had political messages of all stripes -- yet which no one complained about.
At last year's AFL grand Final, Aussie punk band The Living End sang their anthemic song "Prisoner of Society". It features the opening line "Well, we don't need no one to tell us what to do".
Maybe they should have saved it for this year.
Meanwhile, let's not forget that Macklemore is playing the grand final because the NRL asked its fans who they wanted and that's who they came up with. As a self-styled populist, you'd think Abbott would know better than to rail against the people's wishes.