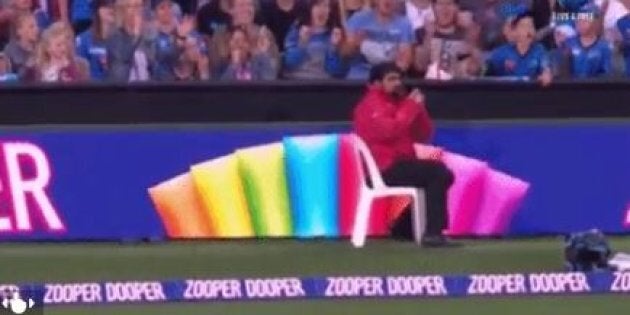 Once upon a time there was a security guy.
Guy was paid to make sure the crowd behaves at the Big Bash match between Adelaide Strikers and Brisbane Heat at the Adelaide Oval.
Guy's job was to sit in front of an ad featuring mouthwatering giant zooper doopers, to look into the crowd while the game was played, and NOT BE TEMPTED TO LOOK AROUND and watch the play.
But guy is human. Guy found himself looking around, right at the precise moment a ball from Heat batsman Joe Burns was heading his way.
Seriously, the ball was heading RIGHT AT GUY. Guy didn't have to move from his plastic chair. He just had to sit there and take the catch. This was his only option. So he took it.
Guy didn't even have to move his arms. The ball just came right into his proverbial bread basket. And guy took the catch as nonchalantly as if someone had just thrown him an apple.
Did guy celebrate? Guy did not. Did guy break into even the faintest grin? Guy did not.
Guy threw the ball back and got right back on with his job of being security guy. Well, he did give a brief thumbs up or two, but nothing with any emotion attached. And then he sort of, almost, smiled for the cameras. Nearly.
Guy is a professional. Guy, we salute you.
In other news, the Brisbane Heat won. They made an impressive 5/207 which they defended, but only just.
The Strikers were 1 for 117 after 10 overs and would have been favourites at that point. But some clever captaincy from Brendon McCullum slowed the momentum, and the Strikers fell 10 runs short on 6/196. They needed 17 off the last over but could only find seven runs.
It was a good, entertaining game with some great performances on both sides. But it will be remembered for the effort of one man who sat outside the ropes, and who wasn't even on the team sheet.
ALSO ON HUFFPOST AUSTRALIA