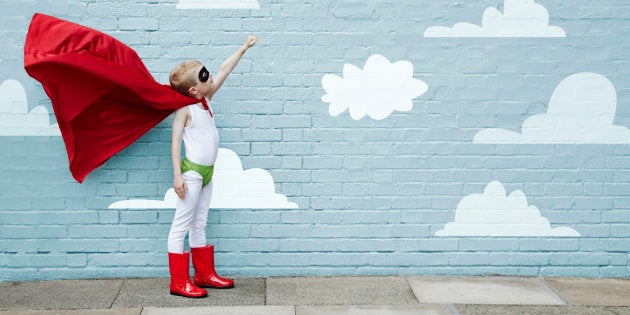 I hear a lot about how children today are selfish and self-obsessed. In the age of the 'selfie', they are growing up glued to smartphone screens and sucked into social media, where they risk becoming more interested in their own profiles than in looking out for others.
So it's encouraging to have met, over the past few weeks, more than 160 children with a very different story.
These children, in Year 6 from schools in NSW, Victoria, the ACT and Tasmania, were honoured for acts of care and compassion that demonstrated their immense capacity for looking after others and making them feel included.
As my late husband Fred Hollows said, the basic attribute of mankind is to look after each other. That sentiment motivated him to ensure everyone whose sight could be restored would be given that opportunity.
Some children were honoured for starting a breakfast club for classmates in need of food or friendship before the day began, or for installing a 'buddy bench' in the playground where students who were lonely could sit and be joined by a friend. Others volunteered to support people with illness or disabilities, all without a second thought for themselves.
Among those recognised was Logan Atkinson from Summerdale Primary School in Tasmania, who was honoured for supporting a classmate who suffers from debilitating eczema, which affects his school and social life. Logan checks on his classmate throughout the day and also encourages him to contribute and expand his ideas, thus building his self-esteem.
Then there's Patrick Maloney from Mount Housley Public School in NSW, who made a special effort to include a classmate who is a refugee from Syria, by learning Arabic to make him feel more comfortable at school.
There's also Rowville student Madison Gibson from Park Ridge Primary School in Victoria, who started fundraising for asbestos-related diseases after her grandfather fell ill with mesothelioma; and Jye Dinsdale from St Patrick's Primary School in Swansea, NSW, who started an annual footy match fundraiser after his friend was diagnosed with brain cancer.
Like Fred, the children I met won't turn away from a problem, or dismiss a challenge as too hard. As well as looking out for others, they want to make a difference and have become advocates for causes they believe in.
Take Cleo Cheney and Annie Holliday from Assumption School in Bathurst, NSW, who took a stand against domestic violence by organising a fundraising and awareness day, and asking people to bring in items to include in Salvation Army care packs for families fleeing violence at home.
Domestic violence affects one in three women aged 15 or over and not only did these 12-year-olds show empathy for those affected, they demonstrated outstanding leadership among peers who may be affected by domestic violence now or in the future.
The actions of Ross Kelly from Amaroo School in Canberra went viral, inspiring thousands of people and reminding us that despite times when politicians like Pauline Hanson and Donald Trump are preaching policies of fear and exclusion, the principles of humanity do still exist.
These children are proof that young people today are as caring as ever. They are shining examples of the innate compassion of children that U.S. President Barack Obama spoke about after a boy wrote to him offering his home in the U.S. to a Syrian refugee boy the same age. These are children who haven't yet "learned to be cynical, or suspicious or fearful". Rather, they spend their time practising the fundamentals of humanity -– respect, kindness, care and compassion for others.
Their stories are the antithesis of negative news about children today, and we can learn from them how to look up from our smartphones and, instead, look out for others.
That's why it's so important to recognise the acts of care and compassion by children, because we know too well how easy it is to let small acts of kindness slip away.
By praising children's compassion for others, we can help form more inclusive societies of adults making positive contributions to their communities for the benefit of all.