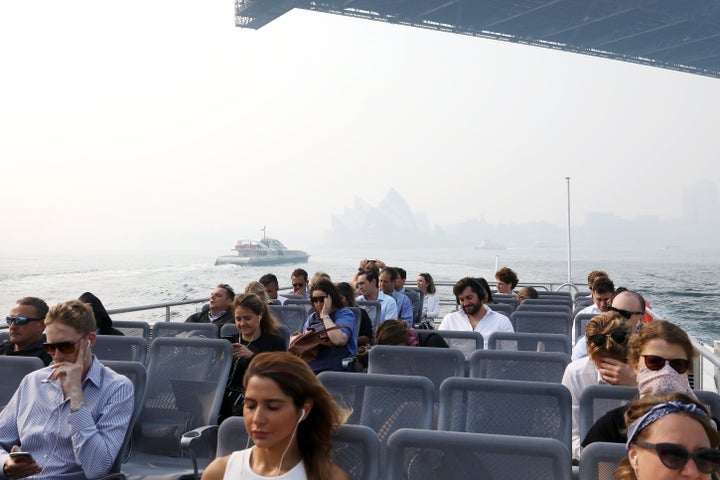 As authorities warn of continued air pollution this bushfire season, health experts have suggested Australians stay indoors, and that may even mean working from home to avoid the smoke.
"People really need to be adapting and rethinking their behaviour," the Hunter Valley GP and member of Doctors for the Environment, Australia told HuffPost Australia.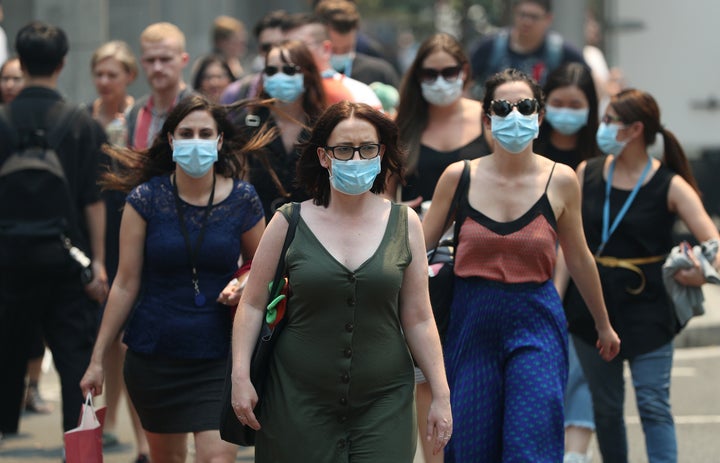 "There's a lot of talk about wearing masks and changing activities. It's really got to be a lot more than that. The masks are probably one of the least effective public health measures we have against smoke air pollution."
Dr Vickers said there are short, mid and long-term health effects of bushfire smoke, but the current climate is more alarming because "it's continued exposure and there's really no sign of it improving in the short term".
Stay Inside
"The best things people can do is to stay inside when the air levels are hazardous," he said, emphasising this advice applies to "even healthy people, not just people with asthma and pre-existing illnesses".
While short-term health effects include itchy eyes and throat irritation, more medium to long-term issues can include worsened asthma for asthmatics, and increased chances of strokes, heart and lung disease for those with a pre-existing illness.
Aussies Working From Home
Over the last few weeks smoke has blanketed across various areas of NSW in particular, and some Australians have already started working from home to avoid the haze.
The Fair Work Ombudsman states on its website that "natural disasters often result in employees requiring time off to care for themselves or their family.
"Employers should keep in mind the health and wellbeing of their staff when granting access to leave entitlements."
Such entitlements could include personal/carer's leave or compassionate leave, with the National Employment Standards (NES) requiriing an employee to notify their employer if they are taking such leave. After being notified, the employer "may require the employee to provide evidence to support the leave period".
Asthma Australia said "flexible working arrangements" should be considered by companies, particularly for those employees who have pre-existing illnesses.
"In these circumstances, we do ask employers to heed warnings from health authorities and consider flexible working arrangements for employees whose health is compromised or may be at risk due to exposure to poor air quality," an Asthma Australia spokesperson told HuffPost Australia.
"Poor air quality is directly linked to triggering acute asthma flare-ups, respiratory and cardiac conditions. This can lead to life threatening attacks or illness lasting weeks or even months. "
"Employers are advised to understand who on their staff is at-risk and to support them through workplaces measures such as working from home, or assigning other duties if tasks are focused outdoors."
The organisation also advised that asthma first aid training is beneficial for businesses, and can be undertaken for its official website.
Do Face Masks Actually Help?
For those who don't have the luxury of logging on from their lounge room, wearing a face mask has been their next best bet when commuting by foot or public transport.
Dr Vickers recommends a P2 mask be worn in these conditions, because anything else is "totally useless" and "will actually fill up with air pollution over time and become less effective".
"The best thing's to have a perfect airtight seal on your face," he said. "If you breathe out and air escapes through the side, it's not working."
NSW Health Director of Environmental Health, Dr Richard Broome said "the main concern with smoke is the very fine PM2.5 particles, which are so small they pass through most types of mask".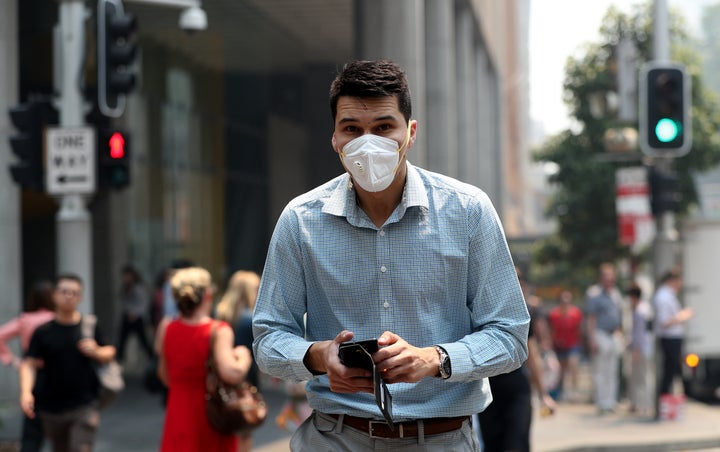 "A P2 mask does filter out these particles, but is only effective if there is a good fit and an air-tight seal around the mouth and nose. Evidence shows that this is difficult to achieve in practice, so they may not provide the benefit people are hoping for."
Dr Vickers agreed, saying "even the P2 masks are not filtering things out like carbon monoxide and "harmful chemicals" found in bushfire smoke.
Exercising In Bushfire Smoke
"When you are exercising, you take more deep breaths in and increase your heart rate," Dr Beau Frigault, QLD chair of Doctors for the Environment Australia told HuffPost Australia.
"It just promotes taking in more particles deep down into your lungs where they're more likely to impact those deeper tissues and get into the bloodstream and head towards the heart.
"So that's why we tell people not to exercise outdoors when bushfires are happening. You can do it inside a gym where it's air conditioned. That's more favourable than doing it outside."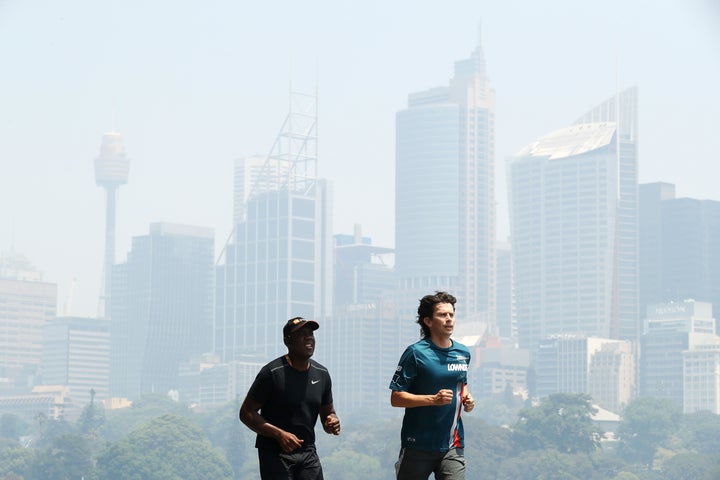 Hot Conditions Ahead
Temperatures are forecast to climb to the mid-40s in parts NSW on Tuesday, and authorities warn of "persistent bushfire smoke" to continue.
Nine areas of the state will be under a total fire ban, and health authorities say people should be cautious of "heat stress and heat stroke".
Sydney has been blanketed by unhealthy haze and smoke for weeks, with conditions worsening on Friday as several fires merged into a giant blaze that may take weeks to put out.
Australia has been through some devastating bushfires before during its hot summers, but fire officials have said that this earlier-than-usual wave of fires has been one of the most persistent and largest.