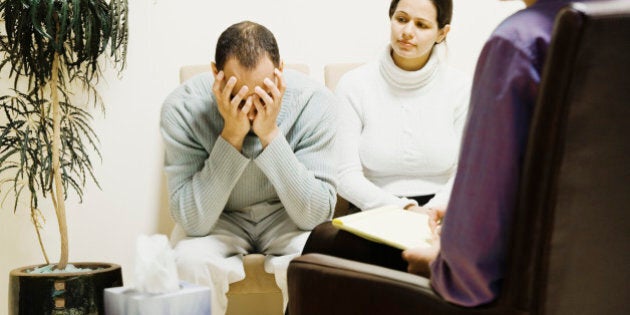 People with an intellectual disability experience mental health problems at a rate 3-4 times higher than the rest of the population, but often seek help in a medical system ill suited to their needs.
It's a situation NSW clinicians and the state government hope to change with the launch of a new framework aimed at increasing the confidence of health staff managing people with mental and intellectual disabilities.
The framework -- developed by Professor Julian Trollor from UNSW's Department of Developmental Disability Neuropsychiatry --outlines the key attributes required for mental health professionals to work with people with intellectual disability.
Aimed at NSW Health professionals, it is anticipated that the framework's introduction will enhance professional development for mental health staff, enhance the skills, knowledge and attitudes to better help people with an intellectual disability.
NSW Mental Health Minister Pru Goward described it as the first of its kind in the world.
"Put simply, this new manual outlines what is important from the perspective of people with an intellectual disability, their families and support networks," Goward said.
Catherine Nattress believes the framework will help her son, Daniel. Like more than 135,000 people in New South Wales, he lives with an intellectual disability.
Daniel was born with Velocardiofacial Syndrome (VCFS) and five years ago, at age 22, he was diagnosed with Schizophrenia.
Managing Daniel is now a full-time job for Nattress, who in April last year quit her job at Christians Against Poverty Debt Counselling Service, work she had held for more than a decade.
Daniel is on medication, has regular visits with his GP and blood tests. He can also be aggressive, and, even with treatment, still has "strong, concrete delusions."
He also has no idea he has a mental illness.
"This is as well as Daniel will get," Nattress told the Huffington Post Australia.
Nattress praised the hospital staff who treated Daniel when he first schizophrenic episodes manifested in 2011, but she said there were small pieces of practical information missing in later treatment.
Things such as information about his illness being given to Daniel and not Catherine, his carer. Once, when he was hospitalised, then released home for overnight visits, no one communicated to him that he would stay in a new room when he returned.
"He was very distressed and depressed," said Nattress.
The framework also contains case studies similar to Nattress's experiences. One carer told the authors that when he approached his local mental health service, he was told to contact disability services.
"The mental health service did not listen to our concerns that the behaviours were new or to our concerns about possible symptoms of a serious mental health problem," the man, a carer, said in the study.
"Finally, after pushing them to be involved, the acute care team did an assessment and agreed with us that he was very unwell, and arranged for him to be hospitalised."
It's things like this the manual in part aims to address.
UNSW Head of UNSW's Department of Developmental Disability Neuropsychiatry advisor to the Framework, Professor Julian Trollor, said there are very few specialised services and very limited capacity within mainstream mental health services.
"But we know in contrast to that the mental health needs of people with intellectual disabilities is very high," Trollor, who is also the Chair of Intellectual Disability Mental Health at the university, told HuffPost Australia.
"We have a problem essentially where people with intellectual disability have very high rates of mental ill health, but services and professionals are ill equipped to appropriately support them.
"And further I think we find that when we talk to people with an intellectual disability and their families, when they try and access timely and good quality support they experience multiple road blocks.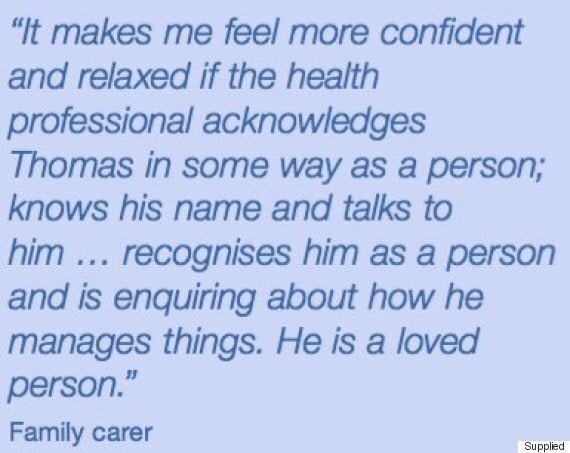 A family carer tells their story for the Intellectual Disability Mental Health Core Competency Framework for Mental Health Professionals
Traditionally mental health and disability services have been handled separately in their funding streams.
"So when a person with a disability who is supported by disability services goes to seek assistance form that mental healths service, one of the first issues that come up are whether it's the role of the mental health service to provide such support," Trollor said.
"And indeed it is, and in part we are after a culture change to help mental health services equip themselves to actually support mental health in people with intellectual disability."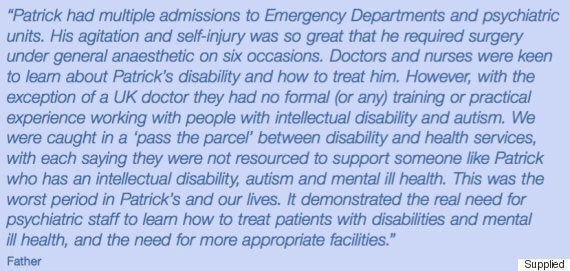 A father relates for the framework his struggles in getting help with his son's disability
He said meeting the mental health care needs of Australians living with an intellectual disability remains a huge challenge facing the mental health workforce.
The NSW Government has funded the University Chair in Intellectual Disability Mental Health since 2009, and in 2015 it committed $3.9 million to continue its work to help improve the mental health and wellbeing of people with intellectual disabilities through to 2020.