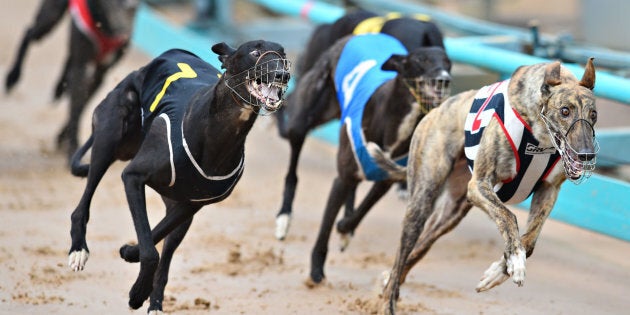 There are more than 6,809 registered greyhounds who will either be euthanised or adopted when greyhound racing reaches a legal halt in New South Wales on July 1, 2017.
The State Government is working with RSPCA NSW to create a "detailed shutdown plan" in the second half of this year but RSPCA will be taking in greyhounds from owners immediately. The animal welfare organisation is calling for the support of up to 150 other organisations across the nation.
Many greyhounds will be eligible to be fostered or adopted by Australians (who simply need to go to the RSPCA NSW website on Friday for details) but RSPCA NSW CEO Steven Coleman said a "fair preportion" of the dogs will have to be euthanised.
"Some dogs will never be able to be retrained or rehomed. These dogs by nature have a fairly significant prey drive and it takes significant work to re-hinge their minds to not chase," Coleman told The Huffington Post Australia.
"It's not impossible but it will take work. It takes kenneling capacity and human work to detect and address this behaviour and then retrain."
RSPCA NSW will "exhaust every opportunity" before resorting to euthanising the dogs, which could be up to 10,000 (as many may not be registered). Once a dog settles in the kennel, a behaviour assessment team then decides whether the dog can be retrained. This can take up to a fortnight.
"It will be an enormous challenge over the next 12 months to deal with this," Coleman told HuffPost Australia.
"But we're focused on longer term animal welfare gain. We're delighted that the NSW Government has adopted the first recommendation of the inquiry [to ban the industry] in the interest of animal welfare over financial gain.
"We can only hope other states are looking very closely."
ACT Chief Minister Andrew Barr has applauded Baird's announcement and will consider the NSW inquiry before announcing an end to greyhound racing in the ACT.
"Having had an initial look at the NSW report, we agree with the decision of the NSW government. There is no future for this industry in the ACT," Barr wrote in a Facebook post.
"We will consider the findings of the NSW report before announcing a process to end the practice of greyhound racing in the ACT."
Appearing on The Project on Thursday night, Baird said the State Government would look at a "transition package" to support the 1000 workers in greyhound racing.
"Every single one of those jobs matter. We will be working with them over the next 12 months. But we're also very clear that we want to support the welfare of the dogs," Baird said.
"[RSPCA NSW] is going to be contacting every single breeder and owner to try and provide support. So we'll work with them and provide the resources to them. We will do everything we can to look after them."
The inquiry announcement comes after several investigations, including a Four Corners report, led to the NSW State Government launching an inquiry which found widespread animal cruelty in the industry.
The inquiry, led by former High Court judge Michael McHugh, said "at least half of all greyhounds bred to race were killed in the past 12 years because they were deemed uncompetitive".
In a press conference on Thursday afternoon NSW Deputy Premier Troy Grant, who has been leading the state government on the issue, said too many dogs' lives have been cut short.
"The average life of a greyhound is eight years. Up to - and these are conservative figures - up to 60,000 dogs have been slaughtered over the last 12 years and lived between 18 months and just 4 years of age," Grant told reporters.
"As the Premier has said, the only crime those dogs committed was that they weren't fast enough."