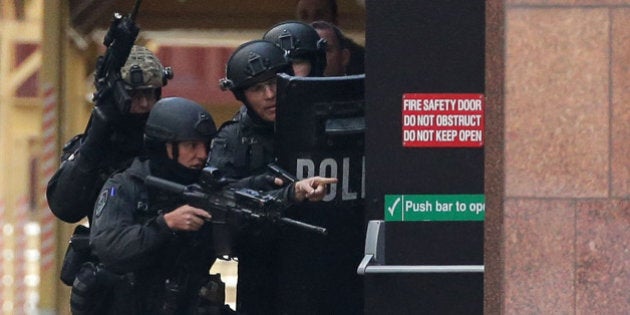 NSW Greens MP David Shoebridge has voiced fears that police will "become judge, jury and executioner" as officers are granted greater powers to use lethal force on armed offenders.
On Tuesday, NSW Police acting commissioner Nick Kaldas revealed details around the force's "active armed offender" training to deal with terrorist or mass shooting incidents. NSW Police have traditionally relied on a "contain and negotiate" tactic, such as during the Lindt cafe siege in December 2014, where armed offenders are surrounded and encouraged to surrender, with active engagement usually kept as a last resort.
The new training program -- which was spurred into action in the wake of the Lindt siege, but accelerated after France's January shootings which targeted newspaper Charlie Hebdo and other sites including a supermarket -- began its initial rollout several weeks ago and has drawn influence from FBI strategy.
Kaldas would not give specific details on the training, but said the program would help officers to handle "shooters moving around and needing to be contained and dealt with as soon as possible".
"It is a change in our tactic from the previous widely-adopted contain and negotiate, but I need to stress, we are not doing away with contain and negotiate, and I suspect in most cases it will be the way we will deal with these sorts of incidents," Kaldas said.
"In a more serious matter where people's lives are being threatened or being killed, we would have to certainly look at it differently, act differently and act almost immediately."
Kaldas admitted that decision-making around engaging with armed offenders would "be devolved to a much lower level simply because it is such a dynamic environment" and that "the person who makes the decision will be much closer to the ground".
"If police see evidence of people being killed, they have to act. We're simply trying to equip them so they can act in a better way," he added.
It is this part of the program which Shoebridge, the NSW Greens Spokesperson for Police, said he held deep reservations, criticising the decision-making process in using lethal force.
"It is an extraordinarily dangerous and flawed approach. The underlying approach must be that any armed response must be proportionate to the threat they face. A 'shoot first ask questions later' policy risks seriously undermining police relations in the community if they engage in an unjustifiable killing," he told The Huffington Post Australia.
"Any lethal use of force by police must be a rational and calculated response. There may well be occasions where negotiation is impossible and urgent application of lethal force is necessary. But that needs to be assessed on the situation, rather than a note they read at the station.
"Police are not entitled to become judge, jury and executioner."
The training module, which will be rolled out to all front-line police, was built on a foundation created by Texas State University. The same program has been adopted by the FBI, but Acting Assistant Commissioner Kyle Stewart, the Major Events and Incidents Group Commander, stressed the NSW program had been customised for an Australian environment.
FBI experts helped train NSW Police instructors in the program in April this year.
Kaldas said it "will take a couple of years to have [the program] rolled out in its entirety".