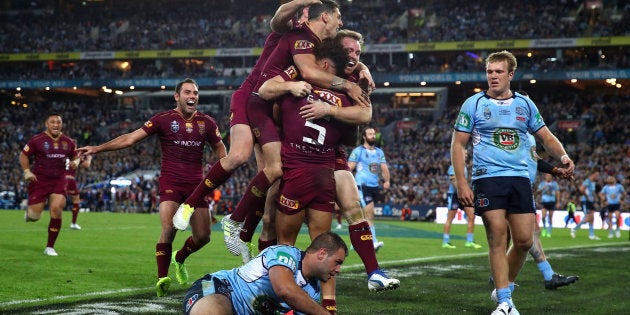 State of Origin II was a truly epic match. That particular word is perhaps the most over-used adjective on the internet, but it's true in this case. Queensland won 18-16. How they did it, we're still not quite sure.
This was a match that NSW dominated for longer periods than Queensland, but since when has that been a formula for beating the Maroons in State of Origin? Since never.
The first ten minutes of the match were all Queensland. They came out of of the blocks looking slick and playing like the Queensland of old, and the pressure told as they scored in the corner after the ball passed through the familiar hands of Thurston, Slater, Boyd and others.
But NSW dominated the next half hour, scoring three tries to lead 16-6 at the break. Their forwards like Josh Jackson were everywhere. But the team's success lay in the hands of Mitchell Pearce and James Maloney -- the duo who won a premiership together with the Roosters in 2012.
Finally, NSW have the halves combination they've sought for a decade. Ironically, these were two of the players who failed in blue colours during that long Qld reign. But they're older and wiser now. And Queensland and are older and -- so it seemed -- just a tiny bit slower.
Jarryd Hayne was also good for NSW. The try he scored was his 11th for NSW, putting him equal with his state's top try scorer Michael O'Connor.
He bombed one shortly before halftime -- in one of a few sketchy Hayne plays on the night -- but NSW were so dominant, you hardly thought it would matter.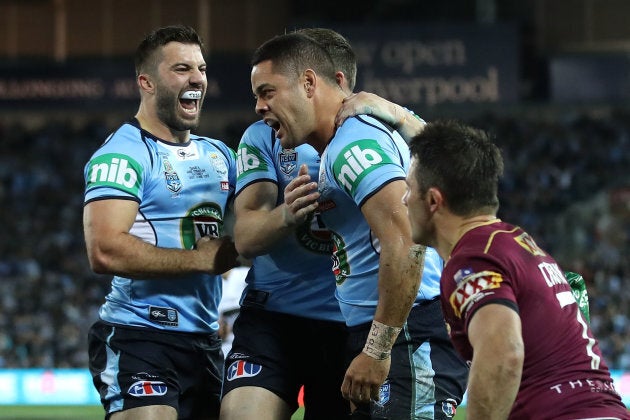 In the second half, it appeared almost certain that NSW would run away with it, and that the Origin pendulum had finally swung back to Blues after 10 of the previous 11 series going the Maroons' way.
But Queensland rallied. Because of course they did. Queensland needed to score first in the second half, and did. One of those unexpected, almost impossible Queensland moves where NSW just couldn't put the man with the ball down, culminated in Dane Gagai scoring in the 53rd minute to make the score 16-12.
Meanwhile NSW started throwing bad passes, taking bad options.
With 10 minutes to go, 16-12 was still the score. With five minutes to go, ditto.
"Down one game, down 16-12, this is it" former Qld Origin great and coach Paul Vautin said from the Nine commentary box as Queensland started a set in the NSW quarter.
Again, Queensland threw the ball around, and around, and around some more, until Dane Gagai scored out wide. Sixteen all. Thurston to kick. He made it. That familiar right-to-left hook never looked like missing.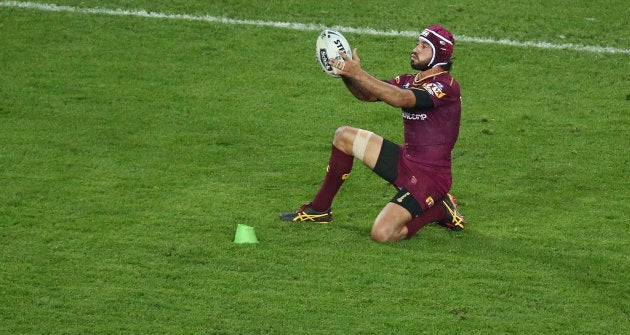 18-16. Two minutes to play. Could NSW conjure something? No dice. That's what Queensland do, not the Blues.
"I'm over the moon, that's what dreams are made of," Johnathan Thurston said after his return game in which he appeared to be nursing his injured shoulder throughout.
"That's the great thing about this side, our great self belief. We keep working hard for each other, that was really evident tonight."
NSW captain Boyd Cordner was understandably shattered.
"It's gut wrenching," he said. "We played well to get into that position, to get in front. We weren't good enough in the disciplinary areas of the game. We gave away cheap yards and you can't do that to a side like Queensland.
"I think it was the dumbest half of football NSW has ever played," former NSW great Andrew Johns said at the end of his side's failure to target Johnathan Thurston's injured arm.
That might have sounded a little harsh, but there's no doubt this was NSW's game to lose, and they did that as only they can -- just as Queensland stole a victory as only they can.
Game three is in three weeks.
ALSO ON HUFFPOST AUSTRALIA