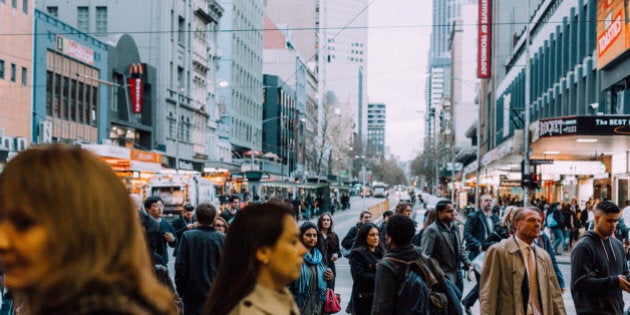 Is the Australian Sunday no longer sacred? Maybe. We don't really know yet. And certainly we don't know how we would feel about it.
We do know Australians work hard. We know one in five of us who work are casuals, and that casuals are first out the door in a downturn.
We know women and older Australians are the two fastest-growing groups in the workforce. And that at the same time the future economy wants us to have more babies now, the government doesn't want to pay for maternity leave. Securing a spot in a decent childcare centre is like finding the golden goose.
And we know the Productivity Commission Draft Report on the Workplace Relations Framework includes a recommendation to reduce Sunday penalty rates for our lowest paid workers, an acknowledgement that Sundays no longer carry premium social currency.
On the bright side, we read a lot about workplace flexibility. "Mumpreneurs" are a thing now. As women with great educations and marketing skills set up their own businesses from the living room, filling gaps in the market with clever ideas and hard work once the kids are in bed, or pick up three-month contracts, one after the other.
Aren't we all joyfully working hours that suit us -- avoiding the traffic -- having meetings from the beach via FaceTime? Not really, it turns out.
There are numbers, of course. Every month the Government gets to crow about, or try to ignore, incremental changes in the headline unemployment rate, depending on whether the news is good or bad.
We can tell when the growth in jobs is only in part-time work, or when one segment of the population has a boost in their participation. The closest numbers come to measuring how Australian's feel about their job prospects is the annual HILDA survey, an amazing piece of work out of the University of Melbourne, which has been delving into Australian households since 2001.
For HILDA's purposes "job security" is measured by an individual's view on how safe their job is, and how likely they are to either leave or get another job if they are sacked or made redundant.
Professor Mark Wooden has been the Director of the HILDA survey project since its inception and said over the long-term very little has changed in the Australian labour market. For the last 20 years around 20 per cent of workers have been casuals, and job security is linked to the state of the labour market. In 2012 just 2.7 per cent of workers were employed by labour-hire companies. A little more than 1 per cent of employees do the bulk of their work from home.
"'Working from home' now, means people like you and me putting in a full week in the office then doing some work at home on weekends," Wooden said.
"It is definitely the case that the people who feel the least secure in their jobs are casuals."
The hole in numbers, says Australian Institute of Employment Rights Executive Director Clare Ozich, is they can't measure the quality of jobs.
Ozich warns of the "Uberisation" of the workforce, where more and more risk is being placed on the shoulders of workers, to the advantage of business.
"We're moving towards this fragmentation of labour, where we're all sort of filling in gaps in our lives that's facilitated by technology." Ozich said. "We're being urged to 'monetise your downtime'."
Is total freedom in our jobs something we all really want?
So here is an invitation.
HuffPost Australia wants to know what all these number mean in your real life.
We want to know what it's like for the workers who don't qualify for employer superannuation contributions. Is a higher hourly rate worth not having paid holidays? How do you stay motivated and connected to the goals of your employer?
We'd love to meet people who are making it work for them. Perhaps you have 'monetised your downtime' and think it's the key to a great life.
As the recent HILDA report points out: "Not only is [employment] the key determinant of the majority of households' incomes, it is key to participation in society both economically and socially."
This will be a big theme of HuffPost Australia's news and features coverage as we get off the ground. And while we're discussing it from all angles, we'll also throw in a raft of great tips and stories about how to make life work just a little better for you.
Blogging is part of The Huffington Post's DNA and the Australian edition will be no different. If you'd like to share your voice on the platform, get in touch at blogteam@huffingtonpost.com.au