Salt Lake County District Attorney Sim Gill ordered a criminal investigation Friday into the actions of a detective who was seen in a newly published video aggressively arresting a nurse for refusing to draw blood from a severely injured patient, according to The Salt Lake Tribune.
The detective, Jeff Payne, has been placed on administrative leave, The Associated Press reported.
As seen in the video above, filmed July 26, Alex Wubbels, head nurse at the University of Utah Hospital's burn unit, keeps her cool as she explains hospital policy while Payne insists that he be given permission to collect the blood sample of a patient ― despite not having a warrant.
The footage, obtained from Payne's body camera, shows Wubbels explaining "three things that allow us to [give blood samples] are if you have an electronic warrant, patient consent or patient under arrest, and neither of those things ... the patient can't consent. He told me repeatedly that he doesn't have a warrant and the patient is not under arrest."
"So, I'm just trying to do what I'm supposed to do, that's all," she adds.
After the video was made public Friday, sparking a wave of criticism over Payne's actions, Salt Lake City Mayor Jackie Biskupski and Police Chief Mike Brown apologized for Payne's actions and promised investigations from Internal Affairs and the Civilian Review Board.
"I was alarmed by what I saw in the video with our officer" and Wubbels, Brown said in a joint statement. "I am sad at the rift this has caused between law-enforcement and the nurses we work so closely with. I want to be clear, we take this very seriously."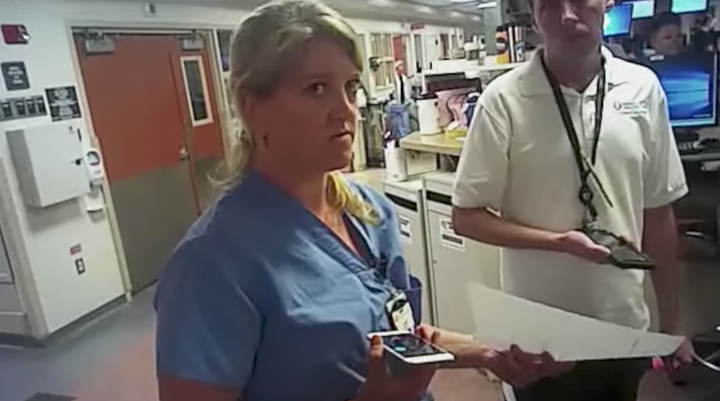 Wubbels appears professional throughout the exchange and talks with her supervisor on speakerphone so the detective can also hear.
You can hear the supervisor telling Payne that he's making a "huge mistake" in threatening Wubbels and by claiming that she's interfering with his police duties when she's simply following protocol.
The supervisor barely finishes what he's saying when Payne erupts and shouts "we're done" repeatedly at Wubbels, subsequently chasing her down and handcuffing her.
A sobbing Wubbels' screams "help me" and "you're assaulting me" while being forcibly pushed out of the hospital and toward a police car.
As The Washington Post noted in its report Friday, the U.S. Supreme Court "has explicitly ruled that blood can only be drawn from drivers for probable cause, with a warrant." Wubbels did everything correctly.
After seeing the video, National Nurses United, which is currently sponsoring a campaign raising awareness of hospital workplace violence, publicly denounced Payne and the Salt Lake City Police Department.
"As the videos and news accounts make clear, there is no excuse for this assault, or her arrest, which sends a chilling message about the safety of nurses and the rights of patients," Jean Ross, the organization's co-president, said.
For Payne's part, he was apparently explicitly told by his lieutenant to arrest Wubbels if she refused to let him take a sample of blood, according to The Salt Lake Tribune.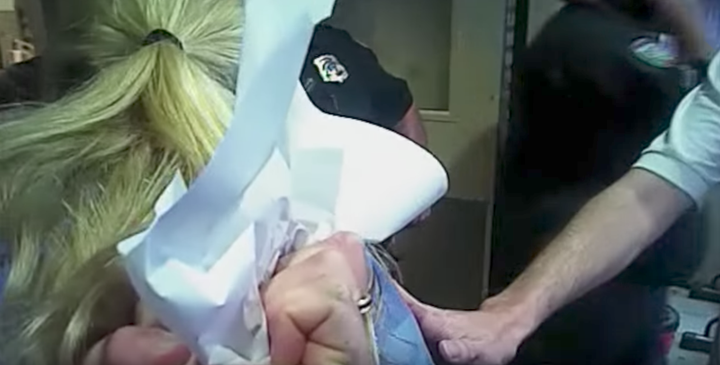 Police spokeswoman Christina Judd told AP that the police department initiated an internal investigation within hours of the July 26 confrontation. Since the arrest, Payne has been suspended from the department's blood draw unit.
After the video made rounds online late Friday morning, District Attorney Gill asked Brown to find an outside agency to look into the investigation, the Tribune reported. Later on Friday, the mayor's office announced that the Unified Police Department would be conducting the criminal investigation.
Wubbels has not been charged. She said at a news conference Thursday, accompanied by her lawyer Karra Porter, that she is not ruling out legal action over the arrest.
"I just feel betrayed, I feel angry, I feel a lot of things," Wubbels said during the conference. "And I'm still confused."
The hospital stands by Wubbels, indicating that she did everything she was supposed to do, in a statement it gave to The New York Post.
"She followed procedures and protocols in this matter and was acting in her patient's best interest," the statement reads. "We have worked with our law enforcement partners on this issue to ensure an appropriate process for moving forward."
Correction: An earlier version of this article referred to The Salt Lake Tribune as Salt Lake City Tribune.