CANBERRA -- The New Zealand Government has removed doubt from its end about the citizenship status of Deputy Prime Minister Barnaby Joyce, confirming he is a dual New Zealand citizen by descent.
The revelation, if further confirmed by the Australian High Court, would make the Nationals leader - and second most senior politician in Australia - ineligible to hold a seat in parliament by breaching the same section of the Constitution that's caused the resignation of several senators and has put other political careers in doubt.
Regardless, Prime Minister Malcolm Turnbull has insisted in parliament that the High Court will not find Joyce ineligible.
It comes as the Federal Opposition questions the stability, "legitimacy and integrity" of the Turnbull Government and calls on Joyce to step down.
The New Zealand Prime Minister Bill English has offered this advice, "Unwittingly, or not, he's a New Zealand citizen".
And New Zealand's Internal Affairs Minister Peter Dunne revealed the New Zealand Government knew last Wednesday that Joyce was a dual citizen.
"The New Zealand law is quite clear, we've had this particular case vetted by our crown law office which confirmed the original advice," the Minister told Sky News.
"The advice I received about Wednesday last week was that this was potentially a problem relating to Mr Joyce, it was then being checked, the advice that I received was being checked by Crown law. That was confirmed, at that point it was conveyed via the New Zealand High Commission to Mr Joyce directly."
Joyce was born in Australia, but his father was born in Dunedin, New Zealand. NZ Citizenship rules state that if a parent is a NZ citizen at the time of a child's birth, then that child also holds NZ citizenship by descent.
A person does not have to register the citizenship, it comes automatically at birth.
Earlier, the House of Representatives referred the possible breach of Section 44(1) of the Constitution to the High Court, with the House Leader Christopher Pyne insisting the government -- which holds power with a paper thin one seat majority -- had legal advice that Joyce is safe.
"The government remains absolutely confident that the Deputy Prime Minister is not disqualified under Section 44 (1) of the Constitution," Pyne said.
"Because we are so confident in the Deputy Prime Minister's status he will continue fully, fully as the Member for New England, participating in the House and he will continue as the Deputy Prime Minister and the Minister for Agriculture and Water Resources."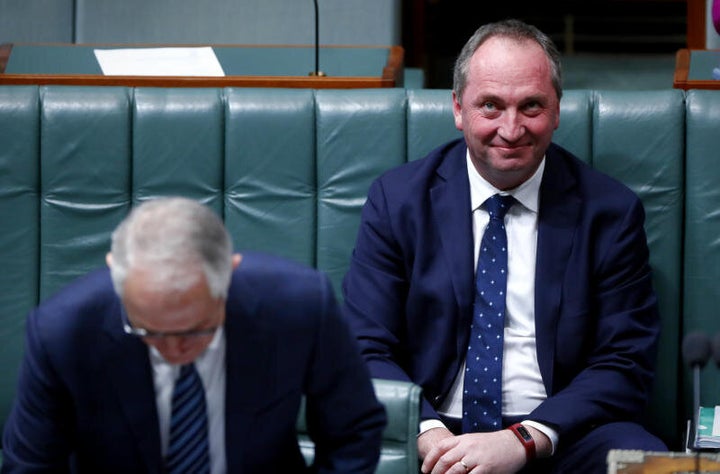 The Prime Minister also rose in parliament to back Joyce. "The Leader of the National Party, the Deputy Prime Minister, is qualified to sit in this House, and the High Court will so hold," Turnbull told parliament.
It is the first time the lower house has been asked to resolve the status of one of its members.
But the question mark over Joyce was enough for Labor's Tony Burke.
"What the House is doing right now is saying to the High Court 'we're not actually sure if the government does have a majority of one', saying to the High Court of Australia that we have been here for 12 months making laws with a government that may or may not be legitimate!" he said.
"We have never had to go to the High Court and say we're not really sure there is a majority government in this country."
Burke insisted Joyce should follow Nationals colleague Matt Canavan and stand aside from his ministerial duties.
"He's wanting to hang on to it, and won't let his fingernails claw away, he's making sure that he won't loosen his grip on the extra power he's been given," he told parliament.
"There is nothing routine about this. And if there was any level of principle on those opposite then two things would happen: (1) the Deputy Prime Minister would stand aside and (2) they would not accept his vote."
Joyce has been "shocked" by the doubt over his citizenship.
"Needless to say, I was shocked about this," Joyce told parliament. "I've always been an Australian citizen born in Tamworth. Neither my or my parents had any reason to believe that I may be a citizen of any other country.
"I was born in Australia in 1967 to an Australian mother and I think I'm fifth generation. My father was born in New Zealand, came to Australia in 1947 as a British subject. In fact, we were all British subjects at this time."
The Greens Larissa Waters and Scott Ludlam have resigned over dual citizenship, while Nationals senator Matt Canavan has stepped down from Cabinet and ministerial roles, but not resigned from the Senate, while his case is determined.
One Nation senator Malcolm Roberts also has had a cloud over his citizenship and his case has been referred to the High Court.