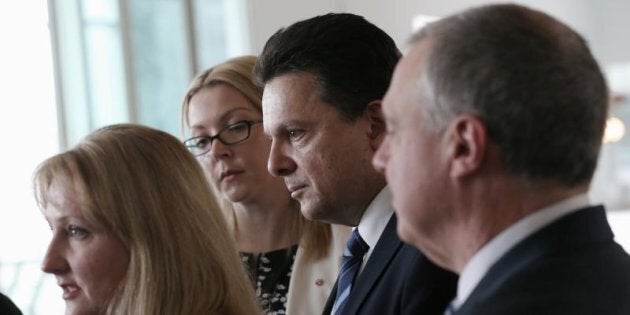 CANBERRA – Despite being accused of "megaphone lecturing that needs a bit of finessing," Treasurer Scott Morrison appears poised to secure $1.2 billion in cuts to the paid parental leave (PPL) scheme.
The proposed limiting of the government scheme has distressed already pregnant mothers, but Senator Derryn Hinch appears to have crossed the line in support and Nick Xenophon could be about to deliver the numbers in the Senate to pass the measure, as he declares he's keen to keep negotiating with Morrison in a "non-smoky room."
It's a move which has been on the cards since Mother's Day 2015, when the then Treasurer Joe Hockey vowed to crack down on "double-dipping" parents. While the government has dropped using that inflammatory term, it still wants to restrict access to the PPL scheme if the parent at home gets paid leave from their employer.
More than 80,000 parents who earn $150,000 or less and receive the "top-up" could be affected.
"This is like an oversized Rubik's Cube. There are a whole range of matters that as a team we will be discussing," he told the ABC.
"For instance, the way it is being means-tested. There is no household means test to it."
As Labor and the Greens are opposed to the plan to end so-called parental leave "double dipping," the government needs the support of nine Senate cross benchers to pass the cuts into law.
Overnight, Senator Hinch told Sky News he'll support the proposed changes if they start on July 1, to spare most already pregnant women.
"It think the Government might take it. I think Xenophon would support me on it. I think we'll get it over the line," he declared.
Pauline Hanson's bloc of four One Nation Senators support the legislation as do Senators David Leyonhjelm and Bob Day, but the latter's future in the Senate is uncertain due to his business dealings.
It would be a major win for the Turnbull Government if the cuts to paid parental leave pass into law, but Xenophon said the key negotiator, the Treasurer, could work on his technique.
"I am very fond of Scott Morrison but his megaphone lecturing needs a bit of finessing," he told the ABC.
"I think he would blame me for just about everything bar climate change."
Morrison had warned Xenophon and his team face new responsibilities and new accountability with their new balance of power position in the 45th parliament.