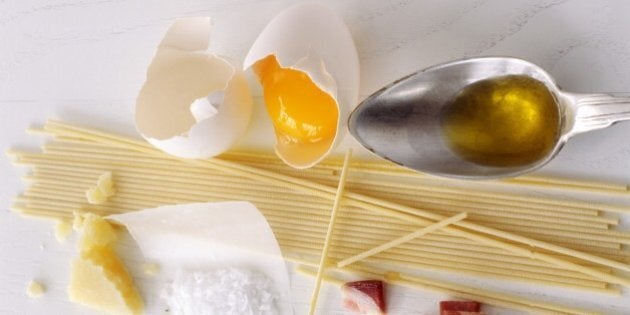 From olive to sunflower, vegetable and coconut -- deciphering which oil to cook with can be hard work.
Do you go for cheap and cheerful canola? Or splash out on grapeseed?
Well, according to Jacqueline Alwill, nutritionist and director of The Brown Paper Bag, when it comes to oil, you really do get what you pay for.
"Higher quality oils that come through the first press or cold press are more expensive as they retain more of the flavour and nutrition of the oil. The cheaper oils often last through the production and have inferior flavour and nutrition," she said.
For optimum nutrition, Alwill said we should be choosing oils that are stable at high heats like ghee, coconut oil and butter.
"Avoid safflower, vegetable and corn as they are high in polyunsaturated fatty acids which means the structure can often change in the cooking process turning them into to trans fats, which our bodies cannot process," Alwill said.
However, The Australian Dietary Guidelines which were reviewed in 2013 oppose this, saying Australians should be using oil low in saturated fat and rich in unsaturated fats (such as monounsaturated and polyunsaturated fats) to reduce risk of heart disease.
"It is true that fats and oils with a high proportion of polyunsaturated fats are unstable when heated and thus break down easily," said Maria Packard, Accredited Practising Dietitian for the Dietitians Association of Australia.
"However, there are plenty of oils that contain predominantly monounsaturated fatty acids, including canola oil and olive oil, with a smoke point high enough to be suitable for home cooking," Packard said.
Alwill also warns spray oils should be used at a minimum, as they require butane and propane gas to dispense them as liquid.
And when it comes to olive oil, Alwill suggests using it as a dressing.
"Drizzle extra virgin olive oil on salads and steamed vegetables, as well as linseed oil and nut oils -- like walnut and hazelnut," she said.
When cooking with meat, Alwill recommends ghee, butter and coconut oil -- provided you're OK with the sweet taste from the coconut oil on the meat you've chosen -- while Packard said olive and canola are better options.
"For vegetable stir fries, go for coconut oil , or sesame oil every once in awhile is fine, if you wish to infuse a bit of flavour," she said.
And when baking, Alwill said butter, coconut oil and ghee should be your go-tos.
Correction: Butter has a smoke point (point at which the oil starts to break down) lower than most refined oils due to its milk content.