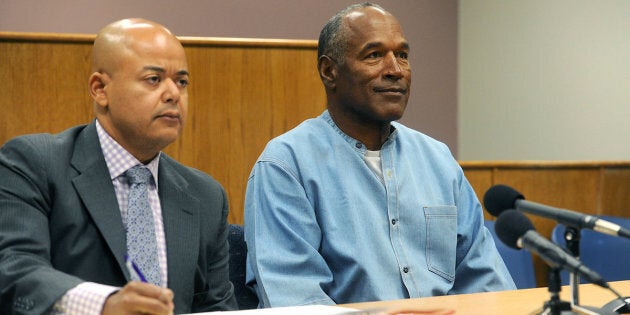 After almost nine years in prison, O.J. Simpson is getting out.
The state of Nevada unanimously decided to grant parole to the former football star following a roughly 75-minute hearing on Thursday morning in Nevada. He could be released as early as Oct. 1.
Simpson, 70, has been in prison since 2008 due to his role in a 2007 armed robbery that took place inside a room at the Palace Station Hotel-Casino in Las Vegas. Simpson and five others stole thousands of dollars' worth of sports memorabilia from two collectors. He was sentenced to between nine and 33 years in prison.
The parole commissioners ran Thursday's hearing out of Carson City, where they gave a number of reasons for granting parole, including that Simpson has no prior criminal conviction, stable release plans and family support. One of the victims of the crime also supported granting Simpson parole, which helped his case.
A member of the board also noted that Simpson had completed vocational trainings, including a computer application course. She said he had no significant disciplinary issues, that he had stable release plans and that his "risk score" was low.
At one point, she mistakenly said the 70-year-old Simpson was 90 years old, causing a loud laugh throughout the room.
One concern that the board room noted, however, was that the victims said they feared for their safety during the 2007 incident.
Simpson appeared via video conference call from Lovelock Correctional Center, where he is imprisoned. He had been widely expected to receive parole in the lead-up to Thursday after working hard to remodel his image inside the prison, coaching teams, running prayer groups and becoming commissioner of the prison yard softball league.
"He's been a model inmate," Yale Galanter, the former attorney who represented Simpson in the case, said before the hearing. "He's had no write-ups, no disciplinary issues. By all accounts, he's totally abided by the rules."
David Roger, who served as prosecutor in the Nevada case, agreed with Galanter, telling ABC before the hearing, "Assuming that he's behaved himself in prison, I don't think it will be out of line for him to get parole."
During his own remarks Thursday, Simpson gave a detailed and at-times rambling explanation of the events that led up to the robbery, saying he had only wanted to recoup the property he said belonged to him, including pictures of his family.
Nobody has ever accused me of pulling any weapon on them.O.J. Simpson during his parole hearing on Thursday
Simpson said he had taken two classes in prison, "Victim Empathy" and "Alternatives to Violence," the latter he said should be mandatory for all prisoners. He told the board his incarceration had humbled him.
"I'm not a guy that has conflicts on the street," he said. "But I feel that I'm much better prepared [as a result of his 'Alternatives to Violence' class]."
But at times, he came off as combative and not entirely remorseful. A few of his comments felt less than self-aware.
"Nobody has ever accused me of pulling any weapon on them," he said.
At another point, Simpson said, "I always thought I've been pretty good with people, and have basically spent a conflict-free life."
Simpson had met with the same four parole board members in 2013. During that hearing, he received parole on some of the many charges against him, which only added to the likelihood he would receive full parole this week.
"My crime was trying to retrieve for my family my own property that was stolen from me," Simpson said back in 2013. "I wish I had never gone to that room. I wish I had just said 'keep it,' and not worry about it."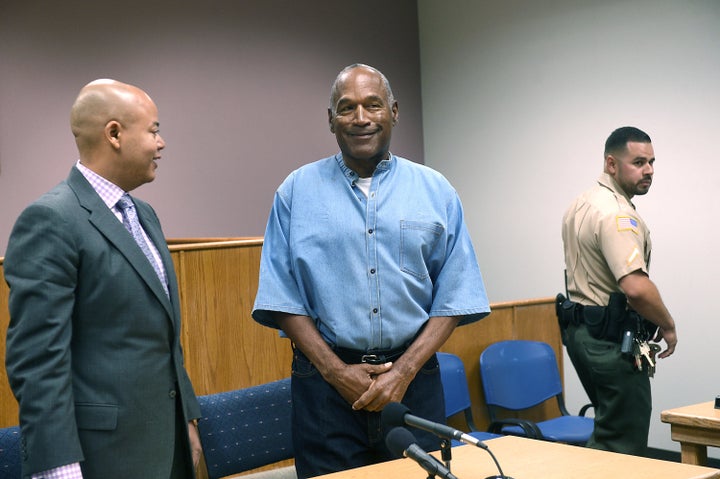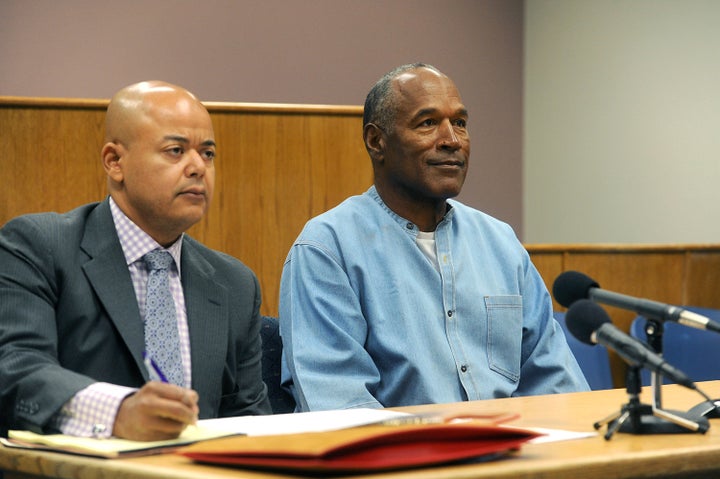 According to the order granting Simpson his parole, he will not be able to associate with convicted felons, use illegal drugs or possess weapons. He will likely be allowed to move within states, authorities said after the hearing.
At the time of Simpson's sentencing, many people saw the state's decision to imprison Simpson for almost a decade, at minimum, to be retribution for his acquittal in the murders of his estranged wife, Nicole Brown Simpson, and her friend Ron Goldman in the mid-1990s.
Observers pointed to the fact that four of the other men involved in the robbery were merely sentenced to probation after taking plea deals in 2008. A fifth, Clarence "C.J." Stewart, was released from prison in 2011 after the Nevada Supreme Court decided he hadn't received a fair trial, considering he was tried alongside the controversial Simpson.
But on Thursday, the parole board said the 1994 double homicide would not be considered in its decision, despite having received a large number of letters asking them to do so.
Before the board made its decision on Thursday, Simpson apologized and said he just wanted to live a quiet life and spend time with his children in his remaining years.
"I've done my time," he said, before adding, "I've done it as well and as respectfully as I think anybody can."