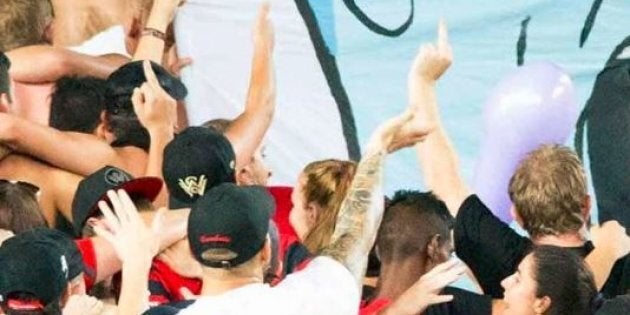 Well at least somebody gets it.
Trawling through the comments on the Facebook page of the Red and Black Bloc -- the fan group of the Western Sydney Wanderers A-League team -- is enough to make you curl up in the foetal position and stay that way till September.
But one hardcore Wanderers fan has been brave enough to criticise the homophobic banner unfurled at the weekend derby match against Sydney FC. We'll get to him in a sec.
First, a reminder of what the banner looked like. Don't say we didn't warn you.
Comment after comment on the RBB Facebook page supports the lewd image depicting Sydney FC coach Graham Arnold engaged in a sexual act. It's pretty sickening stuff. But a few brave fans have a different view. This one is our favourite.
Here's how it reads in full:
"As a foundation member and usually a supporter of the RBB, there is a real issue we are having with homophobia. We cannot bury our heads in the sand over this issue. Are the media biased? Are smurf fans major f**kwits? Of course the answer to both is yes, but this is no excuse for homophobia.

Just to clarify, I personally have no problems with vulgarity etc, but this banner was homophobic because it used gay sex as a symbol of ridicule. Heteros all too often turn a blind eye to the ramifications of their casual homophobia, and its cumulative effect (for example) on LGBTI youth.

I was never ashamed of the RBB and the fanbase as I am right now, and I hope the FFA takes serious actions to stamp it out. I say this with pain as a die hard WSW fan, but this sort of shit is a stain on us all and I hope it is properly stamped out."
What we love about that post is that Guy Gillor is no prude. He hates the opposition and the media as much as any football supporter in any code, anywhere. He even drops an unnecessary f-bomb. But he's mature enough to put common human decency ahead of the tribalism of sport.
He's not alone either. Thankfully, after wading through dozens of truly vulgar posts, we found other messages condemning the banner, and those behind it. Like this one.
So what we now have is a situation where some of the more rabid RBB supporters are effectively involved in a culture civil war with more moderate members of their own group.
"This incident involved key leaders of the RBB who have shown no remorse for their actions of bringing our club and the game of football into disrepute, and have continued to flaunt their disdain for the club and our diverse and inclusive membership family further on social media."
Meanwhile the Wanderers club as a whole remains at war with Football Federation Australia, who may yet strip the club of points for Saturday's fan behaviour. The threat of such punishments have been hanging over the club's head for years now, following various fan issues (flares, bad behaviour etc) which you can read about here for a full background.
And the RBB? Well, the majority of them remain convinced they're the greatest thing to happen to Australian sport in years. One look at their frightening promo video will show you just how deluded that view is.
The irony is that these guys were the breath of fresh air the game needed when the club formed six years ago. Now they're just defiant and angry. Here's the Facebook post the RBB posted after the outcry against the banner. Note Simpsons character Helen Lovejoy in the corner.
The inference is clear. Lovejoy's catchphrase is of course "Won't Somebody Please Think Of The Children?", and in the RBB universe, it's just shrills and attention-seekers like Lovejoy who are upset about issues like the banner.
But of course, the RBB misses the point. Because it's not just kids who don't want to go the footy when banners like that are on display. It's grown-ups too.
On that note, let's crunch the A-League attendance numbers. See how they've levelled out? This is hardly indicative of a code expanding beyond the diehards to grab the cherished family audience.
2016-17 -- 12,939 (to date)
Perhaps the RBB supporters should ask themselves who's really got it in for the game in this country?
ALSO ON HUFFPOST AUSTRALIA