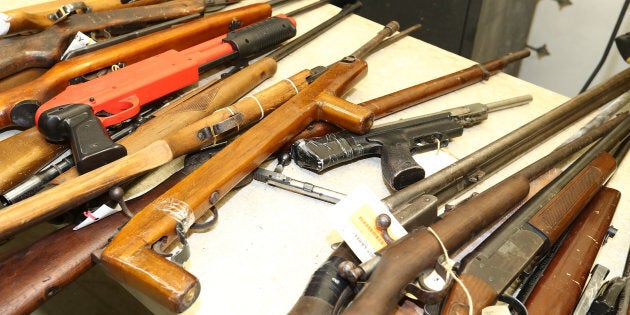 Australia's national gun amnesty has taken 51,000 unregistered guns off the streets, slashing the country's number of illegal firearms by one-fifth.
The federal government ran its gun amnesty -- where citizens could hand in unregistered or unwanted firearms, without fear of punishment, to be destroyed -- between July and September. During the three month period, tens of thousands of guns were surrendered to authorities including pistols, rifles, shotguns and some rather exotic firearms.
"The firearms surrendered under the amnesty ranged from historic pre-1900 weapons and guns from both World Wars, to modern semi‑automatic firearms, a homemade machine‑gun and even a rocket launcher," Prime Minister Malcolm Turnbull said in a statement on Friday, in announcing the results of the amnesty.
"A number of more unusual items were also handed in. These included a sawn-off shotgun found at a local tip in 1995, a handgun used in the early 1900s for personal protection, a pistol small enough to fit in the palm of a hand, and a heavily modified Russian shotgun."
The amnesty was the the first national scheme of its type since the Port Arthur shooting in 1996, where the government held a buyback of guns to get firearms off the streets. After the Port Arthur shooting 21 years ago, where 35 people died when a lone gunman opened fire with an assault rifle, Australia brought in strict and controversial gun laws including banning semi-automatic rifles and shotguns.
Prior to the amnesty, authorities estimated there were around 260,000 unregistered guns in Australia. The 51,000 unregistered guns surrendered in the amnesty, which Turnbull called an "overwhelming response", would represent almost one-fifth of this number.
"Australia has some of the strongest gun laws in the world but illicit firearms remain a threat to community safety. As a result of this successful amnesty, there are now 50,000 fewer firearms on the streets," Turnbull said.
"The Turnbull Government is continuing the Howard legacy of strong gun control laws. We are also seeking to increase penalties for gun traffickers, including with mandatory minimum sentences... This amnesty has succeeded in keeping Australians safe, and confirms the resolute commitment of the Turnbull Government to national security."
While the amnesty finished at the end of September, Australian Federal Police Commissioner Andrew Colvin still urged people to surrender any illegal firearms they might still possess.
"If there are members of the public who still have firearms that they're concerned about, I would strongly encourage them to make contact with their local police across different jurisdictions," he told a press conference.
"There are continuing amnesties across jurisdictions. If you have a firearm, the fact the amnesty has ended is not an excuse to declare that firearm to police."