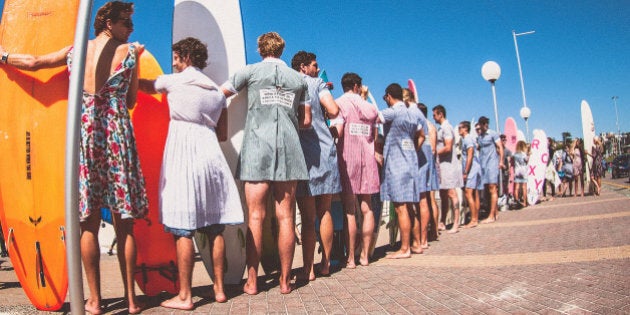 It's International Day of the Girl Child, and hundreds of Aussies have donned school dresses to raise funds and awareness for girls education in Sierra Leone, where young women are more likely to be sexually assaulted than attend high school.
Melbourne based Chantelle Baxter is the woman behind the plaid and stripes.
Her charity, One Girl, launched the October 'Do It In A Dress' campaign, calling on Australians to take on challenges in school dresses to support their goal of educating 1 million girls across Africa by 2020 and helping end gender inequality.
The idea for the campaign came about when Baxter joked to a bloke she met that he should run the Melbourne Marathon in a school dress.
"First he said 'no way', but he came back to me later at the pub after a few beers, and said he was going to do it," Baxter told The Huffington Post Australia.
"This is our biggest year yet."
After visiting Sierra Leone in 2008, Chantelle sold everything she owned to begin One Girl, with the aim of giving the most disadvantaged women and girls in the world access to education.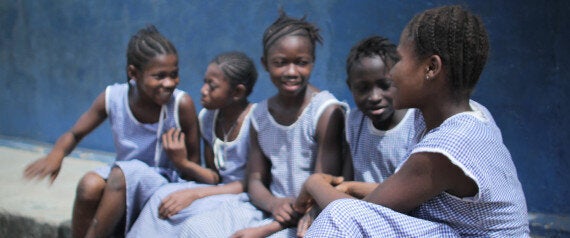 For every year of schooling a girl receives, her income will increase by at least 10-20%, and she will reinvest 90% of her income back into her family.
This year's International Day of the Girl Child focuses on adolescent girls and the Sustainable Development Goals, which includes gender equality achieved by 2030.
According to the United Nations, an adolescent girl dies as a result of violence every ten minutes worldwide, and 44 percent of adolescent girls worldwide believe a husband or partner is justified in hitting or beating his wife under certain circumstances.
In Australia this week, baristas, musicians and yogis got out and about in their frocks, taking to Instagram to share the message.
Even pets got in on the action!
"We want to educate 20 000 girls next year," Baxter told HuffPost Australia.
"The reality of what it's like to be born a girl where rape, inequality, abuse and violence are a way of life simply because of where she was born, is truly horrific," she said.
"We want to empower you to do something about it. Because although the problem seems impossibly huge, we can, and are changing the world, one girl at a time."
Next Saturday, hundreds of surfers are expected to hit the beach at Bondi wearing their school dresses for the annual Surfers In A Dress Event.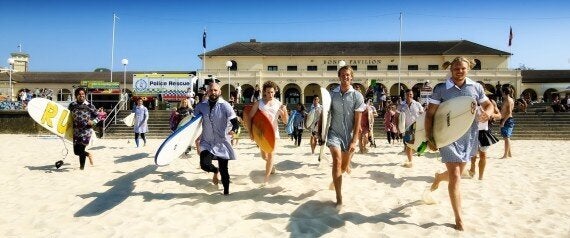 This year's 'Do It In A Dress' Campaign had raised $222,796 at the time of publication, which will educate 742 girls in Sierra Leone.