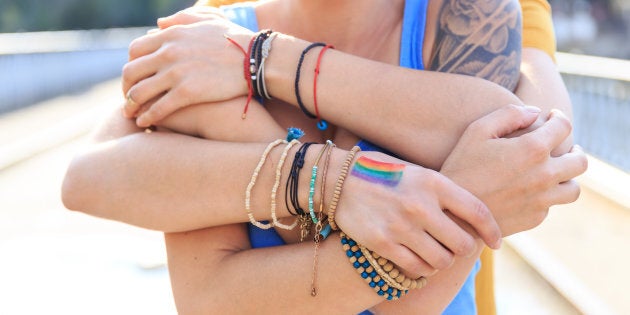 As disgusting, hurtful and plain false messages about the LGBTQ community abound in the lead-up to a marriage equality postal survey, sobering new research has found young transgender people are at massively increased risk of suicide or depression compared to the general population.
A study of 859 people by Telethon Kids Institute, hailed as "the largest ever survey conducted into the mental health of trans young people in Australia", found almost half had attempted suicide in their life.
Nearly 75 percent had been diagnosed with depression, almost ten times the national average of 7.7 percent. More than 72 percent of those surveyed had been diagnosed with an anxiety disorder, while 79.9 percent had self-harmed.
Participants in the study -- carried out in collaboration with the University of Western Australia, Curtin University, the Western Australian Department of Health and the WA AIDS Council's Freedom Centre -- were asked to cite which factors they believed had contributed to their mental health issues.
The main driver, according to those surveyed, was body dysphoria, with 93 percent citing that issue. Other significant factors included peer rejection (89 percent), bullying (74 percent), discrimination (69 percent) and a lack of family support (65.8 percent).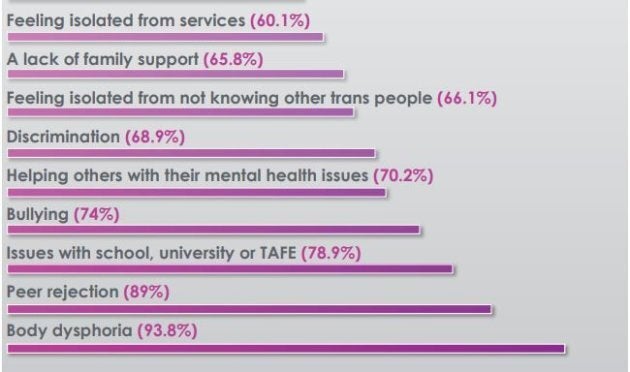 "While we know that people who are trans do have a higher frequency of mental health difficulties than the general population in Australia, it is important to emphasise that this is not because an individual identifies as trans," said senior researcher Dr Ashleigh Lin.
"Rather, these difficulties are largely caused by external factors -- in other words, how the world perceives and treats trans people. This was borne out by the experiences of the young people we heard from, many of whom reported they had been subjected to transphobia and bullying."
HuffPost Australia has previously reported on mental health issues faced by the LGBTQ community, including that LGBTQ people are between three and fourteen times more likely to commit suicide than heterosexual Australians.
Furthermore, one in six young LGBTQ people have attempted suicide and one in three have self harmed. One in five lesbian, gay or bisexual Australians is currently experiencing depression, more than triple the national rate, while one in three experiences an anxiety condition.
One participant in the Telethon study, citing body dysphoria, told researchers "every single day, I hate my body for not being the body I KNOW I should have".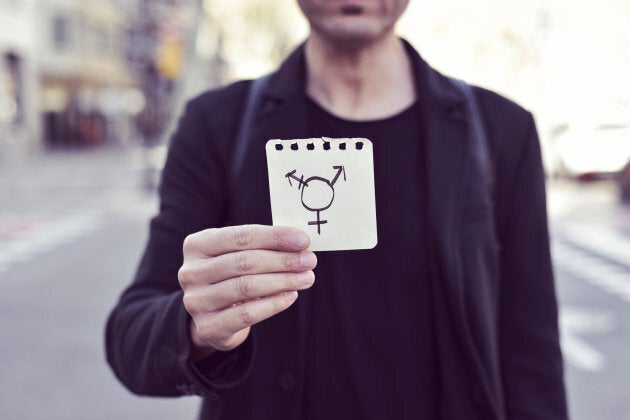 Elsewhere in the study, researchers found a large portion of trans young people had experienced "unstable accommodation" including homelessness, sometimes linked to family rejection or other discrimination in society.
"Young people told us stories of being homeless, starting with being kicked out of home by their family because of their gender, facing discrimination when trying to find a job, and finding it difficult to find housemates, which led to them couch-surfing or being homeless," said lead author Penelope Strauss
"These difficulties had a serious impact on their mental health. On the other hand, there were many accepting parents who wanted to do whatever they could to support their child but weren't sure how to best do that, or where to find accurate and helpful information to enable them to do that."
In terms of trying to find help or information, many study participants said they had struggled to access the assistance they needed. More than 42 percent said they had "reached out to a service provider who did not understand, respect or have previous experience with gender diverse people", while three in five had been left feeling isolated from medical and mental health services.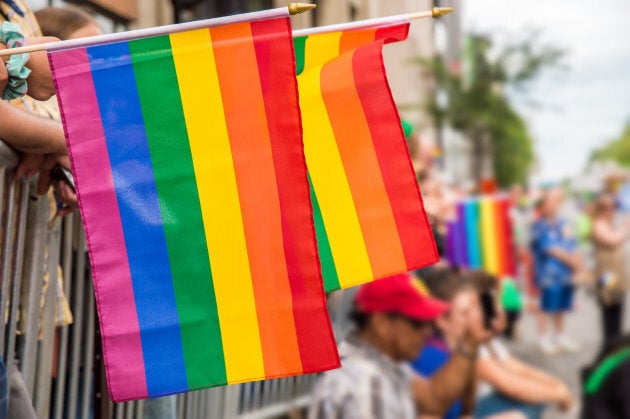 "The barriers trans young people face when accessing medical and mental health services often stem from a lack of awareness from service providers," Strauss said.
"Trans young people told us there is a desperate need for gender services to be expanded, and for current service providers to receive training in gender diversity and the specific health needs of trans people."
The research team said they hoped the recommendations and guidelines provided in the Trans Pathways report would prompt further discussion with policy makers and service providers.
The report makes numerous recommendations as to how to address the mental health issues faced by the trans community, and the LGBTQ community at large.
The authors called on Government to promote trans-friendly public policies including around access to gendered facilities like toilets or change rooms, as well as processes for gender recognition, and provide more funds and support for education programs and gender services.
More widely, medical staff are encouraged to develop skills to better support the trans community, increase funding for trans medical services, and expand Medicare and Pharmaceutical Benefits Scheme systems to better cater for trans-specific medical treatments.
"The survey is really important because it tells us that young trans people in our community are experiencing really high levels of distress and as a community we can do something about it," Dr Lin said.
"This report provides evidence that increased funding for specialised trans health services, trans-inclusive public policies, and better education on gender diversity are all urgently needed to support trans people now and in the future."
If you need help in a crisis, call Lifeline on 13 11 14. For further information about depression contact beyondblue on 1300224636 or talk to your GP, local health professional or someone you trust.