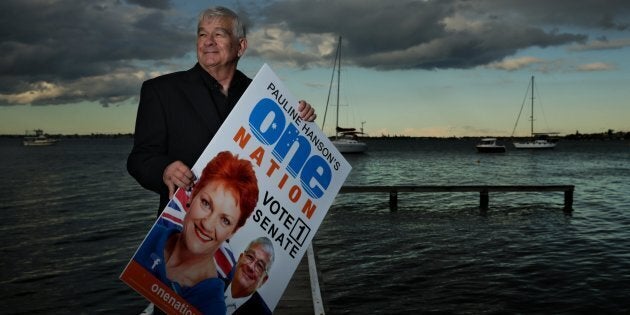 One Nation senator Brian Burston has been slammed by parliamentary colleagues and voters for sharing a grossly Islamophobic meme -- riddled with factual errors and grammar mistakes -- on Facebook.
Burston, Pauline Hanson's party-mate from NSW, posted an image on his Facebook page on Wednesday afternoon. The senator's image lists five MPs of Muslim heritage -- federal members Sam Dastyari, Anne Aly and Ed Husic, and NSW state members Mehreen Faruqi and Jihad Dib -- and asks his followers if they are "awake yet?" The image contains multiple errors, including missing possessive apostrophes, misspelling Aly's first name (it is Anne, not Ann) and wrongly asserting that the MPs listed are "in government" when not one of them is a member of the ruling party at a state or federal level.
It also skates over the fact that, in 2010, there were also no One Nation members in parliament.
There are currently three MPs of Muslim heritage in the federal parliament, accounting for just over 1.3 percent of the 226 parliament. The 2016 federal census found that Muslims accounted for 2.6 percent of Australia's population, meaning that Muslims are actually vastly under-represented in Canberra.
Burston was met with an immediate wave of criticism over the post, with the majority of comments on his page being overwhelmingly negative.
"Maybe you should make a movie about small minded people who live in such irrational fear that they trade their own interests away. Call it 'Life of Brian'," said one man.
"You can't be serious, this? From a Senator?" asked another.
"There were no one nation members in govt at the start of 2010! Awake yet?" joked one woman.
"Ever heard of an apostrophe?" said another man.
The MPs listed on Burston's meme quickly hit back.
Dastyari, who has been engaged in a long-running tit-for-tat battle with One Nation senators Hanson and Malcolm Roberts, hit back in the same style as Burston's original post.
"In 2010 there were also no One Nation senators, so I guess we've all screwed up by electing them too," he told HuffPost Australia.
NSW Labor member Dib also responded to Burston's post.
"It's disappointing but no surprise that this person who represents a party that only specialises in cheap identity politics would put up a post like that," he told HuffPost Australia.
"The bigotry is upsetting enough. But the really upsetting thing is he really has no idea how to use grammar properly. The first thing I noticed is his use of grammar. The lack of apostrophes."
Burston responded to a few criticisms in the comments of his post.
"Those who don't have a confected outrage, leftist perspective get it immediately. It's not about religion. Do some research," he told one person.
"If only they did integrate and not swear allegiance to a foreign ideology when they were sworn into office."