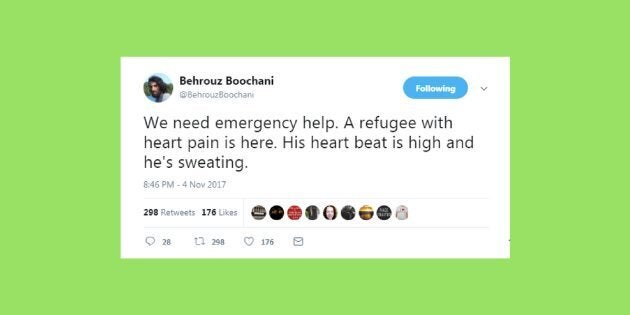 One man on Manus Island has been tweeting out what's going on, as roughly 600 men have been left without power, food and water in the government-run detention centre.
Behrouz Boochani, an Iranian refugee who was a journalist before he fled his country, has been held on Manus Island since August 2014.
Most recently he has been tweeting about a man with "severe kidney stones" who was not receiving medical attention:
Before that, he tried to bring attention to the fact that a man with a history of heart problems was not receiving adequate attention for heart pains he was feeling.
We need emergency help. A refugee with heart pain is here. His heart beat is high and he's sweating.

— Behrouz Boochani (@BehrouzBoochani) November 4, 2017
Still waiting for someone to pick up sick refugee & take to ELRTC so IHMS can give treatment.Although no advanced medical equipment in Manus

— Behrouz Boochani (@BehrouzBoochani) November 4, 2017
Anything bad happen for the refugee with heart pain Australia is responsible. You can not continue to kill people because of medical neglect

— Behrouz Boochani (@BehrouzBoochani) November 4, 2017
Boochani has also written six pieces for The Guardian since October 27 outlining the circumstances him, and the hundreds of others that remain in the Manus Island detention centre, face.
A missionary on Manus wants to bring food for the refugees but is prevented by the navy. The Australian government insists on starving everyone. I have to eventually make my way to Delta prison. The silent protest begins at five. The mosquitoes of Manus are again ruthless and barbaric. Another tough night awaits.Behrouz Boochani
Boochani was also recently awarded an Amnesty International Australia media award in the print, online and multimedia category.
In response to the conditions faced by Boochani and others on the island, protests were held across Australia yesterday.
In Melbourne, Greens MP Adam Bandt labelled Immigration Minister Peter Dutton a "terrorist" for his treatment of refugees and asylum seekers.
The UN High Commissioner on Human Rights condemned the Australian government for their treatment of asylum seekers on Saturday.