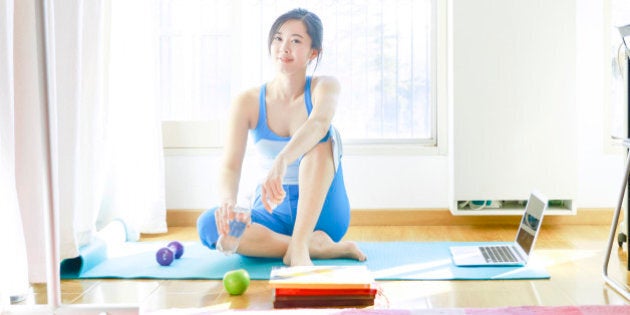 It's 2016 and quite frankly we're pretty disappointed that science hasn't come up with a way to send our bodies to the gym while our heads stay home to watch Game Of Thrones.
Though, more seriously, some people just can't get to the gym. They might be a single parent who can't leave their young kids at home alone. Maybe there isn't a gym nearby. Hell, maybe they just don't like interacting with people in general.
Whatever the reason, we have good news. You don't need to have a gym membership to get a professional sweat session. Thanks to the magical powers of the world wide web you can put yourself though a rigorous workout at home, even with the help of a PT, right from your PC, tablet, phone or TV.
Here, a bunch of the most popular online fitness programs on offer, and how they differ.
As the name suggests, this program is designed for the ladies. Created by four Sydney based fitness females, the program takes you through 42 days of workouts, as well as nutrition notes and healthy recipes along the way. You don't need any equipment and you can do the workouts (which are written out -- not video based) anywhere. You can pay for the whole thing upfront for $137, or shell out weekly at $24.50 a pop. Tempted? Try their free week trial.
The former for girls and the later for guys, this online program is by celebrity trainer Blake Worrall Thompson. Designed to be run at the exact same time (with the same program) as the physical course in Adelaide and Sydney, the cost is $19.95 a week for the 6 weeks. From there you can choose to continue by joining the 'lifestyle program'. Five workouts a week, accountability coaches along the way, and a nutrition plan by nutritionist and naturopath Kira Sutherland. You don't need a whole bunch of equipment, just dumbbells and ideally a Swiss ball. You also have access to coaching calls with Worral Thompson if you feel you are slipping off the wagon. Don't like it? Cancel at any time.
The Queenslander created an online fitness empire after using exercise to overcome some personal struggles. Customers can purcase individual phases (for $49.95 each) or the full bundle at $119.95. The program comprises of a four week exercise plan, step by step workout tutorials, full meal plan (for both meat eaters and vegetarians) and an online support forum to interact with others on the program. Workouts can be done in the livingroom or park, with no equipment required.
For 12 payments of $19.99 (a total of $239.88) you get a 12 week plan which includes workout videos, weekly 'mindset' videos, meal plans and recipes. Run four times a year, the three month program is undertaken by customers at the exact same time, meaning you have access to forums and support from others on the same journey. It's wise to have some dumbbells, however a backpack full of water bottles will suffice as a weight during resistance training. If you have an iPhone you can download the 'Daily' app which takes you through all the exercises, ensuring correct form and technique.
Modelled off the reality TV show, this 12 week program will set you back $49.95 a month. First up you enter your weight and height and calculate how much you'd like to lose. A calorie tracking diary will help you keep track of your diet (no foods are forbidden on The Biggest Loser Club program as long as you stay within your calorie target), while you undertake the daily workouts via video.
Just like the physical program, the online version of Weight Watchers also uses the ProPoints system (a point system which aids calorie counting). Online forums conclude that the physical component is lacking beyond providing information about exercise and that info on training alone isn't a successful strategy. Check out the details beofre signing up if youre looking for rigorous workouts.