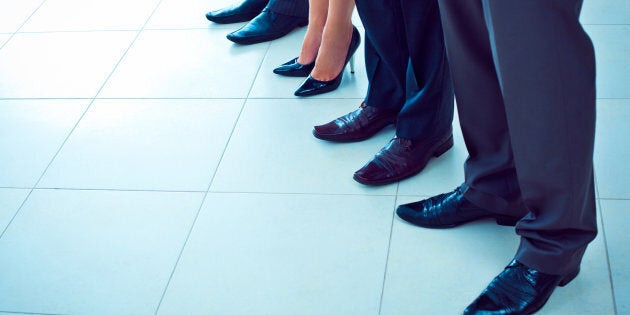 This persistent leadership gap is critical as research shows that diversity improves business performance, and such potential may only be fully realised when a critical mass of women occupy the seats on a company's board -- 30 percent of board seats.
Sadly, then, while women might fairly equally participate at work, they don't occupy an equal share of leadership positions, nor are they equally remunerated for work. The facts are grim.
According to the Workplace Gender Equality Agency's (WGEA's) analysis of ASX 200 companies, in June 2016, a staggeringly low 7.1 percent of board (or governing body) chairs of those companies were women.
While Chief Executive Women's Senior Executive Census confirms what many knew, that there are few women among the ranks of highly paid CEOs. Only 11 ASX 200 companies had a female CEO.
Disappointingly, but unsurprisingly then, there is a long way to go before as many women as men lead the top ASX listed companies.
Turning to the gender pay gap, while the average gender pay gap is 15.3 percent, the gender pay gap in the ASX 200 workforce (excluding the wages of CEOs/business heads) is 28.7 percent according to WGEA's analysis.
Women also retire with about 52.8 per cent less superannuation than men, on average. These are sobering thoughts to consider now that equal pay day has come and gone, yet there is so much more to do to close the gender pay (and super) gap.
Steps must be taken to remove the effects of unconscious bias in recruitment and workplace decision making that undoubtedly affect women's promotional opportunities.
Unsurprisingly, there are compelling reasons for women's equal pay and representation in leadership positions.
It makes good economic sense for women to achieve equality at work. Recent economic modelling by Deloitte for the QLD government found that achieving gender parity on boards will deliver $87 million in productivity gains for that State.
While Goldman Sachs & JBWere concluded that by closing the "gender productivity gap" (including by more women assuming leadership roles), the level of economic activity in Australia might be bolstered by as much as 20 percent.
Greater visibility of women in leadership positions is also generally understood to positively increase women's participation in those positions.
The same could be said for CALD women, as men with Anglo-Celtic backgrounds are significantly overrepresented at the senior exec level of private sector companies.
The Australian Human Rights Commission has stated that the underrepresentation of women in leadership roles tends to perpetuate existing stereotypes about the role of women at work and in society. Such stereotypes directly impact women's wages.
The equal pay for comparable work claim by childcare workers is the most staggering example of the impact of gender stereotyping on pay, where childcare workers are seeking a 30 percent pay increase.
Such stereotypes are also reinforcing gender roles in the home -- women still perform just over 70 percent of domestic work and three quarters of all unpaid childcare. Obviously, this leaves women with less time to devote to their paid careers. Getting a wife can't be the solution to the persistent gender pay and leadership gaps as Annabel Crabb reminded us not so long ago.
Clearly then, more can be done to achieve equality at work for women.
Further afield in Norway quotas for female representation on boards were introduced, and proved successful, with women attaining 35.5 percent of board representation on stock exchange listed companies.
Steps must be taken to remove the effects of unconscious bias in recruitment and workplace decision making that undoubtedly affect women's promotional opportunities. We must close the gender leadership gap. The image of leadership is still male. Such stereotypes obviously directly affect women's working lives.
We need to do more to address the disadvantages that women face at work and if they leave the workforce for periods of time to have and care for children.
We need better initiatives for women on parental leave to access workplace opportunities, including promotional opportunities but also training and development.
Flexible work options need to be the new normal. And surely employers must do more to support women's access to quality and affordable childcare.
Most importantly the gender pay gap must be closed. All ASX 200 companies should conduct gender pay gap audits of the salaries of senior executives and managers, calibrate the results to remove gender biases, review pay decision making processes for gender bias, and then report the results to the board of the company.
These types of measures will begin to establish accountability, transparency and greater equity around remuneration decisions.