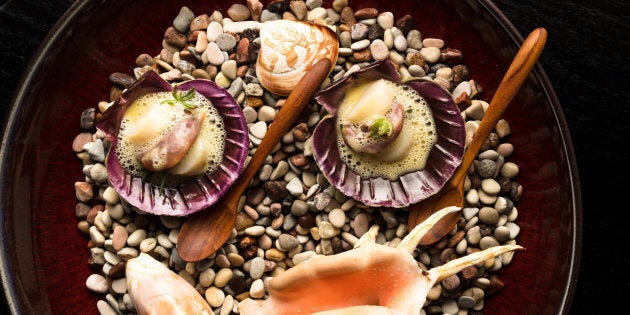 The Gourmet Traveller Restaurant Awards were held in Sydney on Wednesday and Adelaide's Orana took out top spot, being named as Australia's Restaurant of the Year in the country's longest-standing national restaurant awards.
Orana celebrates Indigenous Australian ingredients and traditions and is led by owner and chef Jock Zonfrillo. It's the first restaurant outside Sydney and Melbourne to be named Restaurant of the Year in two decades.
Mat Lindsay of Ester in Sydney took out the peer-voted Chef of the Year and Australia's Regional Restaurant of the Year went to Aaron Turner's Geelong restaurant, Igni. The nation's Bar of the Year was named as Canberra's brilliant Bar Rochford, while Chris Young from Café Di Stasio in St Kilda scored Maître d' of the Year.
Below is a list of the top 100. This list has been compiled using the Gourmet Traveller star ratings, moderated by the state and national editors.
11. Rockpool Bar & Grill, NSW
14. Restaurant Hubert, NSW
16. Dinner by Heston Blumenthal, Vic
22. Rockpool Bar & Grill, Vic
26. Icebergs Dining Room & Bar, NSW
28. Estelle by Scott Pickett, Vic
36. Grossi Florentino, Vic
40. Oscillate Wildly, NSW
47. Pilu at Freshwater, NSW
48. Ten Minutes by Tractor, Vic
54. Botanic Gardens Restaurant, SA
64. No 1 Bent Street, NSW
65. Captain Moonlite, Vic
69. Rockpool Bar & Grill, WA
95. Three Blue Ducks, NSW
96. Fratelli Paradiso, NSW
98. The Dolphin Hotel, NSW
99. The Agrarian Kitchen Eatery, Tas
Details of the winners are in the September issue of Gourmet Traveller.