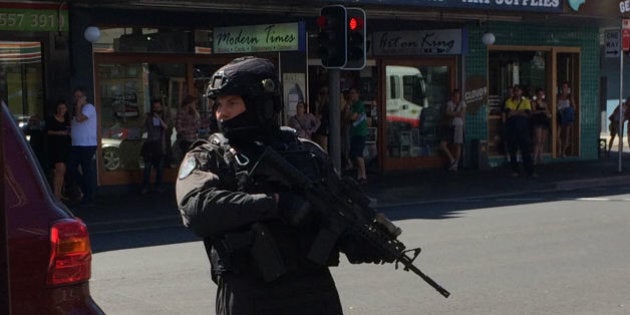 A squad of heavily armed police attached to the Middle Eastern Organised Crime Squad have stopped a car on a busy Sydney suburban street, as part of a series of raids related to an extortion ring.
Onlookers were left trapped inside shops on King Street, Newtown, as the police swooped on a car understood to be carrying a man and woman on Friday afternoon.
A spokesman for the NSW police told The Huffington Post Australia a police operation conducted by members of the Middle Eastern Organised Crime Squad was underway, and was related to recent raids in Bankstown and Punchbowl.
HuffPost Australia reporter Ryan Diefenbach witnessed the scene said the small silver hatchback was stopped by an unmarked four-wheel drive with SWAT officers inside.
"They all jumped out and shouted," he said. "They had dogs as well.
"The man had a passenger in the car, a woman, and they took her out. Then he got out and vomited on the side walk."
Diefenbach said the man was given medical attention on the scene before being taken away by police.
Police later announced they had arrested two men, including one from the Newtown vehicle stop, following an investigation into an alleged extortion syndicate in Sydney's south west.
Strike Force Amarina was established in July 2015 to investigate criminal activity in Sydney's south west.
Police will allege in court that the men would take over debts from associates and intimidate victims into repayment plans more than the amount owed.
Police confirmed a 21-year-old man was arrested by the Tactical Operations Unit on King Street, Newtown, while a 26-year-old Bankstown man was arrested a short time later at Yagoona.
The 26-year-old has been charged with blackmail, receiving stolen property and offences of demanding money with menace. The 21-year-old who was later charged with demand money with menace, blackmail, dealing with proceeds of crime, using a carriage service to threaten and supply of cocaine. Both were refused bail to appear at Parramatta Bail Court today.
Following the arrests, Strike Force detectives, with the assistance of the Public Order and Riot Squad and South West Metropolitan Region Enforcement Squad, executed five search warrants, including one at Bankstown, two at Punchbowl, and two at Greenacre.
As a result of the warrants, police located and seized $55,000 in cash, a range of illicit drugs, including cannabis, methamphetamine, cocaine, and a large amount of prescription medication. The total street value of the drugs seized is estimated at $50,000.
Also seized were three high end motor vehicles, including an Audi Q5, a Mercedes AMG, a Lexus IS 350, and a Harley V-Rod motorcycle, with a total estimated value of $315,000.
Fourteen boxes of 9mm ammunition, a large number of mobile phones, and a variety of documentation were also seized.
Inquiries are continuing and police urge any persons who have been the victim of extortion to come forward and report it to police.