Kangaroo onesies, guys in expensive suits wrestling crocs and the use of Japanese chopsticks to select customers' orders -- the boys from online tie and men's accessory retailer OTAA are using a whole lotta cheek to stand out.
Melbourne brothers Shaheen and Fameez Haroon have invested time, money and energy into creating catchy website designs, funny YouTube videos and tongue-in-cheek emails to make customers LOL -- and turn them into repeat purchasers.
"Shaheen and I wanted to build a business that didn't take itself too seriously," Fameez told The Huffington Post Australia. "Because every business that we know of, it's like a guy leaning on a brick wall, brooding and pouting and we just didn't want to do that.
"So it's the DNA of the business -- we want to make it a little less serious. Guys respond to humour more than anything."
Communicating to their customers in a friendly, jocular fashion begins with their website. Ten seconds after arriving to otaa.com.au a pop-up will say, "Find out why we send the best damn emails".
Each web page of the OTAA collection features a suited mascot doing something rather silly -- wrestling a croc in a rickety boat, strolling through Africa being stalked by lions or grilling a massive marlin on a tiny, deserted island.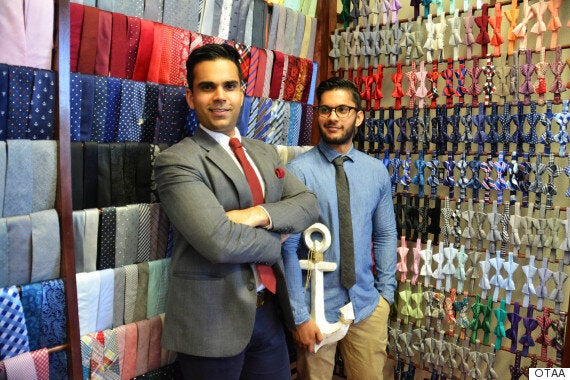 Shaheen and Fameez Haroon didn't want to be like every other men's tie retailer.
But the piece de resistance is their unique twist on the usually dry confirmation email sent to clients post-purchase.
"We picked out your order by gently picking it from the shelves with Japanese chopsticks and placing it on a silk pillow.

We had a specially trained team of excommunicated runway models to look at your order to make sure it was perfect. They all gasped in amazement of how good your choice of OTAA gear was. One of them rolled over and went into tears -- he no longer works with us.

"Once that part was done, our small team of 7 people got together and celebrated your order by baking a cake with your name on it.

"After the celebration, we carefully packed your item into our extremely rare packaging that was designed by the same guy who invented Glad Wrap (at least he told us). We then happily marched down to the post office with your parcel and waved with a single tear, 'Goodbye' -- your order has now been sent."
Fameez says it's a simple technique but customers love it -- and it keeps the conversations flowing.
"The funny thing is that it has caused so much response from our customers," he said. "We never ever would have got people responding to a confirmation email but people do every single day.
"When people purchase from a website you forget the company, but for us we wanted to make sure the experience is warm, funny and humorous and memorable instead of a completely forgettable one."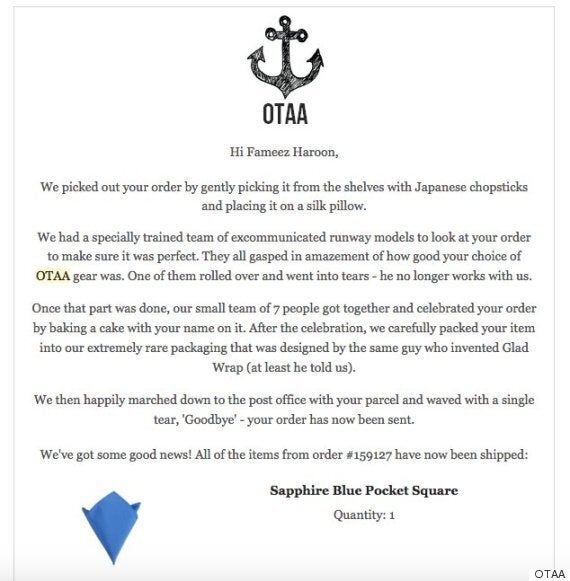 The OTAA email is chock full of quirk -- and customers love it.
And it's certainly working. Business is booming for the brothers, whose design range has blossomed from a few neckties to 2700 unique products (and set to double in the next few months) since creating the business in 2011 and whose Instagram following has just tipped over the 103,000 mark.
OTAA's Instashop has been a huge hit too. Instagram posts by customers and bloggers are curated and added to the shop where, when you hover over the picture of a tie or pocket square, it will tell you its name so you can easily find it on the site.
"It's been a real game changer for us," Fameez said. "It allows us to feed our bloggers products, ask them to take whatever photos you can and allows us to select, curate and pick the best ones that inspire our customers."
Fameez said Instagram allowed OTAA to form a community of fashion-loving blokes.
"When a customer purchases from us we send an insert to say 'hashtag #otaa for a chance to be featured on our Instagram' and that allows them to take photos, put it on our feed and be part of the community, so it isn't just a run-of-the-mill purchase," Fameez said.
"Social media has just allowed us to build a community of people wearing stuff, and that includes customers.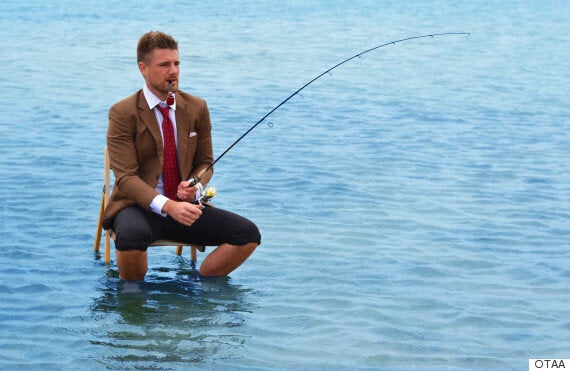 Timmy Knowles is OTAA's main ambassador and star of the company's videos and photo shoots.
Yet despite the impressive social numbers and community of customers and bloggers, the brothers say word of mouth and repeat business as a direct result of the company's 'tude really fuels sales.
"We always say social media doesn't drive that many sales -- for us it's more about communication, branding, letting our customers know ways they can dress," said Fameez.
"A lot of it is also organic word of mouth. We have a little section on our web page when people go to check out they say how they find us and you can pick word of mouth, Google, magazines and I would say a lot is word of mouth because people are really happy with their experience and they talk about it and they come back."
Once an engineer and a student, now tied to small business
OTAA was the brainchild of Shaheen who, after travelling overseas between engineering jobs, was inspired by the standard of dress among men in locations such as Hong Kong, Singapore and Shanghai.
He knew Aussie guys needed premium products for special occasions -- and increasingly for everyday wear -- but they didn't want to pay premium prices. OTAA's ties sit around the $40 mark.
"I always loved reading GQ magazine and people dressed up in neckties and suits," Shaheen said.
"You go to a shopping centre and look at a necktie and the price would be $100 for one necktie and a pocket square was $50. So if you did really like something in a magazine one it was really expensive or you couldn't find it anywhere. So that's where the gap in the market was for us."
Fameez worked on the business casually with Shaheen while also studying law and working a part-time job. Then one day he made a call to throw the towel in on his degree and commit to the business full time and the pair started to build the business while working out of their mother's garage.
They work with designers in The Czech Republic and Denmark to create the designs and the ties are manufactured in China.
Shaheen said originally they started with fairly conservative designs but now their more unusual prints -- flamingos, horses and anchors proved to be a hit.
And then there's the knitted ties.
Despite some initial resistance from customers (some people said they "looked like a sock" said Shaheen) this range of crafted neckwear has boomed from 35 to 134. And it's mostly thanks to the power of men's fashion bloggers.
"The knitted tie was something I really loved," Shaheen said. "They are literally in every magazine and everyone was wearing them but when we first introduced them they were so hard to sell. We launched our Instagram page and we pushed out some of the knitted ties to our bloggers, because we were like, we don't need these any more because people aren't selling them.
"And as soon as some of our bloggers started to wear them with a nice suit jacket and a pocket square and load photos up, it almost created like a domino effect where one blogger copied the other blogger and they copied each other.
"All of a sudden the bloggers are wearing them and the customers are seeing them on our Instagram and they started buying them. It's really taken off."
And the brothers see their business taking off overseas too -- in fact it's already there.
"We have people from Italy, USA, South Africa -- pretty much every continent wearing our ties. We then tag it on our Instagram and we geolocate the photos so you can tell which country it comes from.
"We always wanted to be international -- we don't just want to serve Australia, we want to serve the whole world."