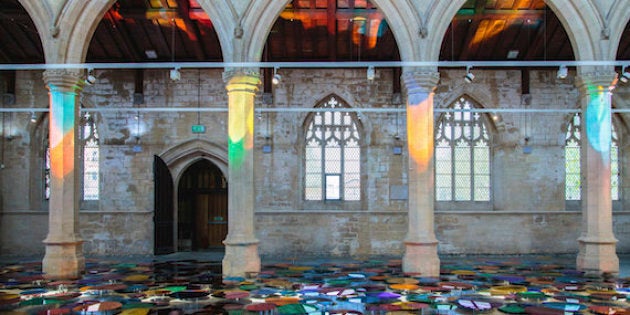 The walls of a historic 19th century church are now bathed in rainbow lights thanks to an installation by UK artist Liz West.
The 700 colored acrylic mirrors that make up West's "Our Colour Reflection" installation shoot light up the ironstone walls of St John's Church, built in 1891 and which now serves as an arts center in Scunthorpe, England.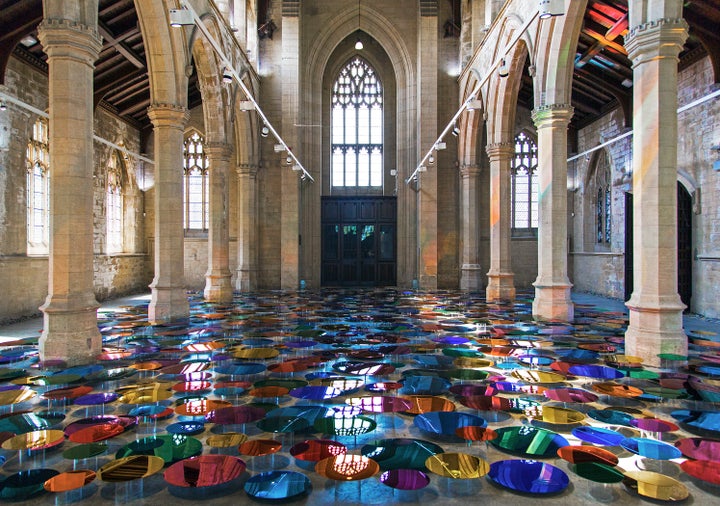 West created mirrors in 15 different colors which range in diameter from 30 to 60 centimeters. Set at different heights, they reflect the former church's walls, ceiling and nave and reveal parts of the architecture that might otherwise go unnoticed.
"To me, the title 'Our Colour Reflection' speaks about both the physical mirroring of the architecture and visitors experiencing the installation but also the emotional, mental and perhaps spiritual pondering that we all may do when given the time or chance," West told The Huffington Post.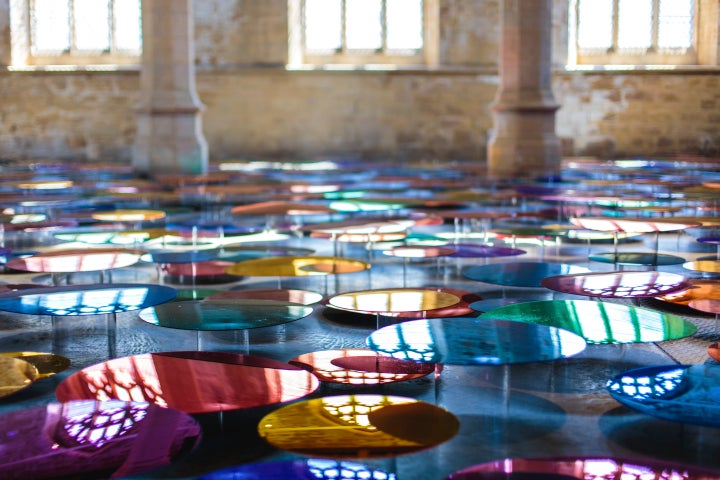 The artist said she spent two years researching and planning the installation, taking time to consider the history of the building and the connotations of working within a former place of worship.
Her mirrors mimic the soft, multicolored light reflected through stained-glass windows, frequently associated with church aesthetics. The symbolism has not been lost on visitors.
"One lady observed that to her it felt like the stained glass had fallen out of the windows and onto the floor, shimmering in the sunlight," West said.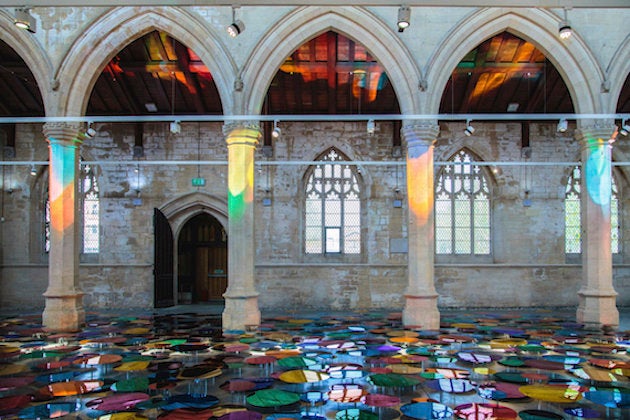 The artist frequently plays with bright light and color in her installations, many of which utilize fluorescent lights. "Our Colour Reflection," by contrast, relies on natural light and thus shifts in character depending on the time of day.
"It is playful, elegant, engaging and probably my most thoughtful and quiet work," West said.
"Our Colour Reflection" opened on May 14 and runs until June 25.
Scroll down to see more photos of the installation: