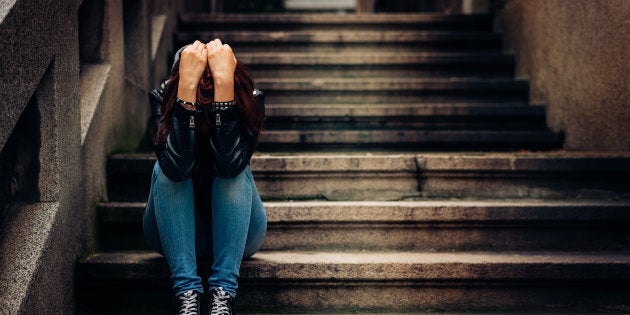 Welfare agencies, youth advocacy bodies and charities have issued a crisis plea for the government to reconsider its planned deep cuts to welfare for young people, with warnings that it will force Australia's youth into poverty and homelessness.
Representatives from St Vincent de Paul, Anglicare, the Australian Council of Social Services and other social providers made the call on Tuesday at Parliament House, as federal leaders fiercely debated the omnibus savings bill which tied together a grab-bag of old and new policies including boosts to childcare and cuts to welfare.
Vinnies CEO John Falzon said, unequivocally: "It is time for the government to govern for all, rather than ramping up inequality, for a failure to address inequality is a failure to govern."
The government seems committed to bringing in the welfare cuts, which include bringing people aged 22-24 from the $528.70 per fortnight Newstart payment to the $437.50 Youth Allowance, a 17 percent cut of $45 each week, almost $2400 a year. Young people would also have to wait an extra four weeks after losing their job before qualifying for the payments.
"We all know our economy is moving toward precarious employment, long periods out of work, people sliding between Centrelink and paid work. We need to look those young people in the eye and say we're not leaving them for over a month without any kind of income. That has to be one of the worst tradeoffs any government has ever considered," said Craig Wallace, of the ACT Council of Social Services, on Tuesday.
Representatives from Anglicare said crisis services like theirs would be "pushed to breaking point" if the cuts were to succeed, claiming more young people would be forced into poverty and homelessness if they lose such a big chunk of their welfare payments.
"At a time when those who are struggling to live below the poverty line are getting another kick in the guts, you don't help young people into a job by forcing them to live on fresh air and sunshine. You don't grow a strong economy by making people live in poverty, having them seek assistance from charity," Falzon said.
"We're coming across young people going without food to keep a roof over their heads. It's as desperate as that... You don't build a strong economy by making our nation more unfair."
Katie Acheson, of the Australian Youth Affairs Coalition, said the government was sending confusing messages to the country's youth; on one hand telling them to get good jobs and save for a house, but on the other hand cutting back payments and assistance which help young people pay their way through university and tough times.
"Waiting five weeks [for welfare] means people will lose their rental, lose their ability to get on a bus to keep a job. We're pushing people into dire crisis. Young people are the most vulnerable in this space, they're crying out and asking if government even know what we're going through," she said.
"It's thousands of dollars over a year... we'll see those unemployment numbers increasing not decreasing, homelessness increasing not decreasing."
Acheson said she was frustrated at the government's attitude to young people.
"They're saying 'we're going to force you off welfare, when you're in the most need we're not going to support you, but you need to support the older population and pay your taxes.' We need a government to stand by its principles," she said.
Falzon called on the government to scale back its planned welfare cuts.
"It's not just the material deprivation, it's the sense of despair people are being pushed into. We would be facing a crisis of unimaginable proportions if we continue to put the boot into people already feeling like they're to blame for their own poverty and exclusion," he said.
"The Prime Mininster wants us to be clever, an innovative nation. You can't achieve innovation if you haven't taken care of accommodation. Cutting already meagre payments will mean the difference between someone keeping a roof over their heads and being forced into homelessness."
ALSO ON HUFFPOST AUSTRALIA