The night Ben Tillman lost the use of his legs is a blur. He probably doesn't remember the last time he walked on his own. It was likely the steps he staggered and stumbled, drunk, to his red Volkswagen. It was definitely before the car clipped a gutter, hit a telegraph pole and rolled.
He doesn't remember much, but he does remember being cut out of his crushed car by emergency service crews. He remembers realising he couldn't move his legs.
Tillman, now 27, is sitting in a wheelchair in a leafy green park. He's just had a long session with his acupuncturist at Wahroonga, NSW. Clad in black, he rises unsteadily to his feet and takes one, then two, then six shaky steps with a walking frame, before slumping exhausted back into his chair.
It's a huge achievement for a man who was told by some of the best spinal surgeons in the country that he would never walk again.
"I've always maintained I would get through it, one way or another. Instead of just resigning to that fact [never walking again], I thought, f***, I'm going to have to get myself out of it," he said.
"I would like to think most people would do the same thing. Surely you wouldn't just resign to that. In that situation, you have to. I'm not just going to take it. You at least have to fight."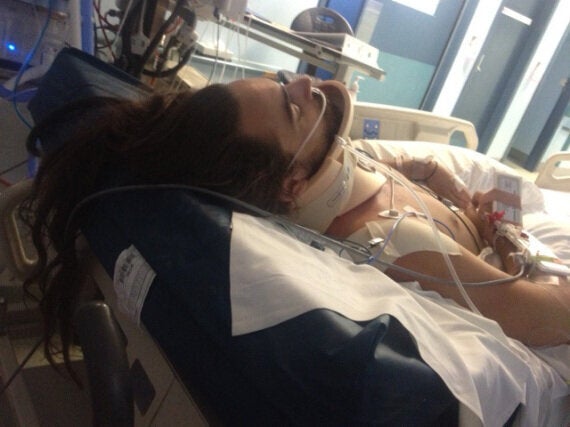 Tillman in hospital, soon after the accident (Supplied)
It's early in the hours of October 27, 2012. Tillman, a music promoter and venue owner in Wollongong, NSW, has just finished up a triumphant night; it's the second birthday of his bar, Yours & Owls, and hundreds of people have turned out for a celebration concert. He caught a taxi to his friend's house where he had parked his car, but rather than calling it a night, he decided to kick on and drive drunk -- he would later blow three times over the legal blood-alcohol limit -- to a nearby after-party.
Just minutes later, his car lay smashed on the roadside. His two passengers managed to scramble out of the overturned car, mostly unharmed - "thank God," Tillman said - but he lay in the wreckage, paralysed from the waist down, his neck damaged at the C6 and C7 vertebrae.
"We were going to a party but I wanted to go home after that. I stupidly thought I'd drive there so I could leave; it was five minutes from home," he said.
"I remember after the crash, I couldn't get out of the car. It was the most bizarre feeling I've ever had."
Airlifted to Prince of Wales Hospital, Tillman underwent operations to fuse his spine and remove a disc. He remained in the spinal injuries unit for a month or two before spending a further three months in the general rehabilitation ward.
"I remember asking the surgeon if I would walk again, maybe a day after the operation. He said it was a 30 percent chance, but if I wasn't walking four weeks after, then it wasn't going to happen," he said.
Four weeks came and went. Frustrated with his progress, he began exploring alternative medicine and discovered acupuncture.
"I started doing a lot of reading, seeing different options out there, and made that decision to just fight it. The hospital almost want you to accept the fact," he said.
"I'd say I wanted to try something and get myself through it, and that I'd decided to pursue acupuncture. They almost laughed. It was pretty patronising, but that was a drive."
In September 2013, Tillman's drink-driving charge was heard in Wollongong Local Court. He was fined $1000 and disqualified from driving for five years.
"Having regard to what he's inflicted on himself ... he's suffered far more [punishment] than what the court can give him," Magistrate Michael Stoddart said as he delivered the sentence.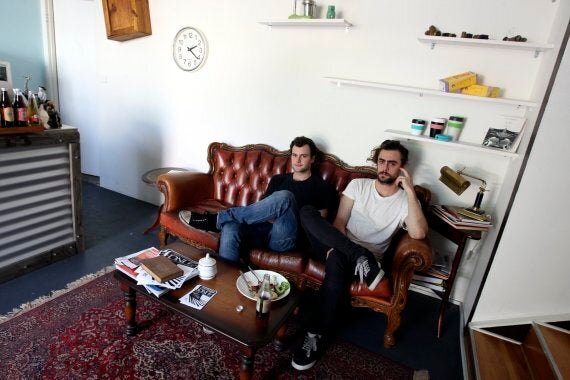 Tillman (right), with business partner Balunn Jones, at Yours & Owls in 2010 (Fairfax/Sylvia Liber)
"I can stand. I shouldn't be able to to do this"
We're in the converted garage of a neat, non-descript home in Wahroonga, a quaint quiet suburb nestled between Hornsby and Pymble. It's the acupuncture clinic Tillman has visited, three times a week, for more than two and a half years. He's lying face-down on a massage table, as David Tai -- an elderly man with a tiny beard and white coat -- shuffles silently around Tillman's prone frame. Tai delicately inserts thin needles into Tillman's back, shoulders, neck and legs, wiping each spot with a tiny pad of rubbing alcohol.
He also uses an ancient Chinese practice known as moxibustion, using a stick of dried and crushed mugwort to heat -- and sometimes burn -- certain parts of Tillman's body. The practice is said to stimulate bloodflow and energy through the body.
"I first came here about two months after my injury. He just told me that he could make me walk again, straight away. And I believed him," Tillman said.
The Australian Medical Association told HuffPost Australia they had no official position on acupuncture, while the Royal Australasian College of Surgeons also declined to comment. Overseas medical bodies including the American College of Physicians, the American Society of Anesthesiologists and the British Geriatrics Society do not recommend acupuncture as a standalone therapy, and there is little scholarly evidence published to support the effectiveness of acupuncture.
Tillman, however, said the therapy is more than just physical, and that Tai has become part-lifecoach, part-counsellor. Tillman has given up drinking, doesn't take drugs, eats healthily, undergoes regular water therapy sessions and has even cut coffee from his diet. He credits acupuncture, and Tai, for his physical progress and new outlook on life.
"He's helped me stay in a good mind frame. It's a long ordeal and pretty easy to lose sight. He keeps me reminded of the end goal and how we'll get there," Tillman said.
"Water therapy has been great. Growing up by the beach and the water, getting back into the pool has been awesome."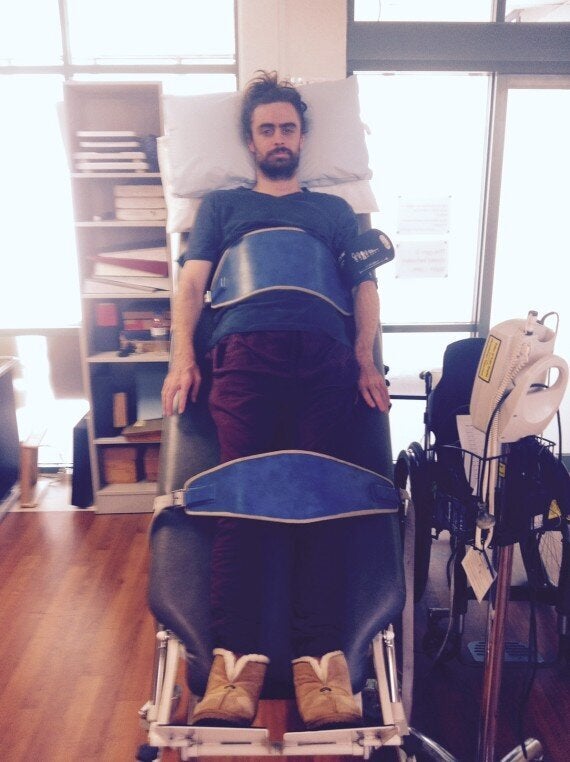 Tillman after the accident, preparing for treatment (Supplied)
Tillman claims a combination of three weekly sessions of acupuncture, clean living, and water therapy has taken him from a broken man with a curved spine unable to even sit upright in his chair or hold a pen in his hand, to where he is today.
"I used to have to come to treatment with two people each time, to put me on the bed and roll me over. Now I can do everything myself," he said.
It's a goosebumps moment when he rises unsteadily to hit feet, and takes the first shuffling step forward on his frame. He takes five more.
"[Standing up] was massive. David had been telling me I could do it for a while, but I didn't know how. But one day, I was just like 'f*** this, f*** it'. I got the frame and just decided to do it," Tillman said.
"I took one step, and another with the other foot. I tried to sit down, but I'd moved too far from the chair."
"That was awesome. I can stand in the frame now, I'm starting to be able to take steps. That's massive. I shouldn't be able to do this."
Regaining strength, Tillman decided to return to his main love – music. He began promoting concerts from his bed, growing his Yours & Owls brand into a music collective encompassing concerts across the South Coast and Sydney, two large-scale outdoor festivals in Wollongong, and a record label.
In a bittersweet milestone, October 2015 marks not only three years since the accident, but also the fifth birthday of Yours & Owls, which will be celebrated with a three-day outdoor music festival headlined by Ash Grunwald, The Preatures and Cloud Control.
"I made a conscious decision after the accident, that I had to fight it and get myself better. I've tried to turn it into a positive experience. That's how I've gotten through it," Tillman said.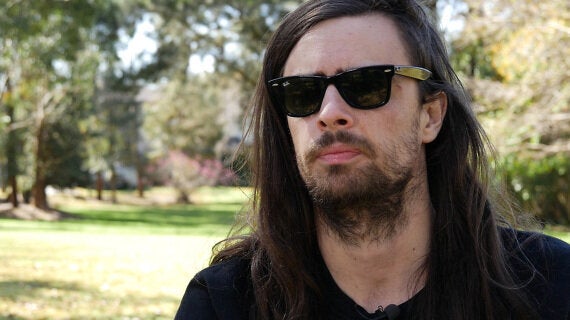 Tillman is determined to walk again (HuffPost Australia/Tom Compagnoni)
"I'm in this situation – I can either decide to do something about it or I can just wallow in my own self-pity, but that's not going to help anything. As long as I'm positive then I'm enjoying my life more, and giving myself a better chance to recover."
It has taken more than two years for Tillman to stand up and take a few steps. He knows returning to normal life won't be a straightforward process, but he's determined to get back on his feet.
"As I'm getting better, I get to practice different things and getting better at those again. I'll probably get a kick out of walking up a stair. Then walking from my kitchen to my lounge room, then walking down my driveway, then walking to the beach. It is small steps. Nothing is ever the same, every day is different," he said.
"I have no doubt I'm going to walk again."
This story was originally published on August 29, 2015.