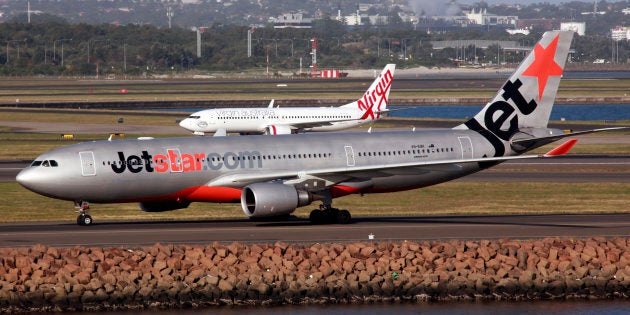 A fight between six passengers has forced the pilots of a Thailand-bound Jetstar flight to make a landing in Bali overnight, and saw the rowdy group detained by Indonesian police.
Jetstar confirmed to The Huffington Post Australia that a flight from Sydney to Phuket was diverted to Bali yesterday, after "a group of six passengers travelling together were being extremely disruptive amongst themselves and refused requests from our crew".
"The captain decided to divert the flight to Bali where Indonesian police took the disruptive passengers off the aircraft. The flight then continued without incident to Phuket," a Jetstar spokesperson said.
Flight tracker websites show that Jetstar flight JQ27 , which left Sydney at 3pm on Wednesday, diverted off the usual route just off the northern tip of Australia, touching down in Bali before quickly looping around and heading toward Thailand. The flight, which normally takes eight or nine hours between Sydney and Phuket, took 11 hours with the unscheduled stop.
Questions to Jetstar about whether the passengers were drunk were not answered, but Today reports that several of the ejected group were drunk.
"We take safety and security seriously and we don't tolerate disruptive behaviour by passengers on our flights," the Jetstar spokesperson said.
"The other customers onboard supported the decision to offload the group in Bali and thanked the crew."
It is unknown what the fate of the passengers will be, but Today reported the group would be flown back to Australia today.