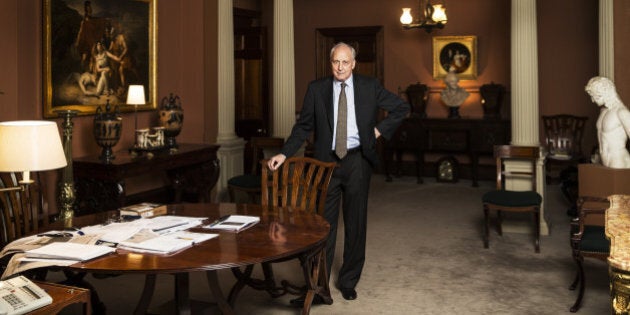 Former Prime Minister Paul Keating addressed 2,000 of his most faithful followers last night at the Sydney Opera House, regaling the rapturous audience in conversation with his biographer Kerry O'Brien.
The Keating quotable quote generator was was set to high/very high.
Opening with, "Anyone who's any good doesn't write about themselves," Keating then happily went on to talk about himself for more than an hour.
He took credit for providing the "spiritual nourishment" of the Hawke/Keating Government and for "saving Australia from its international mediocrity".
He lamented how draining brilliance can be, saying, "It's very hard to be right most of the time," and had them rolling in the aisles with: "Prime Ministers are very useful to a Treasurer -- they are no longer useful if they stop doing the tricks".
He admitted to just one serious bout of self-doubt, dating it at November 1992. In battle with John Hewson pre-election Keating had, on instinct, declared in Question Time, that if Hewson won, the ALP would support the GST -- much to the horror of his staff and colleagues.
"For a moment I had to doubt my judgement."
But amid all the self reflection was some Keating tips for life:
"The grandmotherly love and the motherly love -- and the father - you carry it around with you."
"Confidence takes you a long time to grow, mostly through experience."
"If I had a really big matter on, I wouldn't turn up in a light-coloured suit with a jazzy tie."
"I always used to use a black fountain pen because you can get things down faster with ink than with a biro."
"Understanding the field of play -- the field keeps changing and you've got to change with it."
Learn to work with different personalities
"I forgave Bob's indiscretions as long as he let me keep my foot on the accelerator."
During that '92 self-doubt wobble, Keating's first call was to his Canberra acupunturist, who came to The Lodge to steady the PM's nerves before a 7.30 Report interview. "Acupuncture makes you relaxed but sharp. Valium makes you relaxed but dull."
According to Keating the half-hour treatment left him ready for battle.
"I used to throw 'em around like rag dolls -- it was such fun."
And on that note he was done.
Keating, by Kerry O'Brien, is released today.